Velocity News Driver of the Year: 40–31
Last night, we revealed the top 50–41 of the Velocity News Driver of the Year featuring some big names as well as up-and-comers.
You can read that list by clicking here.
Tonight? We go one step further, and announce the next best bunch from 40–31.
Here we find the country's brightest stars locally and overseas; from drivers that scored acclaim through what they had to overcome to achieve, to drivers that went above and beyond on multiple occasions and helped remind us why we follow this wonderful sport.
No more waiting. Let's rip into it.
40. Lance Hughes
Categories / BNT V8s
Achievements / P3 BNT V8s, three race wins, 13 podiums
'You can't teach an old dog new tricks' may be an established saying, but it's a saying that evidently Lance Hughes must not hear too often.

The BNT V8s regular broke through earlier in the year to claim a fantastic first win in the series at Hampton Downs Motorsport Park.
And while yes, the local tin-top category might be lacking grid numbers, claiming an outright win is still a big achievement.

Particularly so for Hughes, because the gaggle that he beat fair and square included two Supercars hotshots; eventual champion Jack Smith and Triple Eight driver Brenton Grove. Both went on to race competitively in Super2, with Smith making the jump to the main game next year alongside Brad Jones Racing.

To beat that calibre of driver in a car very similar to what they run over the ditch is a heck of an achievement. And, given his strong pace at the recent Pukekohe 2019–'18 series opener, expect to see more from the Hamilton Asphalts Commodore pilot.
39. Gene Rollinson (New Entry)
Categories / NIES, SIES, NZEC
Achievements / P1 NIES in class, P2 SIES in class
As far as underrated Kiwi drivers go, Gene Rollinson would certainly make the all-time list.
The journeyman driver never really got to sink his teeth into a championship challenge overseas, but Rollinson remains a gun go-to driver.
Rollinson this year returned to the endurance racing scene in a new Hyundai i30 N TCR. Alongside Jordan Michels - who also features in this year's list - they won their class in the North Island Endurance Series.
Rollinson nearly won the same equivalent class in the South Island Endurance Series too, however, one DNF scuppered that opportunity.
Rollinson put the TCR car into a competitive position, surprising several up and down the pit lane given the diminutive 2.0-litre power plant under the bonnet.
Though lacking straight-line speed, the car was quick through the corners and able to match even the quickest GT3 cars.
Rollinson ranks 38th this year for taking a pint-sized hatchback and putting it to the forefront.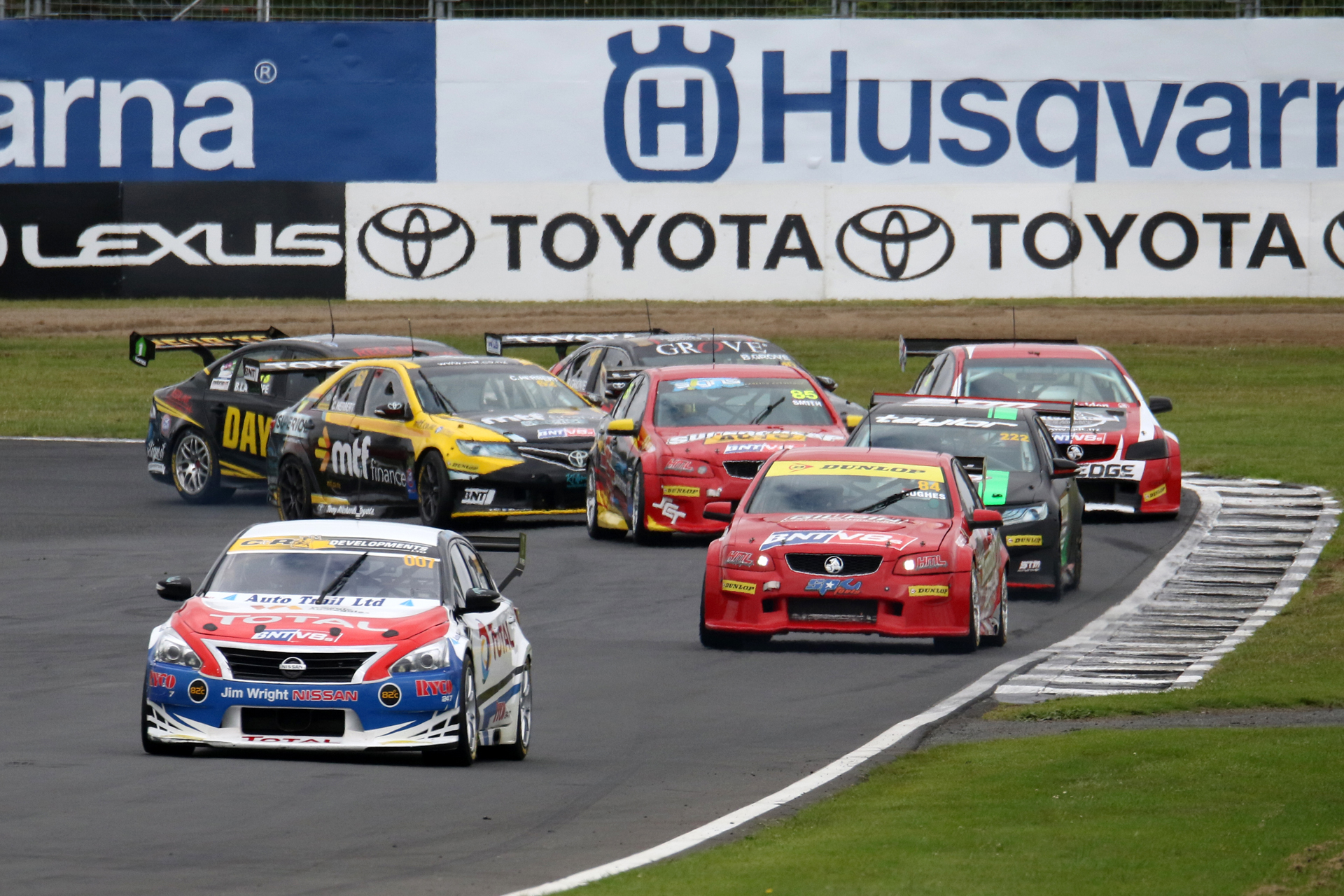 38. Nick Ross (Down 3)
Categories / BNT V8s, Touring Car Masters
Achievements / P2 BNT V8s
Second only to Jack Smith, Nick Ross continued to prove he can still peddle at 44 years young.
With Smith stepping up to the main game in Supercars next year, Ross proved age is no barrier. He narrowly missed out on the title, winning five races and 10 additional podiums. Very little split them in the end.
Now a bonafide veteran of the V8 touring car scene, Ross dovetailed his BNT V8s exploits with a drive in the Touring Car Masters at the Bathurst 1000.
37. Hayden Paddon (Down 28)
Categories / FIA World Rally Championship
Achievements / APRC wins, Ashley Forest Rallysprint record
Hayden Paddon's massive dip in the rankings this year may come as a surprise to some, ultimately, lady luck left him.
Paddon's year could be described as torturous, largely marred by circumstances out of his control.
A World Rally Championship return in Finland beckoned but was scuttled by a pre-event crash. A low-key outing at Wales Rally GB in a WRC 2 entry brought little success or solace. Finally, the biggest blow came when Rally Australia - his scheduled top-flight return - was cancelled due to the ongoing fires.
That's not to say Paddon didn't achieve anything. The Paddon Rallysport Group continues to grow and an all-electric rally car program is in the works. However, these rankings only take into account driver performance.
Perhaps the only notable moment of the year was his performance on home soil. Two wins came in the Asia-Pacific Rally Championship at Whangarei and Otago, though that's expected for a driver of his calibre. At the Ashley Forest Rallysprint, he broke the outright record in his modified Hyundai i20.
Little can dampen the disappointment of this year's failed foray back into the World Rally Championship, neitherfor Paddon nor his fans.
36. Matt Spratt (New Entry)
Categories / V8 Utes, SuperUtes Series
Achievements / P1 NZ V8 Utes
Matt Spratt showed that consistency is still the key to winning in the V8 Utes Series.
A new-look four-round championship meant making up for lost time wasn't an option and Spratt was quick to lay down his marker.
Only twice did Spratt finish off the podium. He earned four race wins and six podium finishes, bettered only by Paul Manuell with as many wins and eight podium finishes. However, back-to-back DNFs ultimately ruled him out of the title race.
Spratt did it in style, often driving through the field in the reverse top 10 races to still earn valuable podiums and points, keeping it clean and delivering when it mattered.
35. Richie Stanaway (Down 1)
Categories / Supercars Championship
Achievements / Two top-10 finishes, P12 Bathurst 1000
After the drama of 2018, most thought 2019 couldn't get any worse for Richie Stanaway.
With a torrid time at Tickford Racing behind him, a fresh start at Garry Rogers Motorsport looked like the right place for the Kiwi. After all, if there was anyone who could make it work it was Garry.
As it turned out, Stanaway's season was one worth forgetting. The drama kicked off almost immediately in Melbourne, disqualified and fined $10,000 for careless driving.
A neck injury sidelined him for much of the mid-season. Both Chris Pither and Michael Caruso equalled and bettered Stanaway's best performances up until that point in the season.
Dismissal from the team for a race at the Gold Coast after missing a signing session only added insult to injury.
With Garry announcing he'd be gone from the championship it looked like Stanaway might be out of a gig. Stanaway need not look, Instead, he shocked the paddock by confirming his retirement at just 28 years old.
The only shining light this season was two top-10 finishes at Pukekohe Park. A wasted talent, without a doubt. Down one place on last year if only for a more tumultuous year in one of the toughest championships in the world.
34. Chris Pither
Categories / Supercars Championship, TCR Australia Series
Achievements / TCR podium, P12 Bathurst 1000
Last year's Dunlop Super2 Development Series champ had a largely frought 'what if'–type season in TCR Australia with Garry Rogers Motorsport.

Not that Chris Pither and his teammate James Moffat weren't quick in the pair of handsome hatches. But a lack of luck and reliability for Pither in particular ensured a championship struggle — such is the story when your team is the first in the world to develop a platform from scratch.

Nevertheless, he eventually scooped up a well deserved second-place finish at the series finale. This complimented a solid co-driver stint alongside Richie Stanaway with a few top-10 near misses at Bathurst and Sandown.

Undoubtedly Pither's yearly highlight, though, was his stint as Stanaway's stand-in for Winton and Hidden Valley. Pither's first two results behind the wheel of the Boost Mobile ZB Commodore were the best results that Commodore achieved up to that point. Not bad at all for a ring-in, and deserved vindication following his Super2 triumph.
33. Josh Bethune (New Entry)
Categories / Formula Ford, Formula 4
Achievements / P1 SIFF, P2 NZFF
SC: In the throws of a Formula Ford resurgence, Josh Bethune and Jordan Michels led the charge in a title fight for the ages.
With six wins and seven podium finishes, Bethune was one of the favourites going into the final round of the season at Pukekohe Park.
However, it wasn't to be. A DNF ultimately robbed him of the chance to take it out and instead he settled for second.
Michels, meanwhile, took the championship with four wins and nine podium finishes. Consolation came in winning the South Island Formula 1600 Championship and the Lady Wigram Cup.
Bethune quickly put the Formula Ford season behind him to contest the Formula 4 United States Championship.
Competing with Primus Racing, Bethune struggled, recording just three top-10 finishes.
At just 16 years old, Bethune is a talent to watch.
32. James Penrose (New Entry)
Categories / Formula Ford
Achievements / P3 SIFF, Formula Ford round win
James Penrose proved that you don't need to have the latest and greatest equipment to be the best.
A standout showing at the ITM Auckland SuperSprint saw the Christchurch driver win in a car older than most of the other drivers on the grid.
Racing his Van Dieman Stealth, the 24-year-old is one of the underdogs in the championship, which is seeing a surge of newer Australian-built Spectrum race cars proliferate the series.
Penrose was fifth in the 2018-'19 championship but at the end of 2019 leads going into the new year with a round win to his name.
An underrated and underfunded driver worth watching this summer.
31. Jordan Michels (New Entry)
Categories / Formula Ford
Achievements / P1 NZFF, P2 SIFF
Jordan Michels sought to make a name for himself in 2019. Winning the New Zealand Formula Ford Championship, he soon set out to tackle new challenges.
A drive in the North Island Endurance Series brought the young gun his first taste of top-flight touring car action in a Hyundai i30 N TCR.
Michel equipped himself well, racing alongside Gene Rollinson and claiming the class win comfortably.
Such was Michels success that he got a late call up to race in the inaugural TCR Australia Series for a round at Queensland Raceway.
Michels didn't set the timesheets alight but kept pace with a far more experienced field.
A South Island Endurance Series campaign saw Michels win his class in the one-hour series with a new Honda Civic Type R FK7.
Michels had been committed for the new TCR New Zealand Championship, but that has since been postponed. Unfortunately, New Zealand will have to wait to see what the Southlander can do.