Ferrari pulled the covers off their 2020 Formula One car at an extravagant launch event at the Romolo Valli Theatre in Reggio Emilia, Italy.
Ferrari became the first Formula One team to officially launch their 2020 car in the flesh, although Haas had released images online earlier last week. Mercedes had revealed their 2020 livery on their 2019 title-winning car, with the official launch of the W11 scheduled for the 14th of February.
Named the SF1000 – to celebrate the team's 1,000th Grand Prix later this year – Ferrari's 2020 contender does not differ greatly from that of the previous years SF90, with the technical regulations remaining largely the same from 2019.
Still sporting Mission Winnow branding, the livery remains largely the same, with a notable difference in the numbers displayed in the cars, which appear to commemorate font used on 126C Ferrari's raced in the early 1980s.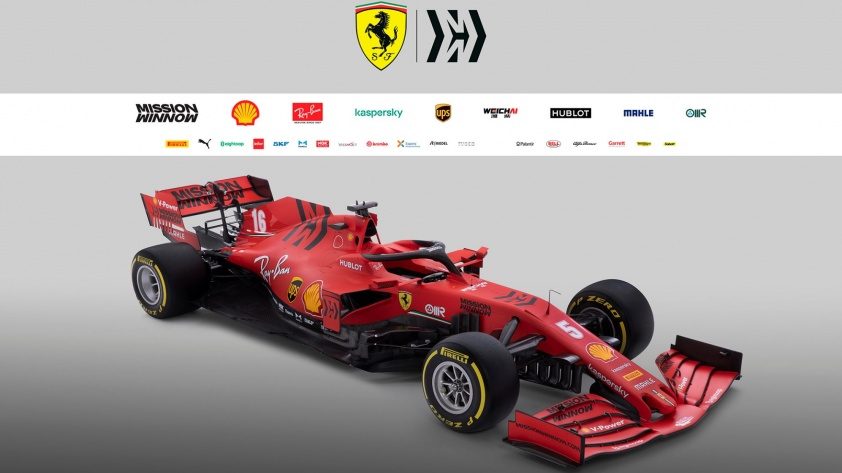 In attendance at the launch were Sebastian Vettel and Charles Leclerc, as well as team principal Mattia Binotto.
Vettel said of the SF1000
"I like it a lot. I think we had the opportunity to see it a little bit before. And to have a direct comparison with last years car, you can really spot the differences."
Ferrari chief executive Louis Camilleri said at the launch "It is clearly going to be an interesting year, tough competition, a long season, but it is also an important season because in parallel we have to create and develop a completely new car in line with the regulations that will govern Formula 1 in 2021 and beyond, so the team is going to be very, very busy."
"I have every confidence in our women and men, their creativity, their discipline and determination and, above all, the work ethic they have had before which is the hallmark of this company. One instilled upon us by our founder, Enzo Ferrari."
Renault and Red Bull are the next manufacturers scheduled for car launches, with both unveiling their respective cars tomorrow.
2020 Formula One car and team launches dates
11 Feb – Ferrari
12 Feb – Renault
12 Feb – Red Bull
13 Feb – McLaren
14 Feb – AlphaTauri
14 Feb – Mercedes
17 Feb – Racing Point
17 Feb – Williams
19 Feb – Haas
19 Feb – Alfa Romeo