Most fans when they think of New Zealanders in IndyCar associate the series with Scott Dixon. In years gone by though there's been a small Kiwi contingent working behind the pit wall.
For decades the IndyCar Series has been home to some of New Zealand's brightest individuals, including Steve Horne of the Tasman Motorsports outfit from years gone by and team manager Paul "Ziggy" Harcus from Andretti Autosport.
Now it's young guys like Malcolm Finch who are continuing that legacy.
The name might be a familiar one for many. The driver-turned-engineer was a recipient of the SpeedSport Scholarship in 2011 (pictured below). He raced Formula First and then an NZV8 in 2013 but ultimately turned his attention towards activities outside of the drivers' seat.
Finch studied Mechanical Engineering at the University of Auckland. Whilst there he complimented his studies by joining the Formula SAE program and worked with several teams on race weekends, including International Motorsport in the V8 SuperTourers.
After a few years working the trade an opportunity came to join a sports car team in North America around 2016. But when the team he was working for went bust he had to find somewhere else to work—enter Team Penske.
"When I was sitting in New Zealand and thinking about going overseas to do some racing I never thought that the opportunity would ever exist,"
Finch told velocitynews.co.nz.
"It's very hard to get in contact with anyone or you apply for a job and there's so many applicants that it's really hard to get through.

"I kinda thought it was a bit surreal because I never thought that I would be able to join Team Penske. One thing led to another and I started in November and away we went.

"It was right place, right time. Luckily I got my foot in the door."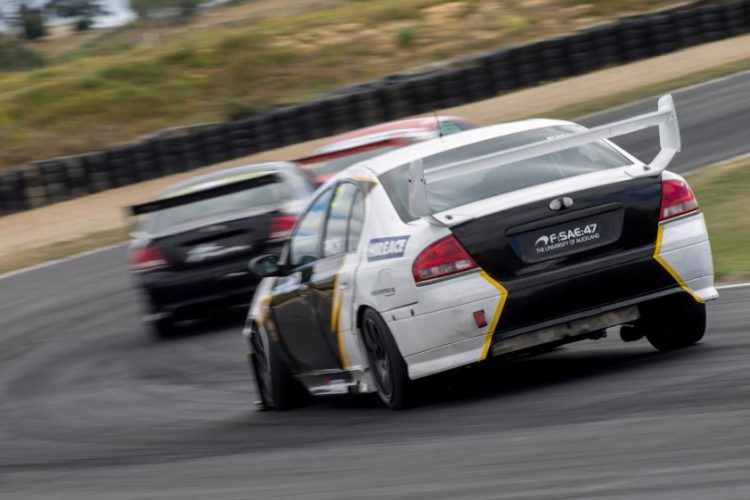 Finch drove in the V8 SuperTourer-supporting V8 Challenge Cup in a Ford Falcon TL
Day-to-day life sees Finch work out of the Team Penske base in Mooresville in North Carolina. He's one of 600 employees across the IndyCar, NASCAR and IMSA operations that are all based out of the same workshop. Just under 100 of those are part of the three-car full-time IndyCar operation, but there is crossover between some of the teams.
His official title at Team Penske is Data Engineer as he explained;
"It's kind of a more broad role than the title would allude to."

"It's more like a control systems engineering. A daily routine is anything electronic that is on the car or has to do with the team, whether it's timing stands or any sort of fuel lights or anything like that we data guys have something to do with.

"But during the race weekend we narrow our focus. Within the team there are three Data Engineers and then when we go to a race weekend I just focus on Simon and the other two focus on Josef [Newgarden] and Will [Power]. We look at data, making sure all the sensors are working and everything is calibrated properly.

"Then come closer to race time we start moving on to strategy oriented stuff. We do a lot of strategy work with timing and predicting how the race is going to go and then in the race we run fuel. If Simon's car runs out of fuel it's not going to be too good a day for me,"
he laughed.
This year marks only his second with Team Penske and driver Simon Pagenaud. Finch notched up two special milestones recently with the Frenchman, and is hoping for a third on the trot come Sunday.
After a win-less first year with the team Pagenaud surprised the IndyCar paddock by coming from behind and winning in the wet on the Indianapolis Motor Speedway Road Course. Of course he beat none other than Scott Dixon.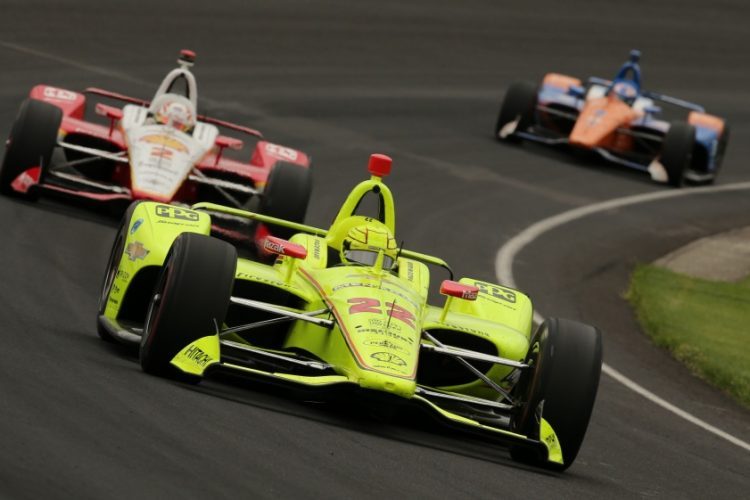 The no.22 Team Penske will start on pole position in the Indianapolis 500
That was a special moment for Finch, but two weeks later he tasted an even sweeter result when Pagenaud claimed his first Indianapolis 500 pole position.
"It was pretty unbelievable I will say,"
he said of Qualification Day.
"When he was doing his laps I saw 230mph pop up, and I was like 'oh that's a pretty good first lap, let's see how the drop off is' because typically the drivers will drop off two or three miles an hour."
"Then he did another one that was 230mph, then he did another one and I thought 'no way, he might actually do this' and sure enough he did it.

"That was pretty special for the team too because a lot of the guys that were on Simon's car we all kind of started last year roughly around the same time. We were all getting our first pole position. It was an immense experience."

"For Simon going through a bit of a drought last year I think it was really special for him."
Come race day the goal is to stay up the front. Finch believes Pagenaud and the team have good odds of winning the race. Pagenaud has made a habit of breaking droughts recently and could become the 21st to win from pole position. The to win from pole position was Hélio Castroneves in 2009.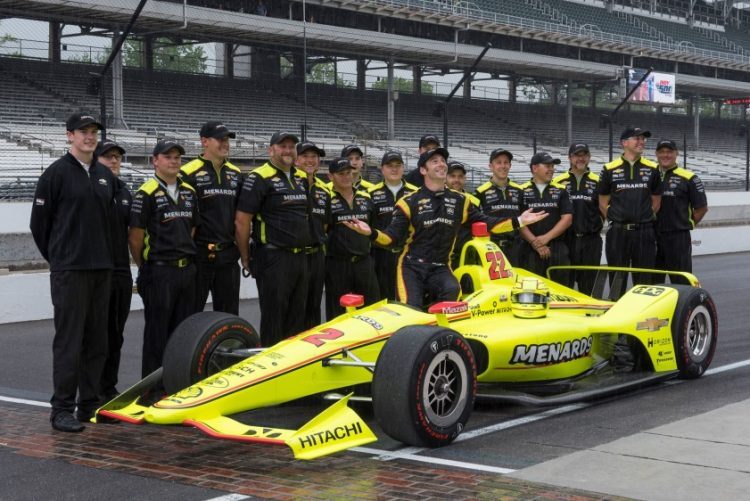 Malcolm Finch (fifth from the right) with the pole sitter on a wet qualifying day
The 103rd running of the 500-mile race is only the second for Finch. He said his first a visceral experience.
"It was all new. I hadn't even been to the race before. I watched it several times on the TV but had never actually been to the race.
"It's his amazing experience with 100,000 people that all come out to the venue. You've got people asking for picture with you and want your autograph.
"I was thinking it was bizarre because I hadn't really thought I was deserving of giving out autographs or anything. There's just so many fans and they love everything to do with racing.
"The first thing I remember was the start of the race. The cars are incredibly loud, but you can hear the entire crowd over the cars. It's amazing. I didn't think that I'd experienced anything quite like that.
"Once the race gets going it's really loud. It's a good loud though. It's definitely not a bad loud. It's just constant. It's a really cool experience it."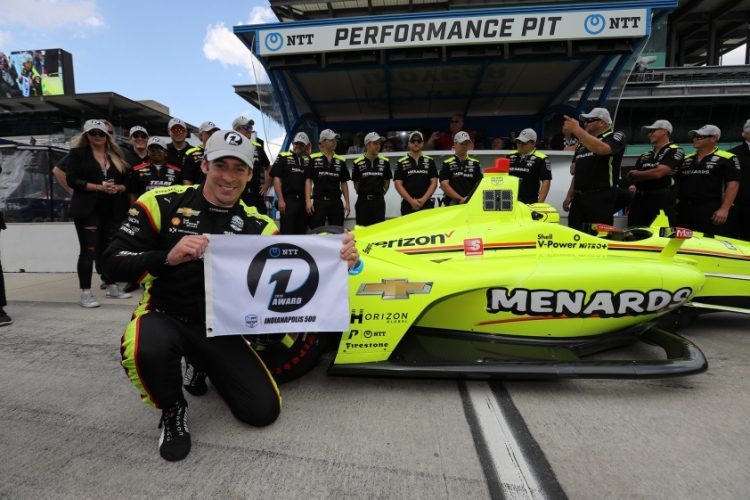 Finch will be one of a few New Zealanders behind the concrete barrier this weekend, but there's just one on the asphalt. As for who he's going to be wanting to win though?
"Prior to working at Penske I was always a Dixon fan so it's weird to be on the other side of the coin. But of course when you're in a team your allegiance switches and you just want to win."