Revealed at a launch event in London, Mercedes have become the second Formula One team to reveal their livery for the 2020 season.
The 2019 title-winning W10 car was used to demonstrate the livery used for the upcoming season, sporting a livery which retained the colours that have become synonymous with the Mercedes outfit, with the only major difference being the addition of red on top of the airbox and on the front wing endplates.
The addition of red has come about as part of a deal with new sponsor, INEOS.
Mercedes team principal Toto Wolff said of the new INEOS partnership "It is a very proud moment for us to welcome INEOS to Mercedes in their new capacity as principal partner. The company's ambition, dynamism, and entrepreneurial flair are a perfect fit for the spirit of Mercedes-AMG Petronas."
"Both companies share a restless desire to improve every day and a strong commitment to achieving the very best results. Our partnership will be defined by tackling great challenges together – on the race track, on water, and on the stages of the Grand Tours – and we will be aiming to raise the bar in each of them."
"Furthermore, this new partnership is an important cornerstone of our future plans in Formula One. It once again serves to demonstrate the attraction of the sport for ambitious, global brands with a long-term vision for success."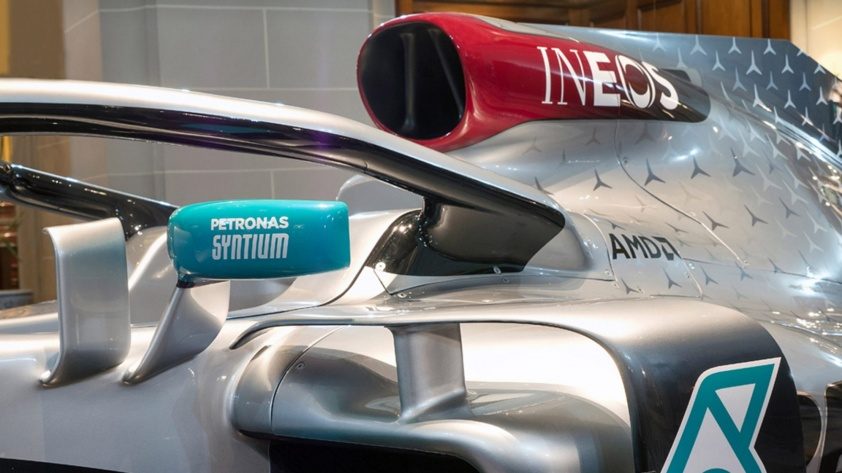 Also in attendance at the livery launch was INEOS founder and chairman Sir Jim Ratcliffe, who stated "It's a proud moment for INEOS to become principal partner to the world's best Formula One team – and by extension to one of the world's most prestigious brands, Mercedes-Benz."
"The Mercedes team is a leader in global sport and have consistently shown that they are at the forefront of technological innovation and human performance. Their grit and determination to redefine what is possible makes them a natural fit for INEOS."
"By strengthening our partnership with Mercedes-AMG Petronas it will allow us to identify and unlock even greater performance gains across the wider INEOS sports family.
The car that Mercedes will be using for the upcoming season – the W11 – will be revealed on the 14th of February at Silverstone, United Kingdom. Ferrari will become the first team to launch their official 2020 contender, with a launch scheduled for tomorrow in Reggio Emilia, Italy.
2020 Formula One car and team launches dates
11 Feb – Ferrari
12 Feb – Renault
12 Feb – Red Bull
13 Feb – McLaren
14 Feb – AlphaTauri
14 Feb – Mercedes
17 Feb – Racing Point
17 Feb – Williams
19 Feb – Haas
19 Feb – Alfa Romeo