Some of the worlds best Midget car drivers flew into Christchurch's Racecourse Hotel & Motorlodge Ruapuna Speedway for the 78th running of the event, but the #1NZ stayed on the tail tank of Michael Pickens.
The two-day event drew a field of 45 drivers from all over New Zealand, Australia and the USA. The weekends 15 heat races were extended from 10 to 12 laps adding an additional 30 laps of Midget action to the program.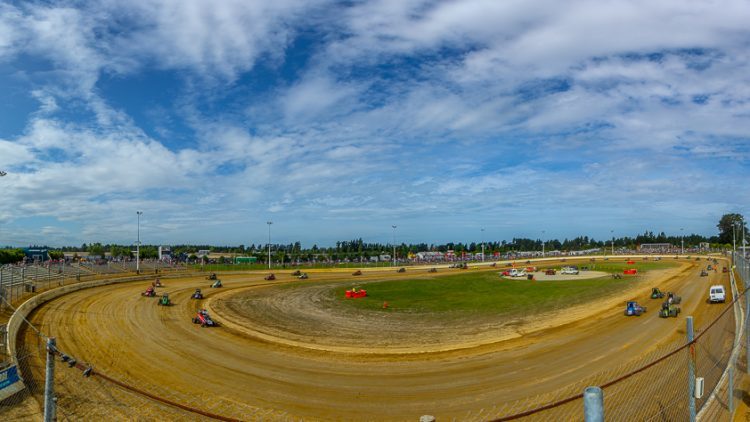 Day 1 saw all entrants divided into six even groups and nine of the weekends 15 prelims held on a hot Friday afternoon.
Those took place on a track that, at first glance, looked to be starved of water and track prep with hot laps scratching away a paper-thin layer of fresh clay quickly to reveal a hard looking rubber down surface.
Appearances can be deceiving as throughout the night the track drew its stored moisture up towards the surface and with the help of the water truck, the track came to life and became racy as the sun descended and the day's heat dissipated.
In the opening race, Pickens quickly made his way to the front and was followed home by Brock Maskovich and 2NZ Brad Mosen. 61a, Auckland's Brad Hollier on his first visit to Ruapuna, clipped the wheel of spun local Jay Chadwick and hopped his car up and over forcing him out of the race.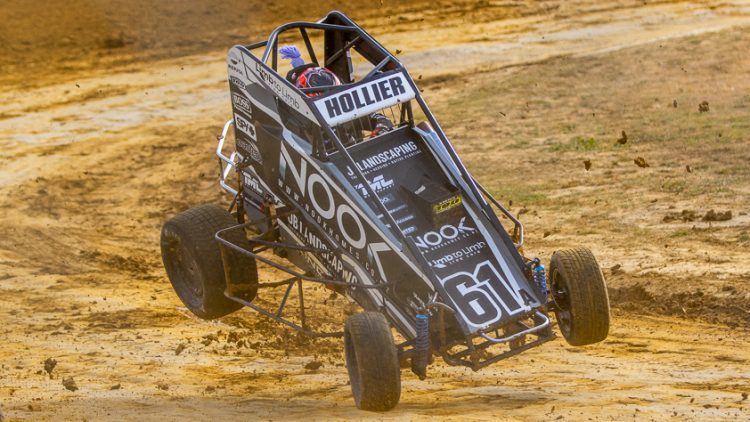 American Logan Seavey won Heat 2 with local hope Jeremy Webb, fresh home from Chili Bowl competition, in second. Hayden Williams was third after passing several cars in the closing laps though not before five-time New Zealand champ Michael Kendall had no way to avoid a spinning car forcing him out of the race after a new engine was transplanted due to problems the week before in Nelson at the Grand Prix.
Rising star Zeb Wise of the USA took the early lead in Heat 3 but slowed dramatically in the closing stages after throttle linkage issues. He could have finished last if not for a three-car tangle bring out both the caution and the chequered flag. The race won by local legend Dave Kerr over fellow Cantabrian Tom Lumsden and Australian teenager Kaidon Brown.
Pickens found himself stationary on the track after a close quarter's battle with Brett Jnr. Morris for second in Heat 4. Another car ploughing into the 1NZ tail tank of the stopped King-Toyota breaking his rear bumper and was unable to be restarted.
Seavey half spun in Turn 3 and had all but stopped if not for a timely whack from the rear, which jump-started his motor back to life allowing him to continue however with a flat left rear tyre limping around the track for several laps then pulling off.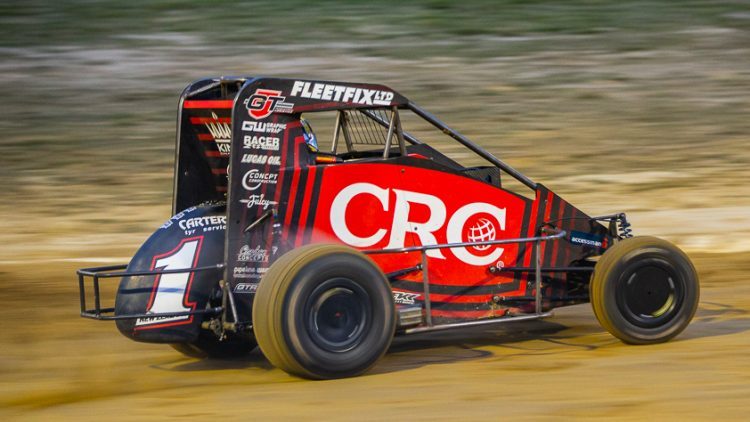 Morris went on to finish second behind Maskovich after the two exchanged scintillating early and late race passes with no less than 15 lead changes. Webb was home third on an ever-widening track.
Heat 5 saw several cars spin and Christchurch registered Reon Taylor made restarts from the front until 33a James Cossey dived to the low line to take the lead. However, he was soon passed by American USAC National Midget Champion Tyler Courtney as collisions further back resulted in teammates Hayden Williams and Jayden Worthington stopping. The former inverted with several other cars stopped.
When the race restarted Kerr at times had his right rear inches off the top of the three and a half foot high wall. Courtney won with Brown second and Cossey third. Courtney had flight delays meaning his trip from Tulsa ultimately landed him in Christchurch minutes before his heat race.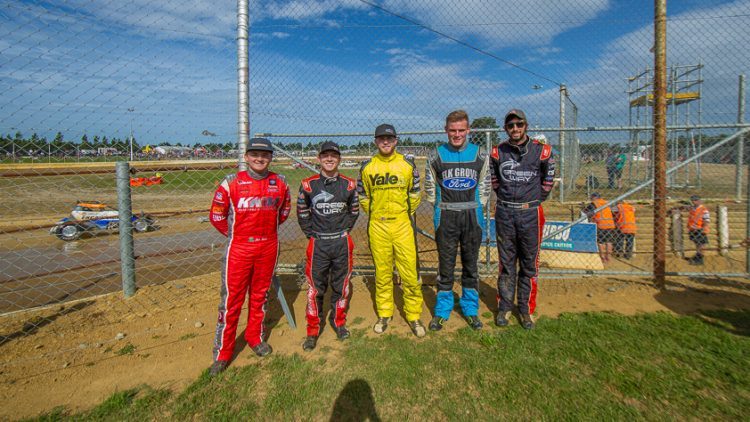 Glenn Milroy flipped by himself in heat 6 which briefly interrupted Wise fending off fellow American Zach Daum for the win with BSL team driver Hayden Guptill 3rd.
Heat 7 was all Pickens with a comfortable win from the front row but not before teenage Auckland driver Travis Buckley rode the wheel of a car in front, snap rolling three times before being cast up into the catch fence. He was able to walk away and repair the car for the following day's heat races. Williams finished second with Courtney third after starting near the back.
Mosen took line honours in Heat 8 with the lone Australian Brown accumulating a great point's haul with second and Daum doing the same in third.
The final heat of night one was a comfortable win for South Island Champion Lumsden with Wise and Kendall second & third respectively.
Brown and the United Truck Parts team towed out of the pits with the points lead with two front grids in their final heat races on Saturday. Others high in the order of the points were Mosen, Maskovich, Courtney and Daum. Pickens was 10th equal.
The track had been turned over for Day 2 and plenty of water added with higher temperatures expected on and off the track.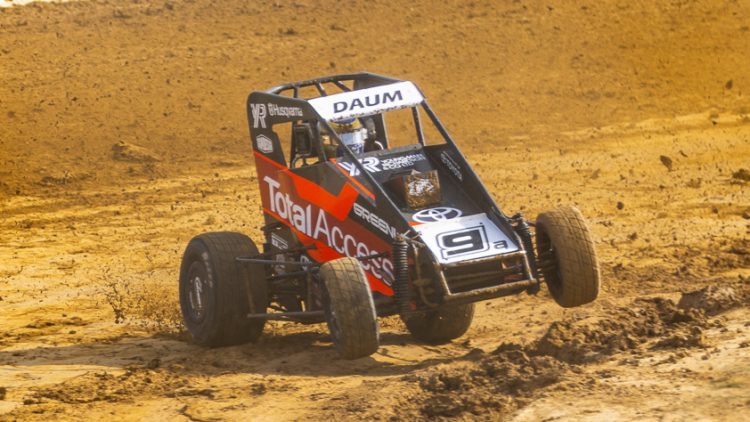 A multi-car crash opened the final two rounds of heat races with Chadwick over and out of the race. Several more stoppages disjointed the race which was eventually won by Courtney as he fought his way past Mosen who came home a clear second over Daum.
By Heat 11 the track was dusty and bumpy with cars bouncing over the surface. Brown scored a win over Kendall who won the 2001-'02 Championship at the same track. K & T Drainage sponsored Webb was third.
Nelson driver Brian Barclay led Heat 12 for the first half until Guptill passed him. Meanwhile Pickens had started 15th and tore the field apart passing both front runners comfortably.
The track was reworked in turns one and two before Heat 13, which was won by over a straightaway for Mosen with Webb and Kendall flipping in the final turn on the final lap.
Courtney owned victory in Heat 14 from grid one with Williams doggedly chasing him over the line and Max Guilford in third showing some pace that eluded him on Day 1.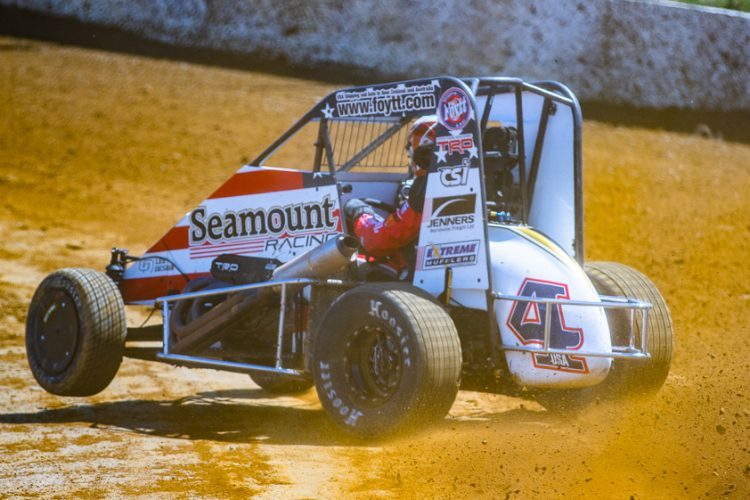 The final heat had plenty of closely contested positions with Barclay once again taking advantage of a front grid lead until 17-year-old David Pellow took it from him. Pickens and Brown working their way forward.
On a restart with three laps to go Pickens slid inside Morris and Barclay and onto Pellow's bumper but unable to pass the Auckland registered teenager who thwarted all attempts.
Guilford passed Pellow then Kendall in the first B-Main to win transferring with Kendall to the last two rows of the Championship race. Webb and Aaron Hodgson transferring from the last B-Main.
Courtney and Mosen paced the field for the 30-Lap final with Brown and Daum behind. Pickens and brother-in-law Brock Maskovich, himself a former 2NZ, in sixth. Wise, Lumsden, Seavey and Duane Hickman from Stratford starting 10th.
Mosen took the lead into the first turn and down the back straight but slipped up the track and back several spots handing the lead to Courtney who was quickly passed by Brown who gave himself some breathing room early while Daum worked Courtney over for second and set after Brown.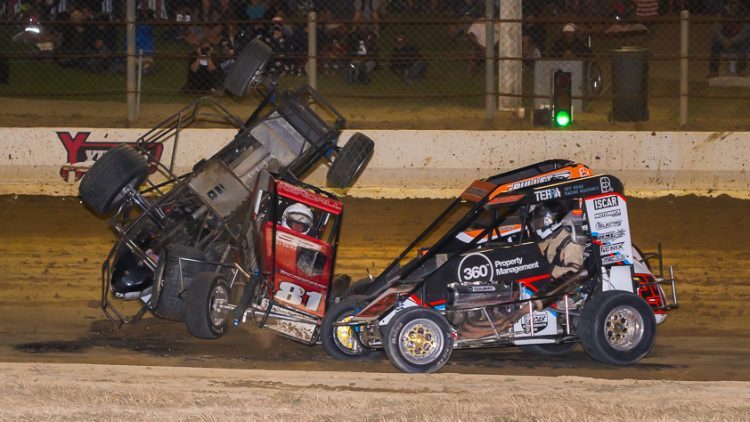 Pickens sat in sixth behind Wise until a Lap 9 caution restart where he picked a faster lane than Mosen and Wise, passing both Seamount cars in turns one and two to place him fourth.
Pickens then picked off Courtney for a minor spot on the podium with only a consistent Daum and Brown ahead. Just then Browns motor lost power with electrical issues while the former Australian Speedcar Titleist was leading, shattering a stellar performance over both days.
Daum assumed point for the restart for several laps until Pickens gathered momentum down his inside on the back straight and into the lead.
In the closing stages, Wise and Mosen had a torrid battle for third. The teammates racing hard and clean for several laps with Wise inching ahead to look to take second from Daum but ran out of laps as Pickens claimed his ninth title.
Daum was second with Wise happy to earn a 3NZ for car owners Brett and Leigh Morris. Mosen was fourth with Seavey fifth. Williams, Courtney, Morris, Maskovich and Ryan O'Connor in the top 10.
CLICK HERE to view the New Zealand Midget Championship replay