Irwin Racing has revealed their latest challenger ahead of the 2020 Virgin Australia Supercars Championship.
Mark Winterbottom will continue his partnership with Irwin Racing and Team 18 after signing for the outfit last year, ending a tenure with Ford Performance Racing and then Tickford Racing that had begun back in 2006.
This year's Irwin Racing livery expresses much of the same as seen last season with minor tweaks to the yellow and blue highlights being the only notable differences.
2019 was a see-saw year for Winterbottom and Team 18.
At certain phases of the year, the #18 car was often the fastest Commodore across the field. Winterbottom took a shock pole position at Symmons Plains and twelve top-ten finishes.
However, this success was shrouded by occasional flaws, seeing the team fail to compete with anyone bar the backmarkers.
"It's great to reveal the new look for the IRWIN Racing Commodore for the 2020 season,"

said Winterbottom.
"I definitely feel a lot more comfortable now and although the team has expanded in the off-season, we've retained a lot of the same crew and complemented them with some new people."
"Inconsistency let us down last year. We got pole position in Tasmania last year and then we qualified 20th at Phillip Island so we need to make sure our good tracks remain strong and our troubling tracks become better."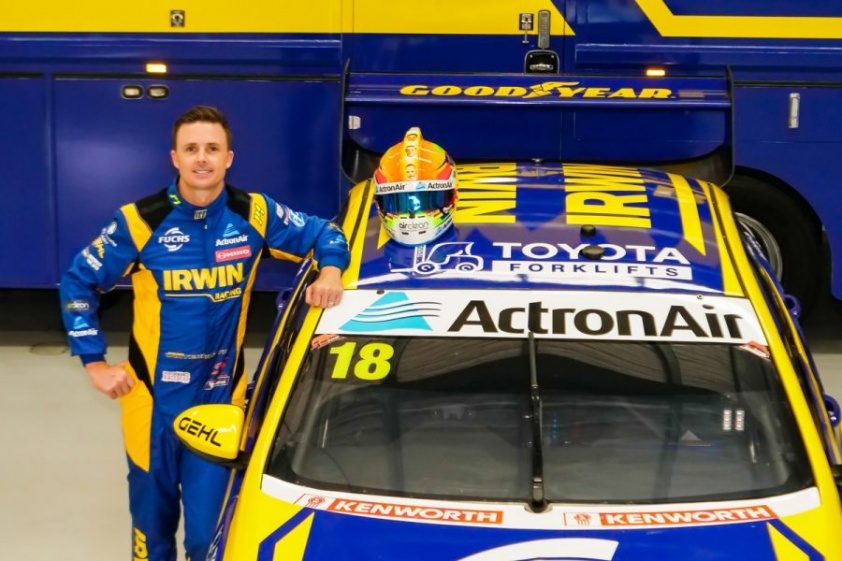 Team owner Charlie Schwerkolt is equally confident heading into a new season.
"He is an amazing guy and a champion driver. We all know how well he can drive, he's won Bathurst, he's won the championship, and he's been the foundation of the rebuild of Team 18," commented Schwerkolt when asked about Mark Winterbottom's position within the team.
The signing of Scott Pye from Walkinshaw Andretti for 2020 is an added boost of confidence for the entire outfit.
Pye's livery is expected to be released later on today.