Everyone, well, mostly everyone thought Connor Adam claimed his debut Super GT New Zealand victory seven days ago at Highlands Motorsport Park.
That wasn't the case. But Adam wouldn't have to wait much longer to do so, picking up the win in the opening race at Ruapuna today.
Adam qualified on the third row and was fifth on the road before making his compulsory pitstop five minutes into the 30-minute affair.
He wasn't the only driver to complete their mandatory Balance of Performance pitstop right as the window opened.
All the leaders pounced on the opportunity to get their stop out of the way.
Polesitter Paul Kelly had to wait in the lane for an agonisingly long 90-seconds, the longest of anyone.
Highlands feature race winner Ben Byers ran strongly in second before making his pitstop. He also lost a chunk of time and position due to sitting in the lane for so long.
Ultimately, once the pitstops played themselves out, Adam had vaulted into the lead.
He wouldn't relinquish the position all the way until the finish flag – a red finish flag due to a big crash for Lochlainn Fitzgerald-Symes at the final corner.
Even though the race was cut short, Adam was still awarded the win.
"We probably should have won a race at the last round, and we finally got one," he said.
"We just needed to stay out of trouble and I think we did that to bring it home."
The Porsche 991 of Martin Dippie made a late move on the McLaren GT4 of Nigel Cromie at turn one to snatch P2.
Despite losing the second step on the podium, Cromie was still ecstatic.
"When I heard that we were third, I couldn't believe it," he said. "There was only one lap to go, was pretty confident I could hold on. I couldn't ask for much more. I'm stoked."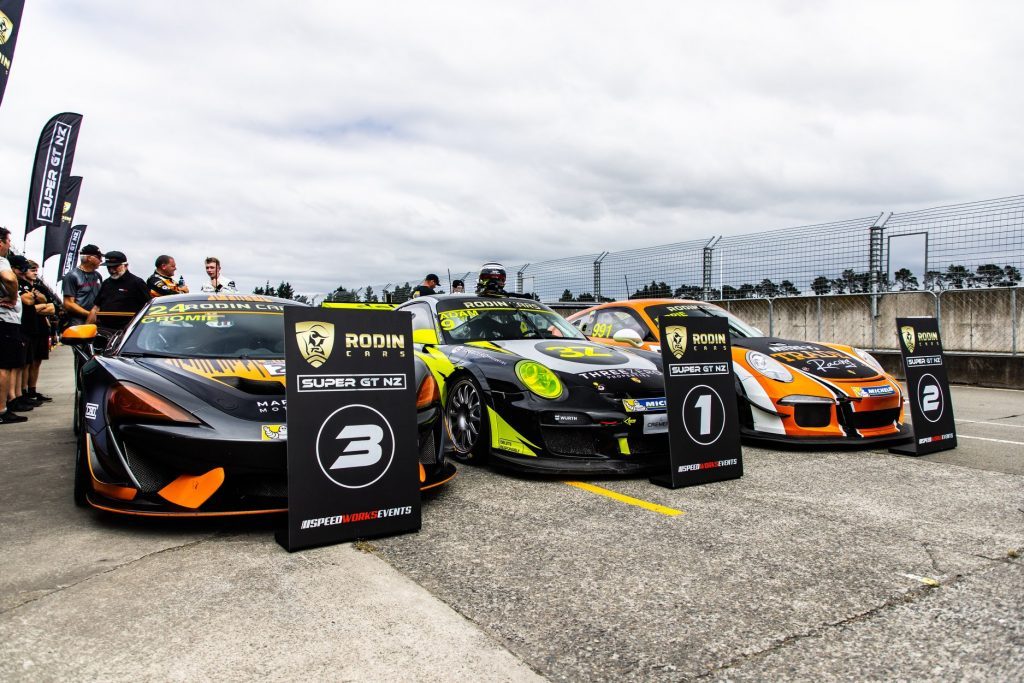 Byers' late chase of Cromie for a podium spot was cut short due to the red flag. He finished fourth.
Allan Sargeant was fifth overall and the second GT4 car home.
Initial leader Kelly had a disastrous race after his pitstop, picking up a puncture and finishing two laps down in 21st.
Race Result:
| Pos | Driver |
| --- | --- |
| 1 | Connor Adam |
| 2 | Martin Dippie |
| 3 | Nigel Cromie |
| 4 | Ben Byers |
| 5 | Allan Sargeant |
| 6 | Shane Helms |
| 7 | Dave Cremer |
| 8 | Stephen Harrison |
| 9 | Grant Aitken |
| 10 | Todd Bawden |
| 11 | Brent Forman |
| 12 | Steve Sullivan |
| 13 | Adam Julian |
| 14 | Rob Steele |
| 15 | Heremana Mana |
| 16 | Martin Neil |
| 17 | Stewart Callaway |
| 18 | Francois Beziac |
| 19 | David Rogers |
| 20 | David Cranna |
| 21 | Paul Kelly |
| DNF | Lochlainn Fitzgerald-Symes |