Newly crowned New Zealand Formula Ford champion Alex Crosbie proved the old racing mantra true over the weekend: to finish first; first, you must finish.
Crosbie was third in the points race coming into the four-race finale at Ruapuna.
Some big results and a lot of luck would need to fall his way if he were to overcome the 62-point deficit to erstwhile leader Liam Sceats.
Sceats' main title threat was Christchurch local Zac Christensen. However, despite winning three of the four races, a DNF in race two because of a broken rear hub meant his series-winning efforts were over.
The same went for Sceats, who battled a misfiring engine on Sunday. An engine that would eventually give up with two laps remaining in the final race.
"It's not the first low we have had in motorsport," Sceats said. "We will carry on and prepare for the final North Island Series round in a few weeks."
Sceats' misfortune opened the door for Crosbie to snare the national title.
Crosbie was the only driver to stand on the podium in all eight races this season. The highlight result was a win in race two at Ruapuna.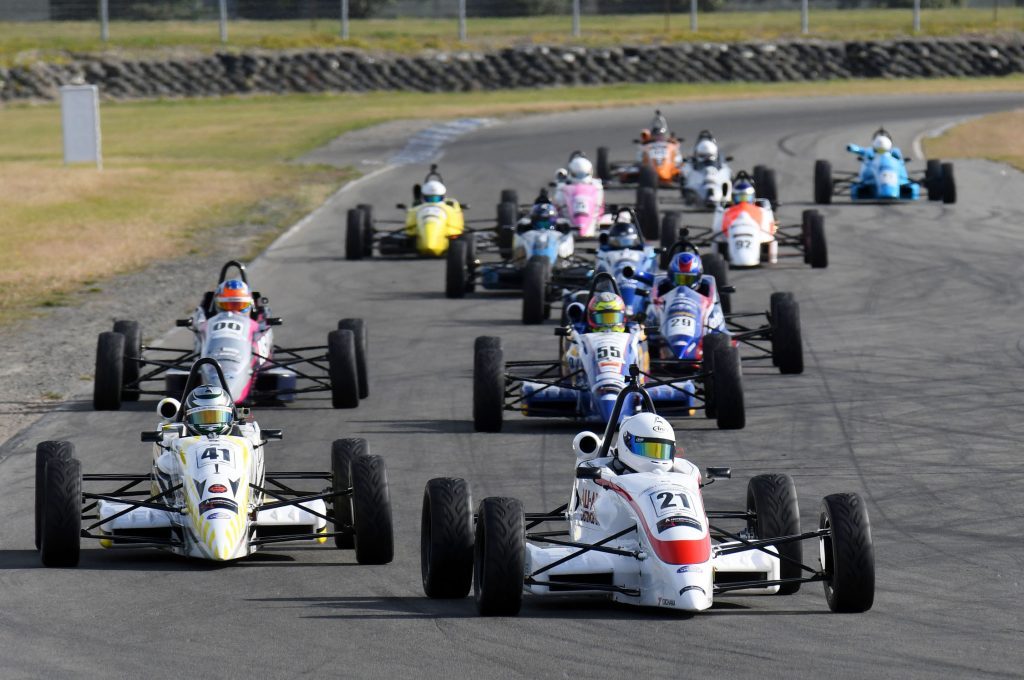 He finished 14 points clear of Christensen, while Sceats ended the season third overall.
"Stoked," Crosbie said.
"It's great to know that my name will be on the trophy. I thought I needed to win the (last) race to take the title. I really didn't think I had a chance at the start of the day."
As national champion, Crosbie receives an FT-60 Toyota Racing Series test and free entry to the Formula Ford Festival at Brands Hatch later this year.
NZ Formula Ford points:
| Name | Points |
| --- | --- |
| Alex Crosbie | 509 |
| Zac Christensen | 495 |
| Liam Sceats | 460 |
| Bree Morris | 364 |
| Simon Hunter | 348 |
| Jack Noble-Adams | 337 |
| Sebastian Manson | 312 |
| Shane Drake | 267 |
| Mason Potter | 261 |
| Leo Scott | 252 |
| Robert Toshach | 232 |
| Bo Hill | 195 |
| Joshua Andrew | 160 |