New Zealander Courtney Duncan has been travelling Europe with a friend for the past two weeks since clinching her fourth WMX Motocross World Championship crown in Turkey last month.
She will return home to New Zealand soon and begin the buildup for another season with Kawasaki in 2024, saying her 2023 success has only just started to sink in.
"I've spent two weeks with my best friend after the season touring Europe a bit; it's something I never really get to do before," Duncan said in a release shared by Kawasaki.
"I don't think it sunk in straight away in Turkey; it took some time, but it's slowly sinking in now. World title number four is really special – I'm not going to lie with this – so we'll enjoy it for a couple of weeks and then get back to work."
Duncan's 2023 campaign saw her further build on an already impressive tally of success, with four GP victories and six moto wins over six rounds leaving her with a career total of 16 GP victories and 28 moto wins.
The Southlander, however, says she has more to give but admits she'll continue to take a round-by-round approach as she seeks to build on her record.
"For sure, it's a dream, a goal, something I never dreamed of as a kid," she said when asked if she was looking to the records with the aim of becoming the most successful woman in the sport ever.
"When I started, I thought, let's win one world title and see what happens. As you get further in the history books, it plays a little part in your mind, but I'm not a huge chaser on stats for their own sake; I just always want to win and always want to do the best I can. I've obviously had success in my career, but I just want to keep my guard up to what I achieve, and I hope I can win many more GPs and titles in the future.
"Four is really special, but for me, I want to win another four. When I can get this, and one day I can hang up my boots, I hope I can look back at my career and say it was a perfect one."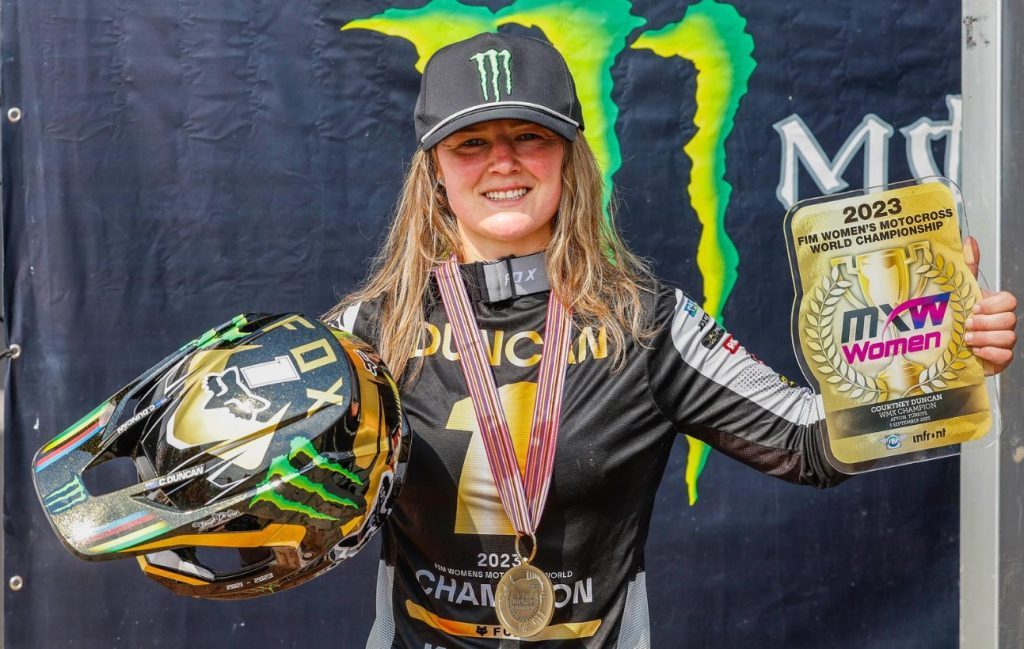 She also adds that moving to Europe to begin her career was no easy feat, presenting a range of challenges she had to overcome to reach her potential.
"Nobody can understand unless you have done it. Europe is a long way from home, and when I left home at nineteen, I packed a suitcase and my bags to travel to the other side of the world alone. You leave everything behind; you leave your comfort zone, and you don't know what you're going to.
"It's just a heavy learning curve with a whole different culture, tracks, way of life. It's just a different world; there's so much to learn, and you only have a few opportunities to make it happen.
"You have to learn quickly; I feel like I adapted fast, but at the same time, I made a whole lot of mistakes along the way. It was not an easy transition, but I guess you can say it has been successful in the end."
When asked to compare her four titles, the 27-year-old responded, "The first one is always special and the way I was able to win my first championship, too. It wasn't just given to me; I really had to persevere. I was a kid that had so much talent and potential, and for so many years, I still didn't make it happen. I felt the weight on my shoulders, so when I could finally win that first title, it was a whole lot of relief – I got the monkey off my back – so there will be nothing that will ever compare with that.
"But this number four is also very important; to come back after the collarbone injury was tough; I had to drive my programme to a new level this year, and a whole amount of self-ambition and help went in there.
"When you're able to cross the finish line, it's a proud moment and one when I could repay my family and everyone who has helped me. It was the first time my mom could be there to share it with me, and that made it extra special and gave me a lot of satisfaction."
Duncan missed the majority of the 2022 season, having suffered a broken collarbone in Round 2.
With a busy 2023 now complete, Duncan says she looks forward to returning to New Zealand to spend time with family and friends.
"That's also really important," she says. "I've spent a huge amount of time preparing with my friends, my family and my team back home; they're all really valuable and have played an important role, so to get back home and share this achievement with them is special too."
Quotes and Images: Kawasaki