Up-and-coming Formula Ford champion Alex Crosbie is the first Kiwi confirmed for the 2024 Castrol Toyota Formula Regional Oceania Championship.
Hot on the heels of 2019 champion Liam Lawson's impressive debut run in Formula One, Crosbie is aiming to be the next Kiwi name on the big stage and he's bringing an impressive racing CV to his first campaign in the New Zealand-based international FIA series.
In an eye-catching 2023 season racing in Formula Ford, the 16-year-old Southland Boys High School student took seven wins in the NAPA Autoparts New Zealand Formula Ford Championship on his way to the title, and five more wins on his way to second overall in the Yokohama South Island Formula Ford Championship.
Crosbie already has mileage in the Castrol Toyota FR Oceania Championship's Toyota FT-60 car under his belt with two full test days at Hampton Downs as part of his prize for winning the New Zealand Formula Ford Championship twice and will race an earlier series FT-50 car in the domestic Formula Open championship as part of his preparation ahead of the season's first round in January.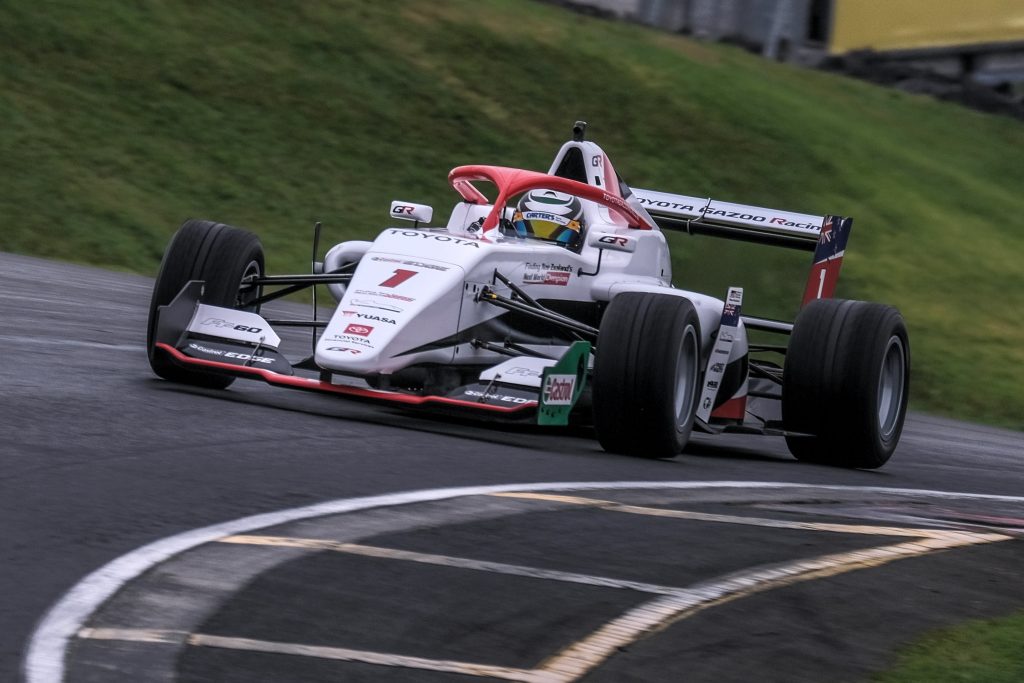 The championship, which will include Alex racing in the first New Zealand Grand Prix to be held at Highlands Motorsport Park and the South Island's first since 2007, will still be a step up for the youngster but one he is relishing.
"It's going to be tough but I'm happy I'll get time in the earlier car and race miles at the North Island circuits we will race on when CTFROC begins," he said. "Mum and dad will be running that car too, so it'll be fun as well as being valuable. Alastair Wootten at Formula Fit oversees my training programme now, so hopefully we're doing everything we can to be competitive.
"It's a great time to be a Kiwi in motorsport and I know there will be plenty of interest in CTFROC 2024. I'd love to win and that would be the objective, but I know it's going to be super competitive and a top five or top three overall would also be an awesome outcome."
Giles Motorsport team principal Stephen Giles says the young Kiwi can go well. "I'm looking forward to working with Alex at Giles Motorsport for the 2024 Castrol Toyota FR Oceania Championship," he said.
"He's joining us off the back of some great results in Formula Ford and his recent test in the FT60 has shown he has strong potential to follow up with more."
The championship will be the second edition of New Zealand's premier category run as one of the official FIA global regional junior championships. It ran for 17 seasons prior to that as the Castrol Toyota Racing Series.
In that time, it has produced more than 20 drivers who have tested or raced in official Formula One World Championship events in addition to Lawson. Graduates also include drivers who have competed in Indycar with Marcus Armstrong and Santino Ferrucci current graduates in that championship.
It can also list successful international endurance and Le Mans-winning drivers like Brendon Hartley and Earl Bamber in its list of former drivers and multiple successful Supercar, GT, and touring car competitors.
2024 Toyota Formula Regional Oceania Championship calendar
| | |
| --- | --- |
| 19-21 January | Taupo International Motorsport Park (Historic Grand Prix event) |
| 26-28 January | Manfeild – Circuit Chris Amon |
| 2-4 February | Hampton Downs Motorsport Park |
| 9-11 February | Euromarque Motorsport Park (Ruapuna) |
| 16-18 February | Highlands Motorsport Park – 68th New Zealand Grand Prix |
Header Image: Alex Crosbie is aiming to be the next big Kiwi racing name. Picture Supplied
Words & Images: Supplied