Damon Rees jumps across to the British Supersport championship for 2022 and is confident he has the correct package underneath him to challenge for the overall title.
Rees has raced in the Superstock 1000 class for the past two years, finishing eighth in his rookie season before moving to the Ashcourt Racing team for his sophomore campaign.
Unfortunately, a heavy crash at Silverstone ruled Rees out of the final four rounds of this year's championship.
Then came the potential risk of being left without a ride in 2022 after news fed back to Rees that the team were looking at returning their focus to road racing.
The volume of work necessary for road racing meant the team were not overly keen to do another full season of circuit racing on the side.
However, the team was soon swayed to give the series a crack, and the door was opened for Rees to make the swap from the Superstock class to the Supersport category.
"There were a couple of avenues for me in Superstock, but nothing really jumped out at me," Rees said.
"But when I got the opportunity to race in the Supersport class, I didn't have to even think about it, really.
"I went home that night, called my parents and it all just made sense for me to do it.
"It also guarantees more TV coverage [in NZ] as the races are either the race before or the race straight after the Superbikes."
This year in Superstocks, Rees rode a BMW S1000RR. He jumps on a Yamaha R6 for his latest gig, which is his first time on a 600cc bike since winning the 2018 New Zealand Suzuki series.
In 2017, Rees won the New Zealand Superbike Supersport championship, and he's also picked up podiums in the class in Australia.
The Supersport bike is a lot less demanding to ride than the Superstock. It has between 130 and 140 horsepower, and it runs on a softer compound of Pirelli tyre.
With Rees still recovering from his bone-breaking crash, there was no guarantee his right arm would be 100 per cent fit to ride the Superstock bike.
"I didn't want to go the track [on the Superstock] feeling 80 per cent and be 1 – 1.5 seconds a lap slower than my personal best."
If all goes to plan, Rees hopes to be in Portugal in March to test the R6.
"We'll have a couple of days running in Portugal and get a good base setup.
"We have Lee's [Johnston, who rode in Supersport this year] data to help us, whereas this year we sometimes had no data, starting from scratch at some weekends.
"The bike should be competitive straight out of the box and then its about making a few minor tweaks to suit me."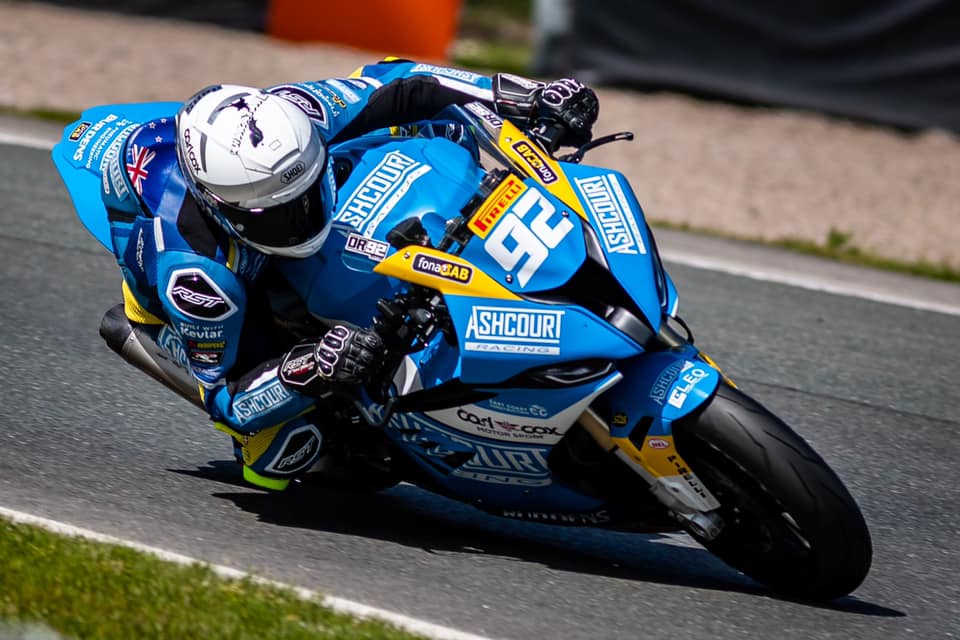 Since Rees' accident, he has been recovering at his UK home, slowly building back the strength in his broken humerus.
"The surgeon said to me first thing when I woke up that [the humerus] was a mission of a job because he opened it up and didn't expect it to be broken into so many pieces."
He is now waiting for his radial nerve to fully heal after being damaged in the fall.
"I lost mobility in my hand. I could close it but not open my fingers.
"The doctors say it is a one millimetre-a-day repair. I don't know how many millimetres it needs, but at least I am not on the bike till March.
"I'm also starting to rebuild the muscle in the arm."
Racing in Britain for another full season keeps Rees' ultimate ambition alive and burning.
"The goal is to be racing in British Superbikes in the next couple of years if all the stars align.
"But right now, the focus is on Supersport and doing my best in that. I've got the best package and the confidence in me to do that.
"I'm thankful for everyone that's helped me. I've got Carl Cox Motorsport backing me again, and Aaron Slight has been great even if it's just a few words through text.
"It is a shame this year ended the way it did, but it is all looking positive for next year. I am really looking forward to it, and it's been a long time since I have felt that way."