It may have been a WhatsApp phone call, but you could almost hear how big the grin was on Billy Frazer after starting his sophomore USF2000 season off with a podium.
After two races in St Petersburg, Florida, Frazer is second in the drivers' championship.
He got a mega start in race one to bolt into podium contention, eventually finishing second.
Race two was your typical street circuit wreck fest. But Frazer cunningly survived the carnage to finish sixth, bagging even more points.
"It's a strong start to the championship, for sure," he said.
"If that P6 in race two is the worst result we have this year, I'm not complaining."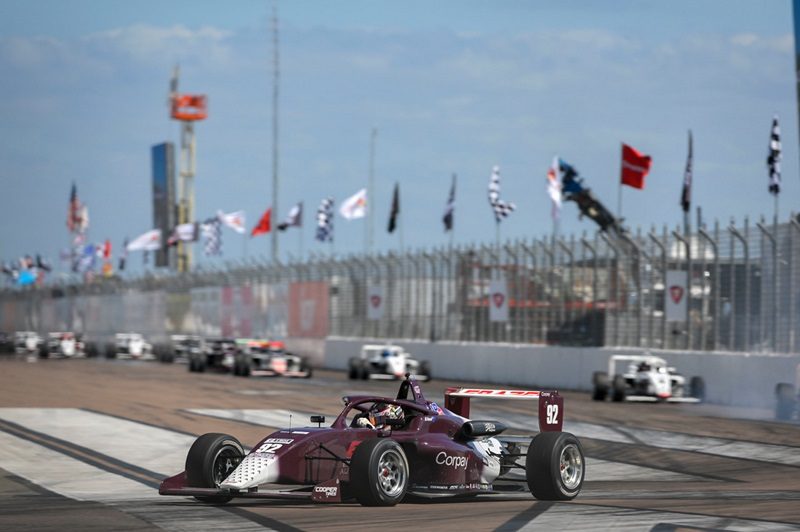 St Pete is no easy track to begin the year with. It's bumpy, has some fast straights, and is fenced in by several hundred tonnes of concrete wall.
One mistake and it can be race over.
It also places plenty of importance on practice, of which drivers only get a limited amount of time to find their bearings.
But none of that matters when your engine doesn't want to play nice.
"The team did a great job and did an engine change overnight," Frazer said. A throttle issue meant he could only manage a handful of laps in practice.
"But I found [the track] easier this year. Even with missing practice, the experience from last year helped me massively.
"You notice the walls less and focus more on the things that matter. [The walls] soon become just exits of corners."
Frazer left it late in qualifying to post a competitive time. He would start from the third row for race one but down in 12th for race two.
And while it may have only been the first of 18 races this year, deep down, Frazer knew he had to make an early impression.
A lightning launch had Frazer dart to the outside line for turn one. The circuit then narrows drastically for turns two and three, so Frazer couldn't afford to hesitate.
"I got a brilliant start and just backed myself. I had a lot of confidence and I am glad it paid off."
Unfortunately, the lack of consistent practice running and no caution periods meant Frazer's long-run pace couldn't match the front runners. He slipped back to fourth on lap 11.
But when the two drivers challenging over P2 crashed on the final lap, Frazer picked up the pieces and earned his first podium in America.
"Rewarding" was how Frazer described the result. A reward for not only his own efforts but for those of his team. Together, they had put in the hard yards during the off-season and between practice and the race to get Frazer on the podium.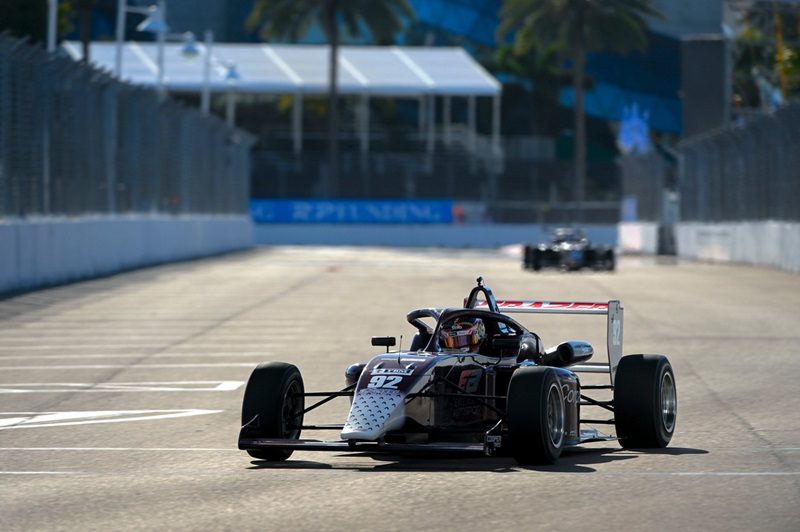 Some slight changes were made to Frazer's car for race two to give him more of an edge over an entire stint.
However, race two would be a messy scrap with plenty of crashes and safety car interventions, making those changes rather pointless.
But Frazer still came out the other side with more championship points, lots of learning and the confidence in himself to pursue that first win.
"We got that first podium, and now we chase the first win," he said. "It's a pretty awesome situation to be in.
"The only up from P2 is P1."