Marco Giltrap set the early pace in practice for round two of the Toyota 86 championship at Ruapuna.
The teenager waited until the third and final 20-minute session to post the day's quickest marker, which ended up being a 1.38.837.
No one else would break into the 1.38s all day, leaving Giltrap as the kid to chase in today's qualifying and opening race.
Behind, Justin Allen had a competitive Friday, topping the morning's first session and setting the second-best lap on the combined standings.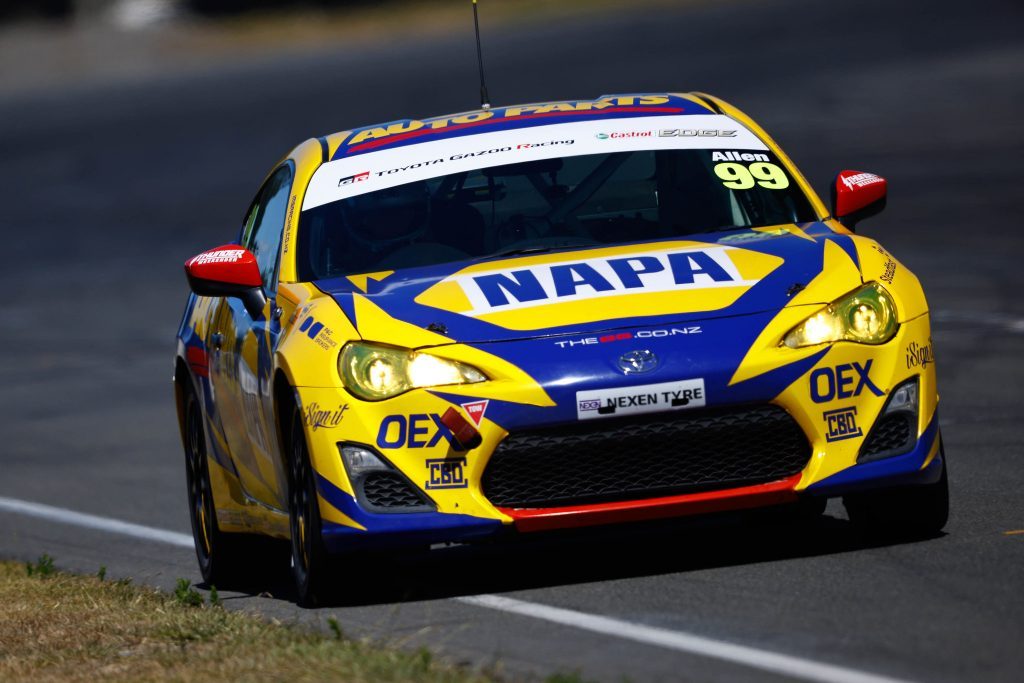 Zac Stichbury was noticeably pacey in all three sessions. The rookie was in the top-five times all day, highlighted by finishing P2 in the mid-afternoon test.
There was one notable absence from the top of the timesheets all day. Points leader Simon Evans ninth quickest in Practice 1 and 3, but was outside the top ten in the second session.
Evans' early title contender Rowan Shepherd also had mixed results.
Shepherd was tenth in the morning session, fastest of everyone in the afternoon before sitting out the evening test entirely.
Chelsea Herbert was buoyed with her early form this weekend.
After a difficult debut weekend at Highlands seven days ago, Herbert has seemingly found her footing in Christchurch. She was in the top ten in every session.
In fact, the whole Heart of Racing team will be pleased with the day, especially in the third session.
There, Hugo Allan was fourth, Herbert sixth, and Rianna O'Meara-Hunt seventh.
Today, there is one qualifying session at 10.30 am, followed by Race 4 of the championship at 2.20 pm.
Practice 1
| | | |
| --- | --- | --- |
| Pos | Driver |  Time |
| 1 | Justin ALLEN | 01:39.1 |
| 2 | Ronan MURPHY | 01:39.2 |
| 3 | Matthew MCCUTCHEON | 01:39.2 |
| 4 | Zac STICHBURY | 01:39.2 |
| 5 | Hugo ALLAN | 01:39.3 |
| 6 | Clay OSBORNE | 01:39.3 |
| 7 | Brock GILCHRIST | 01:39.4 |
| 8 | Chelsea HERBERT | 01:39.5 |
| 9 | Simon EVANS | 01:39.5 |
| 10 | Rowan SHEPHERD | 01:39.5 |
| 11 | Marco GILTRAP | 01:39.5 |
| 12 | Rianna O'MEARA-HUNT | 01:39.8 |
| 13 | John PENNY | 01:39.8 |
| 14 | Todd PRUJEAN | 01:39.9 |
| 15 | Dion PITT | 01:39.9 |
| 16 | Christina ORR WEST | 01:40.1 |
| 17 | Fynn OSBORNE | 01:40.1 |
| 18 | Mark MALLARD | 01:40.3 |
| 19 | Sam COTTERILL | 01:41.9 |
| 20 | Justin ASHWELL | 01:42.1 |
| 21 | Will MORTON | 01:42.3 |
| 22 | Todd FOSTER | 01:45.3 |
Practice 2
| | | |
| --- | --- | --- |
| Pos | Driver |  Time |
| 1 | Rowan SHEPHERD | 01:39.5 |
| 2 | Zac STICHBURY | 01:39.6 |
| 3 | Marco GILTRAP | 01:39.6 |
| 4 | Brock GILCHRIST | 01:39.7 |
| 5 | Ronan MURPHY | 01:39.8 |
| 6 | Fynn OSBORNE | 01:39.8 |
| 7 | Clay OSBORNE | 01:39.8 |
| 8 | Matthew MCCUTCHEON | 01:39.8 |
| 9 | Hugo ALLAN | 01:39.8 |
| 10 | Chelsea HERBERT | 01:39.9 |
| 11 | Todd PRUJEAN | 01:39.9 |
| 12 | Simon EVANS | 01:40.0 |
| 13 | Justin ALLEN | 01:40.0 |
| 14 | Rianna O'MEARA-HUNT | 01:40.1 |
| 15 | Mark MALLARD | 01:40.1 |
| 16 | Dion PITT | 01:40.2 |
| 17 | John PENNY | 01:40.4 |
| 18 | Christina ORR WEST | 01:40.5 |
| 19 | Todd FOSTER | 01:40.7 |
| 20 | Will MORTON | 01:41.5 |
| 21 | Sam COTTERILL | 01:41.6 |
Practice 3
| | | |
| --- | --- | --- |
| Pos | Driver |  Time |
| 1 | Marco GILTRAP | 01:38.8 |
| 2 | Justin ALLEN | 01:39.0 |
| 3 | Zac STICHBURY | 01:39.0 |
| 4 | Hugo ALLAN | 01:39.1 |
| 5 | Clay OSBORNE | 01:39.2 |
| 6 | Chelsea HERBERT | 01:39.3 |
| 7 | Rianna O'MEARA-HUNT | 01:39.3 |
| 8 | Dion PITT | 01:39.3 |
| 9 | Simon EVANS | 01:39.4 |
| 10 | Ronan MURPHY | 01:39.5 |
| 11 | Todd PRUJEAN | 01:39.5 |
| 12 | Brock GILCHRIST | 01:39.7 |
| 13 | Fynn OSBORNE | 01:39.7 |
| 14 | Matthew MCCUTCHEON | 01:39.9 |
| 15 | Todd FOSTER | 01:39.9 |
| 16 | Christina ORR WEST | 01:39.9 |
| 17 | John PENNY | 01:40.0 |
| 18 | Mark MALLARD | 01:40.8 |
| 19 | Sam COTTERILL | 01:41.1 |
| 20 | Will MORTON | 01:50.3 |
Main Image: Neville Bailey