Lewis Hamilton has taken back some significant ground in the Formula 1 world championship, beating Max Verstappen in the Brazilian Grand Prix.
The reigning world champion had to fight for the win, overtaking Verstappen with under 15 laps remaining after a spirited fight with the Red Bull driver.
Verstappen finished second in a race he led 51 of 71 laps.
The points situation is still in his favour, but Hamilton's win drags that margin down to 14.
"What a race," Hamilton said. "The team did an amazing job.
"I was pushing as hard as I could. I think it was [one of] the hardest weekends I've had."
Hamilton started tenth, but when you're in one of the fastest cars by some distance, you can start anywhere and expect to be near the front after the first few laps.
Hamilton was up to fourth within a handful of laps. His Mercedes teammate Valtteri Bottas then let me through to take third.
Sergio Perez put up a stout effort to race Hamilton, but he couldn't keep the No.44 at bay for more than a few laps.
Verstappen stopped for his final set of boots before Hamilton, but the overcut strategy favoured Mercedes.
Hamilton was nestled nicely in the DRS range of the race leader and, on lap 48 of 71, he lunged around the outside of Verstappen at turn four.
The pair ran each other off the road, and Verstappen kept his advantage.
Red Bull said it was hard racing.
Mercedes argued Verstappen forced Hamilton wide.
The FIA declared no investigation was necessary.
Ten laps later, Hamilton had another look at the same corner: this time breezing past the Red Bull.
Hamilton's sheer pace was then on full display, running for away a comfortable victory.
"I tried everything I could – we were just not quick enough," Verstappen conceded.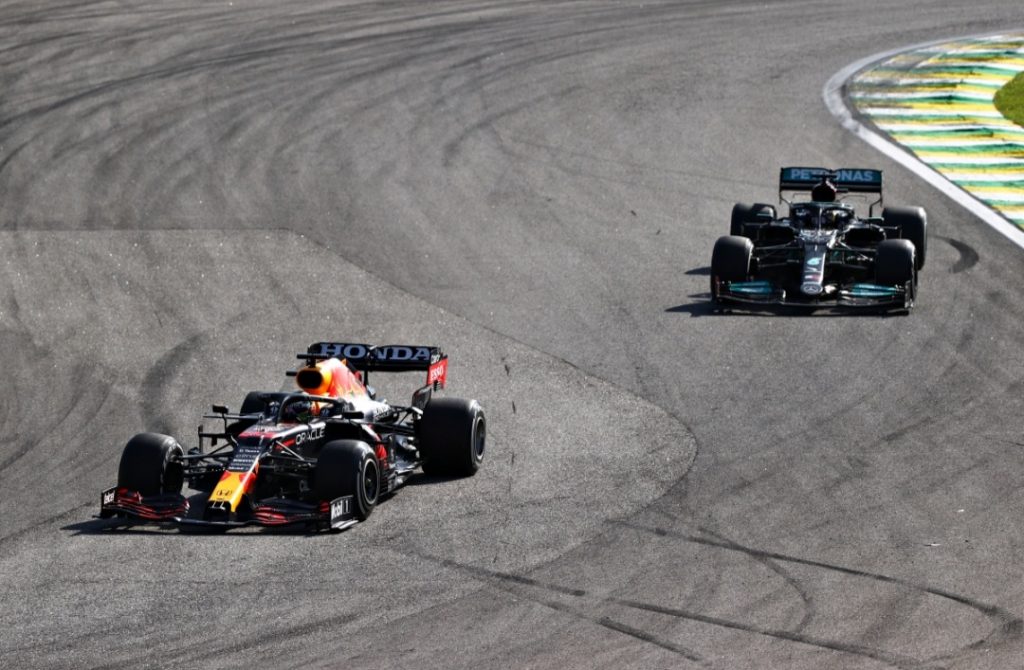 Bottas ran a lonely race to finish third. Perez came home fourth and snatched the fastest lap and one bonus point away from Hamilton.
Charles Leclerc led an all-Ferrari 5-6 over teammate Carlos Sainz. The Scuderia are now favourites to beat McLaren to third in the constructor championship.
Pierre Gasly picked up his third points finish in the last four races, finishing seventh.
Alpine had a solid race with both cars in the top-ten, Esteban Ocon one spot ahead of Fernando Alonso.
Lando Norris rounded out those who scored points.
| Pos | Name | Gap |
| --- | --- | --- |
| 1 | Lewis Hamilton | 71 Laps |
| 2 | Max Verstappen | +10.496s |
| 3 | Valtteri Bottas | +13.576s |
| 4 | Sergio Pérez | +39.94s |
| 5 | Charles Leclerc | +49.517s |
| 6 | Carlos Sainz Jr. | +51.82s |
| 7 | Pierre Gasly | +1 lap |
| 8 | Esteban Ocon | +1 lap |
| 9 | Fernando Alonso | +1 lap |
| 10 | Lando Norris | +1 lap |
| 11 | Sebastian Vettel | +1 lap |
| 12 | Kimi Räikkönen | +1 lap |
| 13 | George Russell | +1 lap |
| 14 | Antonio Giovinazzi | +1 lap |
| 15 | Yuki Tsunoda | +1 lap |
| 16 | Nicholas Latifi | +1 lap |
| 17 | Nikita Mazepin | +2 laps |
| 18 | Mick Schumacher | +2 laps |
| | Daniel Ricciardo | DNF |
| | Lance Stroll | DNF |