Matthew Payne continue his 2KCUP iRacing Challenge dominance with another commanding victory this time on the characterful Charlotte Motor Speedway Roval. Meanwhile Rohan Kinens claimed the most unlikely of race wins in the night's opening affair as his rivals floundered around him.
Title protagonists Liam Lawson and Shane Van Gisbergen had an evening to forget. SVG retiring from both races including being rolled onto his roof in race one. While Lawson could only wrestle together a third place finish in race one before being involved in a lapped-car collision in race two.
As it happened:
Race One:
Starting second, Aaron Ivers capitalised on a sluggish start from James Watson to take the lead at turn one.
But a multi-car collision a few corners later would see Ivers and Watson make contact, bunching the field and inviting Liam Lawson to move himself into the lead with archrival Matthew Payne sticking to the rear of the 2018 TRS champion to steal second.
Shane Van Gisbergen was another driver to maximise on the opportunity presented up front to fall in behind Lawson and Payne in third.
In a case of Déjà vu from last week's race at Summit Point, Lawson, Payne and Van Gisbergen found themselves nose to tail for the battle for the lead.
Payne initially proved to be the quickest of the trio and was beginning to apply firm pressure on Lawson. But a costly error triggered by asking too much from the kerbing at the turn 11 chicane meant the KZ22 Karting champion spun himself into the barrier, fortunate not to damage his MX-5 in the process.
Subsequently, Lawson's advantage was extended to beyond 1.5seconds over Van Gisbergen, while ­­­­Rohan Kinens trailed the 2016 Supercars champion in third.
But it was not all over and out for Payne who, after falling as low as 20th courtesy of his earlier race mistake, had quickly worked himself into top-ten contention knowing that a strong finish will limit the points damage inflicted by Lawson and Van Gisbergen.
Further down the field and Callum Hedge and Mathew Smith were involved a wild dual over the minor placings. Hedge, resilient in his defence, would keep a hot-headed Smith at bay all the way to the chequered flag despite.
Six laps remaining and Van Gisbergen had narrowed Lawson's margin to within half-a-second. A late dive under brakes then allowed SVG to pull alongside and ultimately ahead of Lawson exiting the circuit's penultimate chicane.
However, Lawson would make sure that SVG wouldn't get away too easily. The duo still fresh of off their coming together last week.
But another instalment of incredible tussle between two of New Zealand's most talented racers was once again cut short when Lawson tipped Van Gisbergen into the wall four laps from the flag.
Van Gisbergen's race would be turn upside down – quite literally as the collision tipped the Red Bull driver onto its roof and out of the race.
Rohan Kinens' eyes most likely grew to the size of dinner plates as the six second deficit to Lawson became the race lead in the space of a few corners.
Relishing the opportunity up front, Kinens would remain unrivalled up front to claim his first victory in the virtual series. Behind and Ivers was rapidly closing in on a wounded Lawson. Despite his best efforts, Lawson would succumb to Ivers' pressure at the final corner of the final lap, dropping the second spot on the podium in a dramatic finish.
Payne would recover from his spin to finish sixth and guarantee himself a second row start for race two which would see the grid ordered in a top-10 reverse.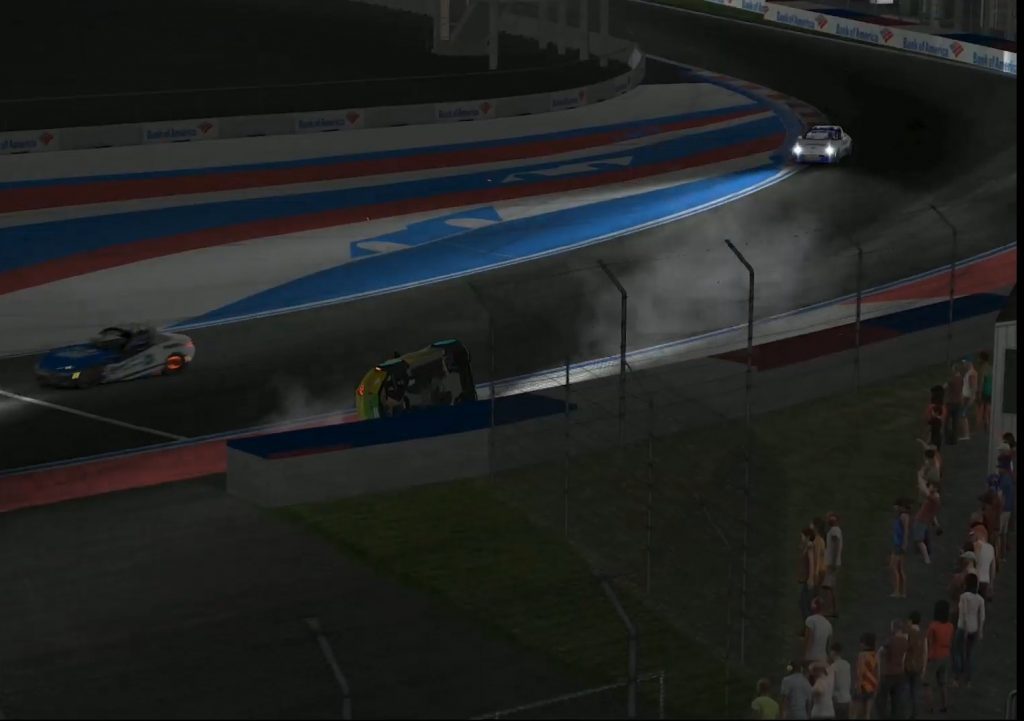 Race two:
A sterling start from Payne saw the karting champion jump into an early race lead with Matt Stevens following behind in second.
Sitting eighth on lap two, a suicidal lunge from Peter Vodanovich at the final chicane provoked a melee involving multiple cars. The Toyota 86 regular ultimately retiring his car as a consequence.
Having worked himself into third on lap four, Lawson made light work of Stevens to begin his hunt after Payne.
The night's self-elected crash-magnet Van Gisbergen would only manage seven laps before retiring from the race after a hefty accident at the final turn whilst in an impassioned battle for fifth with Brock Trainor.
It was a day for the Red Bull drivers to lament over when Lawson and Chris Van der Drift came to blows on lap ten. A lap down and perhaps unbeknown to hm, Van der Drift simply ran Lawson out of available tarmac and into the wall.
The subsequent crash eliminated both drivers on the spot, letting Payne off his chains to run home to the flag unchallenged.
A lively battle for sixth between Formula Ford Champion Billy Frazer and Antal-Rafael Sabo saw the duo trading paint on numerous occasions. Unfortunately, the Mario Kart inspired livery of Frazer living up to its namesake when he went for a wild ride, pinballing between the barriers after a spin and emoting himself down to 14th.
As the 33-minutes expired, Payne was in entirely different postcode from his nearest rivals. Finishing the race 16 seconds ahead of Matt Stevens in second, while Brock Trainor completed a lonely race to round off the podium.
A man-of-the-match performance by Taylor Cockerton saw the ex-TRS and S5000 pilot finish 11th after starting outside the top-30.