With most of the world's motorsport put on standby and venturing into the realm of virtual sim-racing, one of New Zealand's most popular racing series has followed suit, albeit in with far more relaxed atmosphere.
The inaugural 2K Cup iRacing Sunday League has kicked off and already boasts a driver line-up featuring many of New Zealand's top motor racing talent.
"It was invented to keep 2kcuppers having fun in the current lock down and keeping everyone talking and having fun practicing," series organiser and SsangYong Racing Series front runner Mark Mallard told Velocity News.
The series has already gained plenty of momentum since its debut round a fortnight ago.
Yesterday's feature race witnessed over 40 cars take to the grid, including names such as Toyota 86 drivers Peter Vodanovich and Jaden Ransley, V8 Superutes race winner Tom Alexander, ex-TRS star Brendon Leitch and Formula Ford front-runner Billy Frazer.
Despite an impressive line-up of kiwi talent, Mallard emphasised the series is all about having fun.
"It's got racing for everyone from rookies that have been iRacing for 2 days to champion racers having fun with mates," added Mallard.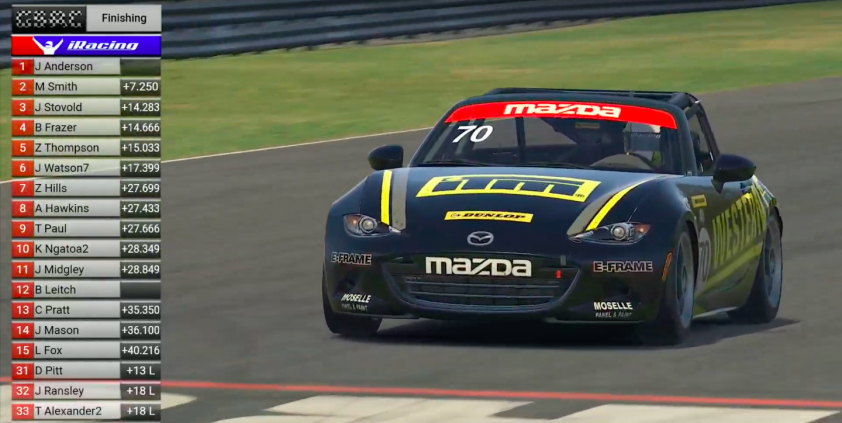 Current points leader and most recent race winner James Anderson expressed his enjoyment from the series, saying the variety in skill levels across the field does make for some interesting races.
"It was a great second round for myself, coming away with the two wins," said Anderson.
"Personally, I don't have a lot of real life on track experience so to come away with the wins against some big names in NZ motorsport is pretty cool. Having a mix of up and coming amateur drivers to seasoned national champions always makes for exciting racing."
The league runs every Sunday evening and is free for anyone interested in competing. Watch: Round two of the championship from Lime Rock Park: Images courtesy of James Anderson