New Zealand racer Madeline Stewart will compete in the 2023 Porsche Sprint Challenge North America with JDX Racing before stepping up to the Porsche Carrera Cup North America in 2024.
JDX Racing are a strong team for the Kiwi to join having won the 2022 Porsche Carrera Cup North America. That's not lost on Stewart who is looking forward to getting down to business at Sebring next month.
"I'm really excited for this new opportunity, racing in America," she said. "JDX have such a great pedigree and had such a strong 2022 Carrera Cup Campaign. I'm really looking forward to working with them and I'm confident that I'll learn a lot.
"It's also great to have Byers Porsche on board for 2023 and I'm excited to build a relationship with them.
"This will be my first time racing a Porsche 992 Cup Car and to have the chance to race at such iconic circuits such as Sebring, Circuit of the Americas and the Indy Road Course is a dream come true. We've had a successful first test at Barber Motorsport Park so I'm excited to see what we can do this year."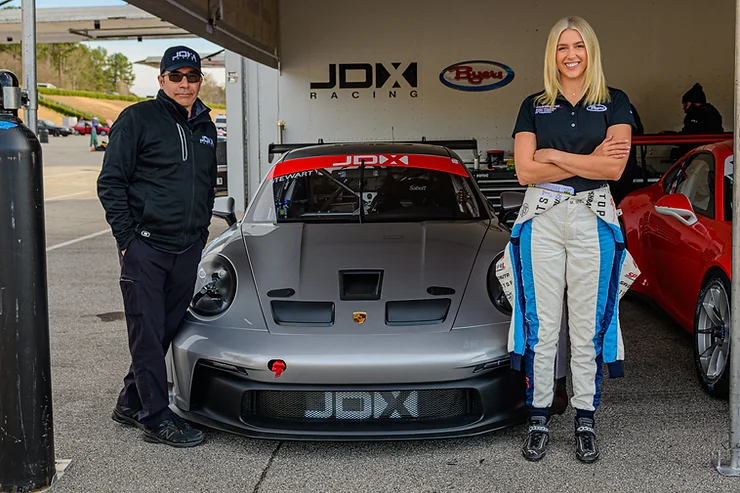 Stewart has recently completed her first test with the outfit at Barber International Raceway and will spend the next week in Colorado before heading to Florida with the team for further testing at Sebring.
Team co-owner Jeremy Dale is impressed by what he's seen so far, saying: "We are very excited about our program with Madeline. She is very focused and serious about her goals in motorsport, and we intend to give her all the tools she needs to achieve those goals.
"Sprint Challenge is quickly becoming a proving ground for young drivers on their way to Carrera Cup, and we think this program is ideal preparation for our planned 2024 campaign in the ultra-competitive Carrera Cup North America championship.
"We have just completed our first test at Barber, and Madeline did an exceptional job in her first outing in the 992 Cup Car. I want to thank Madeline and her sponsors for having the confidence in JDX Racing to guide her on her journey. We're all in!"
Stewart will split her time between Australia and the United States during the seven round competition which begins on March 24-26.
The series runs in support of two IndyCar rounds and a GT World Challenge event. Each race is run to closely simulate GT3 racing with rolling starts, ABS and traction control.
Prior to her North American venture, Stewart has competed in the past two season's of the Australian edition of the Porsche Sprint Challenge for Earl Bamber Motorsport and has continuously grown in that time.
The 20-year old completed every race she started and finished eighth overall in the standings. Her record included an impressive third in Race 1 at The Bend and a fourth in Race 1 at Queensland Raceway.
She also completed a full Super3 season in 2019, achieving three top 10 finishes at just 18 years of age.
Porsche Sprint Challenge North America calendar
| | |
| --- | --- |
| 24-26 March | Sebring International Raceway |
| 28-30 April | Barber Motorsport Park (IndyCar) |
| 2-4 June | Virginia International Raceway |
| 30 June- 2 July | Mid-Ohio (IndyCar) |
| 11-13 August | Road America |
| 25-27 August | Circuit of the Americas |
| 6-8 October | Indy Road Course (GT World Challenge USA) |
| | |
Header Image: Supplied
Quotes: Supplied