Simon Pagenaud has won a crazy race in round four of the IndyCar iRacing Challenge from Twin Ring Motegi, fending off a last lap dual with Scott Dixon to claim back-to-back victories in the virtual championship.
Scott McLaughlin will be left imagining 'what if' as he was victimised in an accident triggered by a lapped car ten laps from the chequered flag whilst making a move for the lead on Will Power. The Penske teammates coming together and eliminating themselves both out of race winning contention.
McLaughlin would finish the race in 24th while Power would battle a wounded car home in third, resisting a strong challenge from Marcus Ericsson.
As it happened:
Pole sitter Robert Wickens got the initial jump on the field to lead Will Power through turn one.
An unusually clean opening-lap foreshadowed an approaching melee and at turn one of lap two 2004 IndyCar champion Tony Kanaan tagged the outside wall, sending himself into an untamed summersault.
Then almost immediately afterwards race leader Wickens got tail-happy exiting turn two, narrowly avoiding colliding with the pit-entry barrier.
Fortunately for Wickens, the race's first and only caution was waved when Helio Castroneves triggered a multi car accident when he spun out of turn one and into the path of the following pack.
McLaren's Oliver Askew was promoted to the race lead on the restart but quickly relegated down to sixth as the likes of Power, Jack Harvey and Kiwi pair Scott Dixon and Scott McLaughlin worked themselves to the front group.
As the 40th lap approached, Dixon and McLaughlin were sitting third and fourth respectively as they chased after the tail of Jack Harvey. A wily overtake around the outside at turn two promoted Dixon second position while McLaughlin quickly followed suit to move himself into the podium contention.
McLaughlin was the first of the top three to make his pitstop on lap 48 with Penske teammate Power stopping two laps later. Scott Dixon was the last of the top three to pit, allowing his New Zealand compatriot McLaughlin to leapfrog himself into second courtesy of the undercut.
Power maintained his race lead albeit with a significantly smaller advantage.
Dixon finally made his move on McLaughlin with 47 laps to go before momentarily edging in ahead of Power.
Dixon, who until today had only competed 50 laps in the Indycar iRacing challenge, was demonstrating incredible prowess to work over Will Power, forcing the Australian to push harder on his rubber.
35 laps from the chequered flag and Power reluctantly relinquished his lead to Dixon. Power's pace quickly fell off the cliff as within one lap Dixon had established a comfortable lead while McLaughlin and a resilient Pagenaud, who had overcome a three second deficit within ten laps, closed in.
28 laps from the finish and the antipodean trio peeled into pitlane, premediating that the field would not be able to make the it to the end on their current fuel loads.
Power was the first off pitroad with McLaughlin in tandem while a slow stop for Dixon consequently dropped him behind the Penske duo.
2019 series champion Josef Newgarden found himself in the lead virtue of the leaders pitting. But there was a large question mark hanging over the No.1 Penske's head as to whether he could save enough fuel to finish the race.
McLaughlin had closed in to within four-tenths of Power when Newgarden made his final stop.
As if the race didn't need any more drama, McLaughlin then attempted an extremely bold move around the outside of Power at turn two.
Perhaps unbeknown to him, the lapped car of Oliver Askew was also trying to unlap himself on fresh tyres. A slide on the inside line marbles sent Askew into Power, trigger a collateral accident as McLaughlin was pushed into the outside wall.
The damage was enough for McLaughlin to be forced to pit while a wounded Power battled on, albeit to little avail as Pagenaud and Dixon both found their way ahead of the Penske on the very next lap.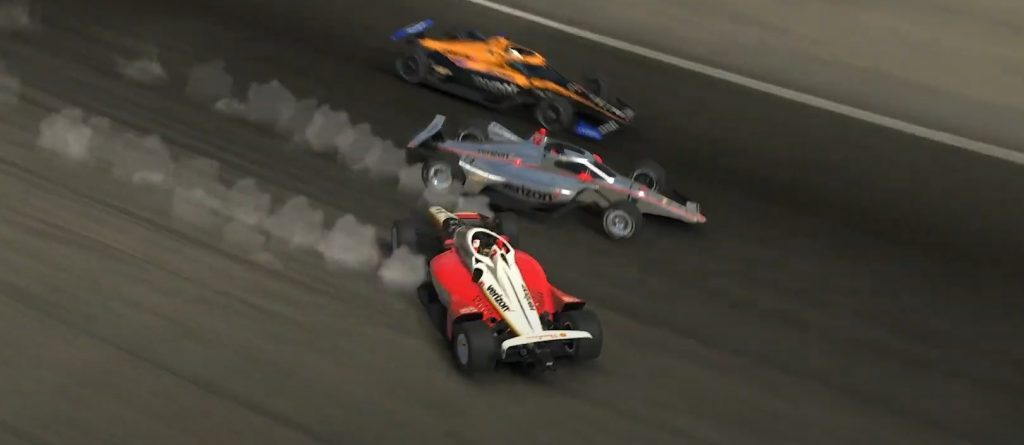 The then ensuing battle for the lead between Pagenaud and Dixon over the final ten laps got as close as half-a-tenth, but despite several brave efforts Dixon could not find a way past Pagenaud.
Pagenaud's victory makes it two-from-two and puts the 2019 Indy 500 winner in firm contention of the points lead.
| | | |
| --- | --- | --- |
| Pos | Driver | Split (s) |
| 1 | Simon Pagenaud | 113 laps |
| 2 | Scott Dixon | +0.342 |
| 3 | Will Power | +3.325 |
| 4 | Marcus Ericsson | +4.961 |
| 5 | Robert Wickens | +5.817 |
| 6 | Jack Harvey | +6.457 |
| 7 | Sage Karam | +7.360 |
| 8 | Zach Veach | +8.233 |
| 9 | Santino Ferrucci | +10.185 |
| 10 | Graham Rahal | +10.875 |
| 11 | Conor Daly | +10.915 |
| 12 | Takuma Sato | +11.292 |
| 13 | Kyle Busch | +11.505 |
| 14 | Felix Rosenqvist | +11.985 |
| 15 | Josef Newgarden | +12.067 |
| 16 | Ryan Hunter-Reay | +14.749 |
| 17 | Ed Carpenter | +16.659 |
| 18 | Colton Herta | +16.987 |
| 19 | Dalton Kwllett | +19.045 |
| 20 | Sebastien Bourdais | +22.786 |
| 21 | Oliver Askew | +23.031 |
| 22 | Alex Palou | +23.688 |
| 23 | Rinus Veekay | 1 Lap |
| 24 | Scott McLaughlin | 1 Lap |
| 25 | Marco Andretti | 1 Lap |
| 26 | Pato O'Ward | 1 Lap |
| 27 | Kyle Kaiser | 1 Lap |
| 28 | Alexander Rossi | 2 Laps |
| 29 | Helio Castroneves | 3 Laps |
| 30 | Tony Kanaan | 27 Laps |
| 31 | Felipe Nasr | 77 laps |
| 32 | Max Chilton | 80 Laps |
| 33 | James Hinchcliffe | DNS |