His face said it all.
After a roller coaster start to his rookie season, Zac Stichbury proved his worth in the Toyota 86 series, winning the opening race at Taupo Motorsport Park.
"It hasn't sunken in yet," he said post-race.
Maybe it was the jittery live stream coverage, or perhaps it was pure emotion, but you quickly got the sense when Stichbury spoke that the win meant everything to him.
"Yeah. It's pretty unreal."
He was genuinely lost for words.
Despite being fastest in practice, claiming pole position and then leading every lap, Stichbury had to give it his all Saturday afternoon.
Brock Gilchrist was hot on his tail for the last three laps.
It was here, roughly a year ago, where Gilchrist claimed his first 86 win.
He put everything into an attack, but Stichbury held his nerve and wouldn't relinquish the lead.
"Brock…whoah," Stichbury said.
"There was a lot going on. I lost radio straight out of the gate and then had nothing on the dash."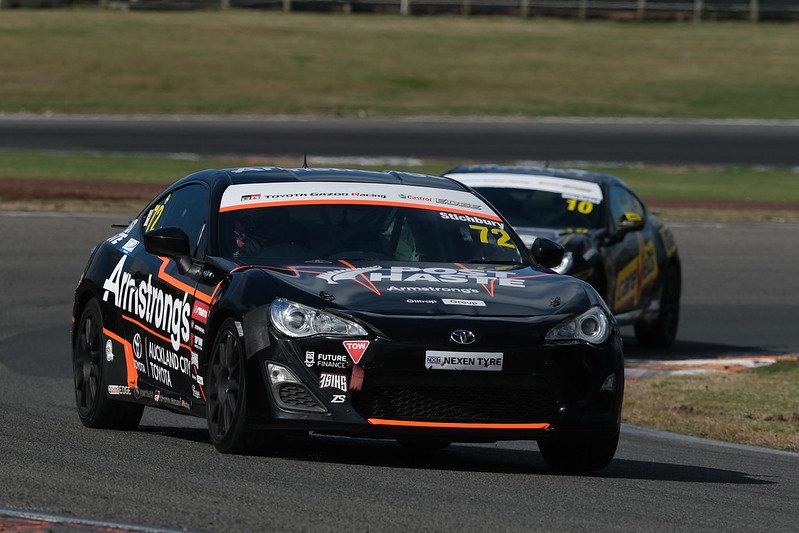 The plan is to now leave the car exactly how it is ahead of two more races on Sunday.
Well, mostly untouched.
"It'll be nice to have a dash to tell me things," he said.
Simon Evans was the first championship contender home, finishing third.
Provisionally, Rowan Shepherd looked to have extended his points lead. But a five-second post-race penalty dropped him to fifth.
Consequently, Evans narrowed the gap between first and second in the championship by a few points.
It was a disastrous race for fellow title rival Justin Allen. He didn't have the pace of the front runners and was mired in the lower reaches of the top ten all race.
He wouldn't actually reach the end of the race when he made accidental contact with Dion Pitt and damaged his suspension enough to force retirement.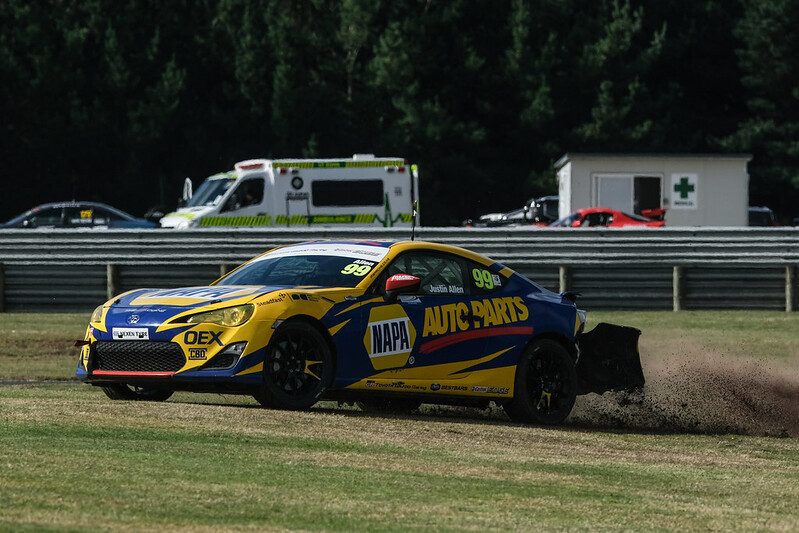 Tomorrow's first of two races is a reverse top-ten, meaning Marco Giltrap starts on pole position.
| | |
| --- | --- |
| Pos | Name |
| 1 | Zac STICHBURY |
| 2 | Brock GILCHRIST |
| 3 | Simon EVANS |
| 4 | Ronan MURPHY |
| 5 | Rowan SHEPHERD |
| 6 | Dion PITT |
| 7 | Hugo ALLAN |
| 8 | John PENNY |
| 9 | Matthew MCCUTCHEON |
| 10 | Marco GILTRAP |
| 11 | Todd PRUJEAN |
| 12 | Christina ORR WEST |
| 13 | Fynn OSBORNE |
| 14 | Todd FOSTER |
| 15 | Chelsea HERBERT |
| 16 | Rianna O'MEARA-HUNT |
| 17 | Will MORTON |
| 18 | Sam COTTERILL |
| 19 | Eddie IRAIA |
| 20 | Clay OSBORNE |
| DNF | Justin ALLEN |