Carlos Sainz has questioned whether his McLaren team will once again have the easy run to 'best of the rest' that headlined their 2019 campaign. The Spaniard has identified two rival teams that could pose the largest threat to his Woking-based outfit.
"Everyone is looking strong. Every single team you look at, at some point in the test, they have done a very strong lap time, so it's difficult to know who is at the front of the midfield or behind," Sainz said after the final preseason test in Barcelona."

"Racing Point, or even AlphaTauri, I would put as the most dangerous guys to beat; I think we will all be in the mix."
Racing Point has been openly criticised about their 2020 design.
While the technical regulations for this year are relatively stable from 2019, minimising the number of design innovations from team to team, Racing Point's RP20 challenger has been analysed as an almost identical replica of Mercedes title-winning W10.
Racing Point was immediately on the pace in testing, as both Sergio Perez and Lance Stroll finishing amongst the front runners on every day. Their performance in testing was so strong that it subsequently led to rumours that the team may even be ahead of Ferrari on pure pace this year.
Senior McLaren personnel and several other teams have suggested that Racing Point's design is unfair as it is effectively abusing their relationship with Mercedes as a power unit supplier.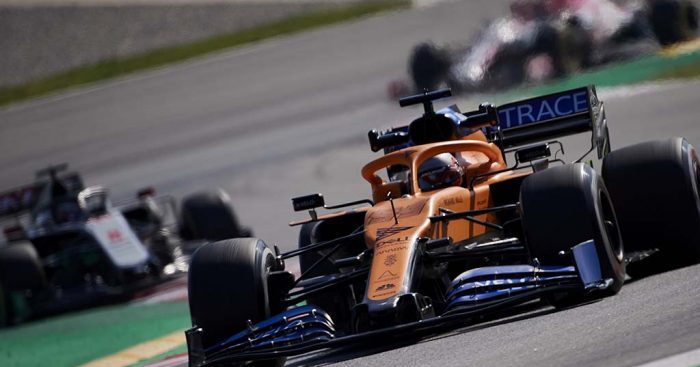 However, Sainz is ignoring the Racing Point fiasco and focusing solely on ensuring that both he and McLaren work together to maintain their status as the top midfield team.
"Racing Point have been very quick, the whole two weeks.
"What I hope is all of us are closer to the top than we were last year. That would be my biggest wish, independent of the position,"

added Sainz.
"They hit the track and they did a [1m17.3s], and since then, they have improved – three or four tenths quicker, [so] you say it's tight with Racing Point or AlphaTauri."
The Formula One season gets underway with the opening free practice from Melbourne on March 13.