It was champions and champions who claimed top honours in the second round of the ARG eSport Cup. Former British Touring Car Champion Ash Sutton and Supercars Champion Garth Tander both dominated the event's two races. His race one victory ensures Sutton maintains his points lead ahead of round three.
The two races were contested on the sweeping Zolder circuit, Belgium's first purpose-built race track. The 40-car field were once again behind the wheel of the Audi RS 3 LMS TCR car.
Race One:
A scintillating start from pole position was key for Ash Sutton in dominating the 30-minute affair.
A mammoth crash for second position a handful of laps in eliminated several key runners, involving Harley Haber, Jay Hansen and James Golding. The subsequent result was Sutton establishing a five-second lead over the rest of the pack, allowing last week's Bathurst winner to cruise to an unchallenged victory.
Dylan O'Keeffe fended off a resilient Nathan Herne to claim second as the duo followed each other in tandem for most of the second half of the race, never beyond two-seconds adrift. Jade Ransley was first of the Track Tec Racing drivers. The Toyota 86 regular coming home to snatch a superb fourth place after qualifying 11th.
The start was relatively clean with all 40 cars emerging from turn one unscathed. After having to settle for second in qualifying, Harley Haber dropped a handful of positions to sit fifth by the second lap.
Ex-Super2 driver Nathan Morcom was an unlucky victim of a lap two accident that involved John Martin bouncing off the armco back into the path of oncoming traffic.
Though Mocrom's teammate Will Brown wouldn't fear much better either. The defending TCR Australia Champion crashing on his own only a few corners later, forcing the HMO Customer Racing duo to retire after only two laps.
As the dual for second intensified, former Garry Rogers Motorsport Supercars pilot James Golding tipped Nathan Herne at the turn six sweeper. The consequent melee meant that Golding was eliminated on the spot while unfortunate bystanders Harley and Hansen lost significant time and were forced to drive a wounded car for the remaining 20-minutes.
The accident promoted kiwi TCR racer Jaden Ransley into podium contention as he battled away with Dylan O'Keeffe and a recovered Nathan Herne. But the young New Zealander would go on to finish just shy of the podium places in fourth.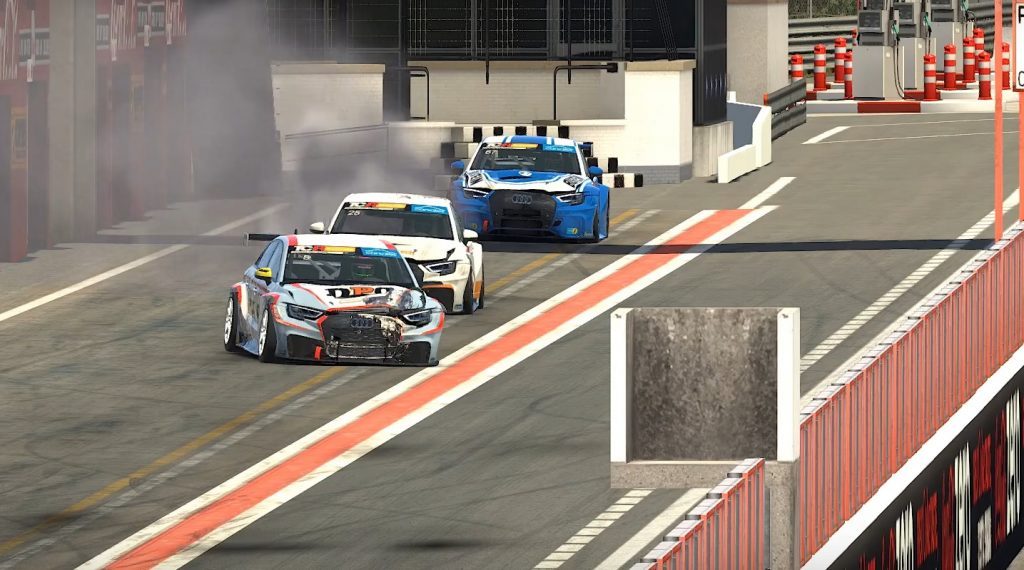 Race Two:
After executing a wily move on Aaron Cameron for the lead at turn six, three-time Bathurst 1000 champion Garth Tander simply drove away from his opposition.
A late race overtake meant Nic Carrol narrowly resisted the challenge of Cameron to steal the second spot on the podium. The pair played roles a five-way scrap over the minor podium placings that involved Jordan Cox and Dylan O'Keeffe.
Cameron was awarded pole position for the shorter 15-minute race courtesy of a top 20 reverse grid order.
Race one winner and series leader Ash Sutton made a dismal start from 20th, being caught-up in an opening-turn accident that dropped the 2017 BTCC Champion to dead last. He would eventually recover to finish 15th.
James Golding seemingly brought the crash magnets to the race today. After crashing in race one, Golding again tangled with a fellow driver, this time being Aaron Seton. Tipping Seton into the start/finish wall, Golding made it two consecutive DNF's at Zolder.
After his lap one disaster, Sutton would recover brilliantly to finish the race in