Kiwi motorsport fans can't ever seem to agree on anything.
What we can agree on, though, is very little beats the thrill of watching V8 muscle go head-to-head on the race track.
Enter TA2.
The modern take on trans am racing has exploded in popularity in America and Australia.
The latter, the Aussies, are of interest to us.
That's because New Zealand's small yet growing TA2 field envisages a reality where the two are racing on the same grid in a true Trans-Tasman V8 race category.
Tasked with growing the Kiwi field is Paul Manuell, an experienced and champion racer in his own right.
Manuell has sold three TA2 cars in New Zealand, while a deposit on a fourth car has been paid.
It doesn't seem very big, numbers-wise, at least. But Manuell says the category is attracting plenty of interest, even with only a handful of cars on the grid.
"Interest is high," he says, "we just got to get people to commit.
"A lot of people are waiting on what everyone else is doing, and if everyone does that, then nothing is ever going to happen.
"I'd love to see a category next year. But we need to sell the cars.
"There are guys that are keen to lease, but I am yet to come across someone who wants to own the cars and lease them out."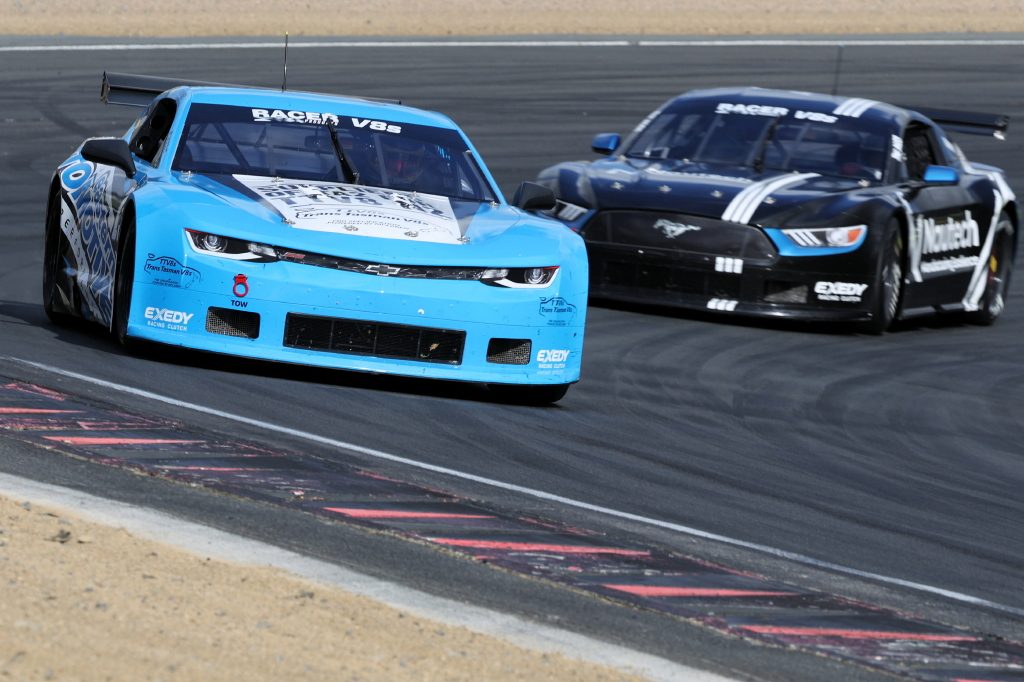 Of course, getting a new race category up and running during Covid doesn't help. Even so, Manuell assures us the class is the future of V8 motorsport in our backyard.
"It has to be because there is no other parity class where somewhere can get in the category and go racing at this level.
"I'm very cautious about what gets put to the market, hence why I am so pro this category. Yes, I want to make this work as a business venture. But, the main thing is, for me, to have something that's got somewhere to go."
Fan of the word or not, parity is a big reason behind the TA2's formula success.
The cars might look different. There's a sixth-generation Mustang and Camaro body and a fifth-generation Dodge up and down the field.
But it's underneath that's the important stuff.
Every car is identical in powertrain, gearbox and chassis specs.
The engine is a 6.2-litre McLaren-built LS3 good enough for 525 hp.
The transmission is a G-Force four-speed H-pattern, and the chassis is PBR specification manufactured by Howe Racing.
Importantly, it's all the same for every competitor.
And, what you see in Australia is reflected back here.
"To give you an idea, the first three cars I sold here, Aussie did a shock change. So, I replaced all the shocks on the cars free of charge to keep them current.
"That's how stringent we are on making sure the cars are exactly the same so that the Aussie/New Zealand thing will eventually happen."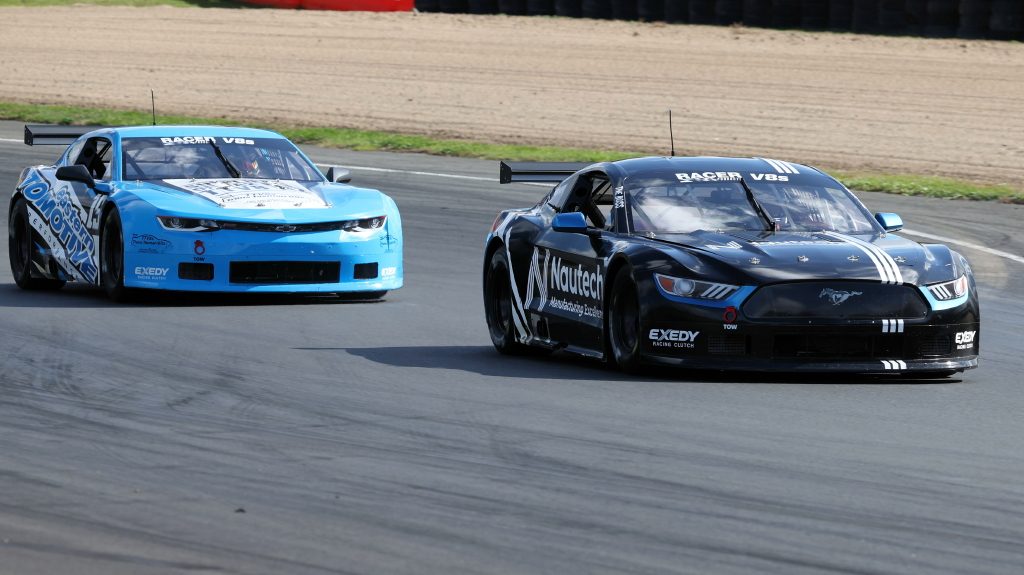 Cost plays a significant factor in any motor racing decision.
But, compared to a standard V8 racer, Manuell says the TA2 formula is "night and day cheaper."
"The three cars I run, Andrew Turner has done 110 tens on a set of tyres, and he was still doing 1.08s at Hamptons.
"After 1500 km, we changed the front brake pads on John Roberts' car.
"These cars are tyres, brakes and fuel. That's it."
What's better is you don't have to spend days testing to find a set-up.
"The cars leave Eastern Automotive Performance Centre race-ready. Basically qualifying-ready.
"After being involved in other categories over the years, [I've learnt that] if you buy a race car, you've got a lot of R&D. You've got to do a lot of testing.
"The cars leave here with a set-up and with a maintenance book on how to repair or do anything."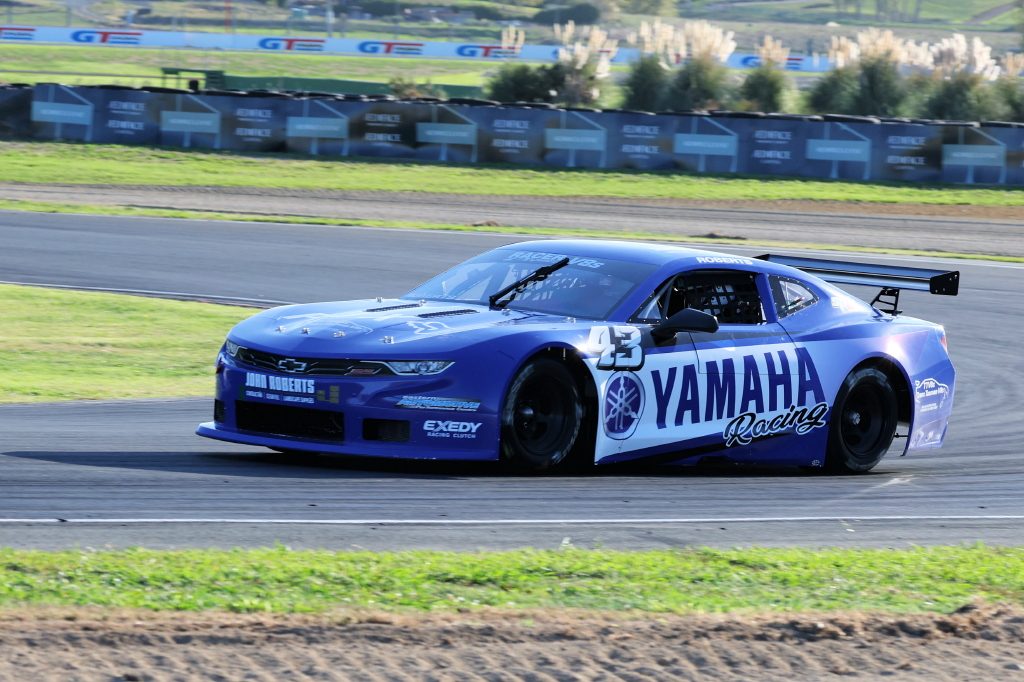 It's not just the cars that have Manuell so invested in the category, either.
He wants TA2 to be a race class welcoming to young drivers.
"Over the years of my racing career, no one ever told me a thing. It's always secret squirrel.
"I'm all about passing things forward now. I want to help young guys come through.
"Probably the first ten or 15 years of my career I was making a lot of mistakes, be it car design, driving or sponsorship. We older guys have got a lot of stuff we can pass on, and that's what I want to be doing.
"I want to help these up-and-coming young drivers come through these categories and make something of it all."
Across the ditch, 110 TA2s are already sold, while another 30 are being made as we speak.
And we might not have to wait too long to see a Trans-Tasman rivalry get off the ground.
"There's something happening at the moment where Aussies will be coming over here next year."
Images: Neville Bailey