By and large, Kiwi Blokes don't like rules and regulations, and I am no exception. We are proud "number eight wire" men and women, and we enjoy making and inventing things.
Motor racing in New Zealand started in the late 1920s with Allcomers beach racing of just about every car imaginable. With the advent of permanent circuits, it peaked in the '60s and gradually fell away in the mid-1970s following MANZ adoption of FIA Group 5 in 1968, which also marked the first FIA homologated racing in New Zealand. In 1984 MANZ adopted the FIA Group A regulation, which saw the birth of the Wellington street race before, GpA languished in the early 1990s.
One of the sports legendary early competitors was George Smith, who was heavily involved in motor racing from the late 1920s to the late 1960s. George first raced an Austin Seven single-seater, nicknamed the "Rubber Duck", before progressing to a Chrysler Firepower V8 powered Alfa Bimotore and anything else he could get his hands on, including speedway. However, he was most famous for the GeeCeeEss special he and his mechanic Tom Sheehan, the father of "Jandals" Mark Sheehan, built.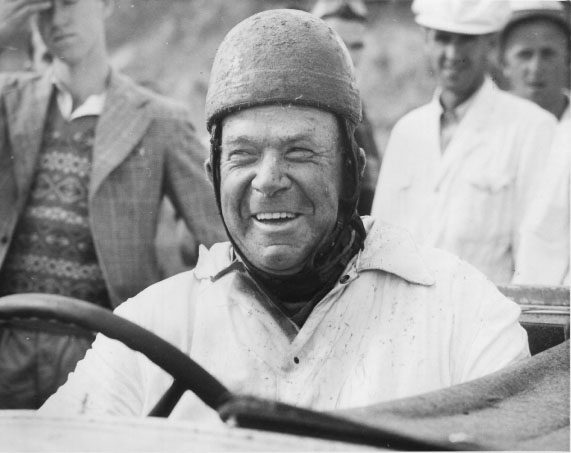 Smith inspired many similar rough and ready racers, who built wild and whacky race cars, such as Garth Souness's wickedly fast Morrari – a Morris Minor body stretched over a Ferrari chassis and powered by a 327-cubic-inch V8 Corvette engine. The sheer speed of the Morrari down the long back straight at Pukekohe inspired many of us, including two friends, Robbie Francevic and Tony Kriletich. Kriletich, a civil engineer at the Ministry of Works, hatched a plan to build a potentially much faster car that would also stop and go around corners! The "Custaxi" was born underneath a house in Grey Lynn in 1966 and became the most successful and famous all-comer in New Zealand motor racing history.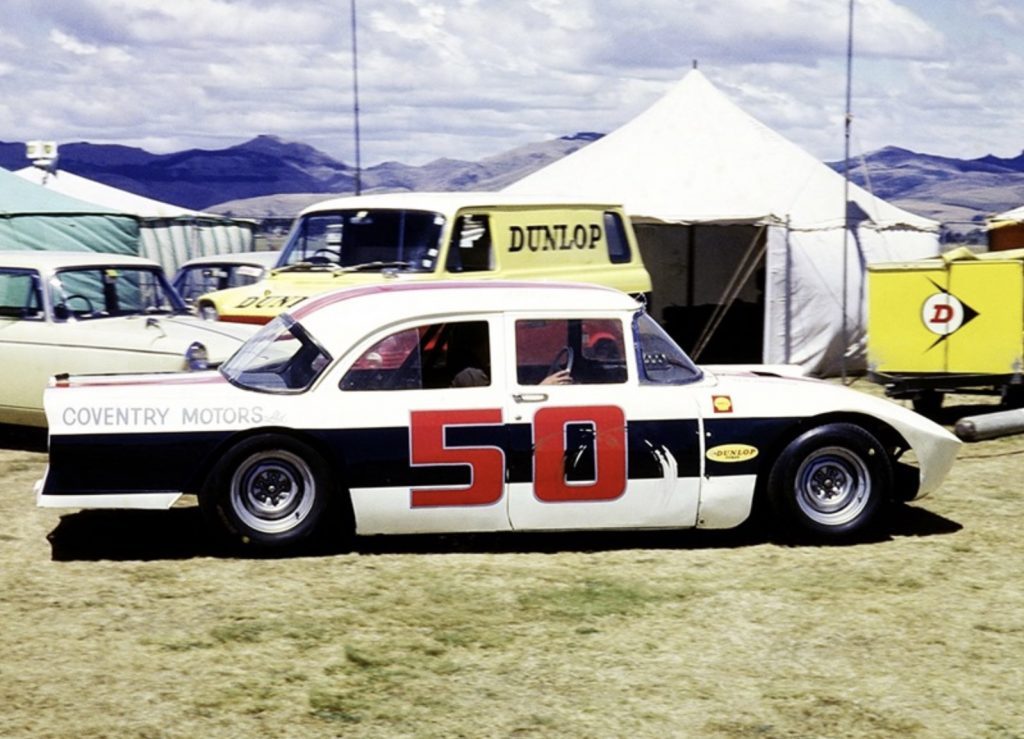 Before MANZ introduction of FIA Group 5 regulations in 1968, the NZ Saloon Car Championship had been for "Allcomers", described by historic racing author Steve Holmes in his book, "Historic New Zealand Cars" as "effectively a category with no regulations. The only stipulation, vague as it was, that they should be recognisable as saloon cars".
The FIA Group 5 Saloon car regulation's effectively put an end to the Kiwi home-built special's and paved the way for the American muscle car era that reigned supreme for more than a decade.
Today, Central Muscle Cars- the biggest and most popular NZ tin-top car racing category[1]epitomises the Kiwi, can-do mentality, powered chiefly by ex NASCAR 900BHP engines. These genuinely unique cars combine the look, sound, and earth trembling feel of the 70's Golden era.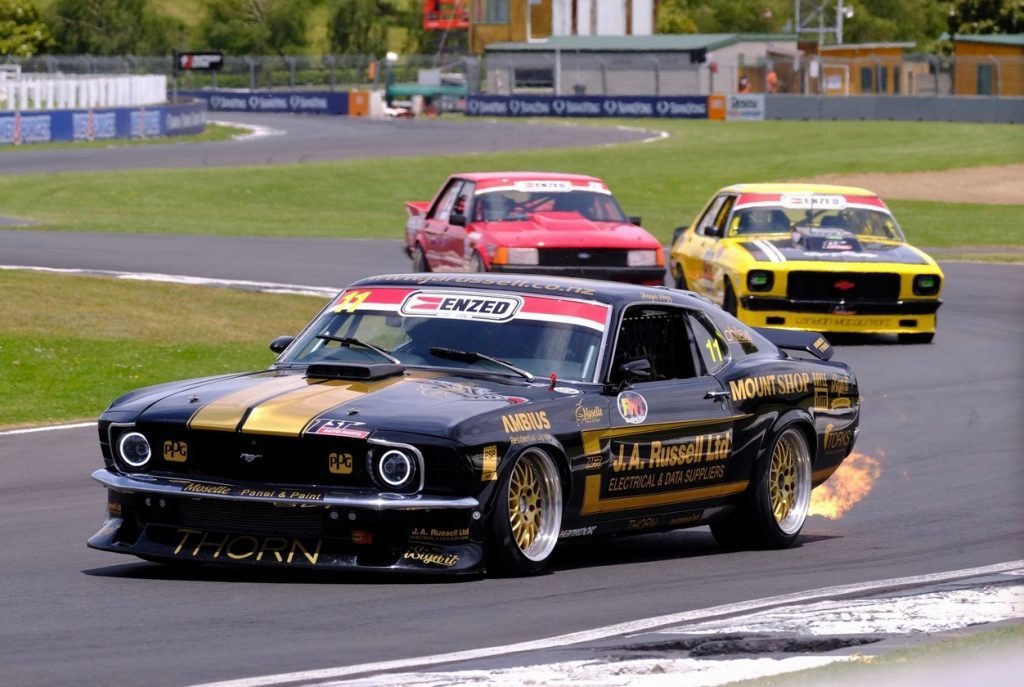 So why are "Muscle Cars", as they are affectionately known, so popular up and down the country? Other than their various organising Clubs mostly affiliation with MSNZ, none are MSNZ National Championship Series. They all write and police their club's technical rule book to cater to most of their members' wishes. It's by no means's all love and peace on the Muscle car front, as splinter groups cannibalise competitor numbers, but it is about having fun with your like-minded mates at the end of the day.
The fastest tin-top's in the allcomer category is the NZ V8 Touring cars that essentially grew out of the demise of V8 Supertourers and NZV8's. Most have been modified, in some form or another, with wider wheels, bigger brakes, more powerful engines, and in some instances, the addition of ABS and traction control. Unlike Muscle cars, most are purpose-built on custom-built chassis in the style of the Australian V8 Supercars. The Racer Products sponsored NZ V8 Touring car series has further simplified their technical rules so that virtually any normally aspirated V8 powered Tin-Top complies, limited only by wheel width and the number of tyres permitted per round.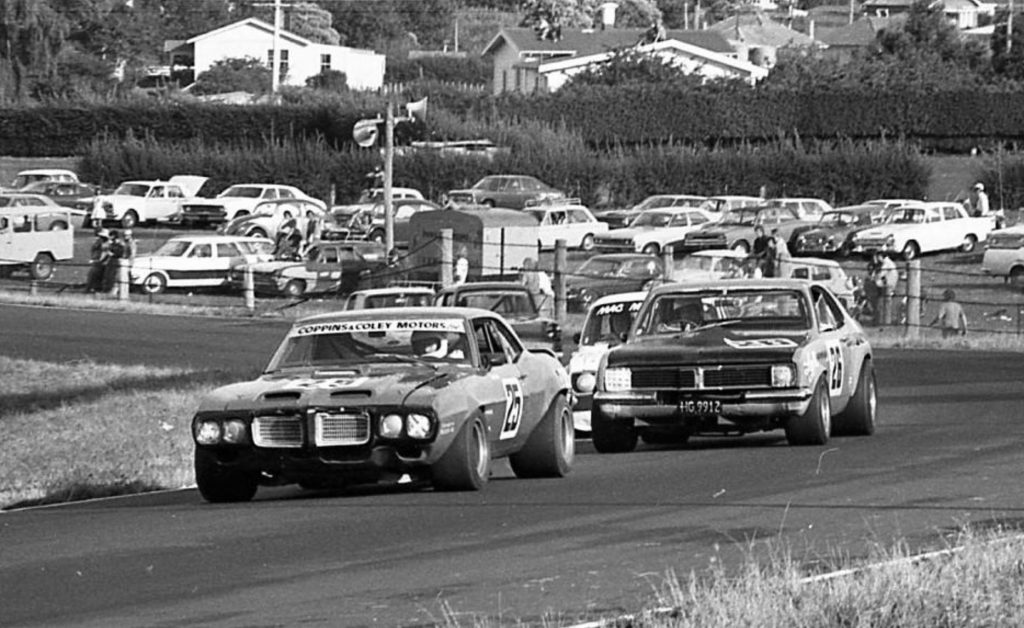 The growth of NZ endurance racing is a testament to the "Run what you Brung" allcomer racing mentality. Endurance racing as we know it today grew out of the very successful 70's production car 6-hour racing series, which reinvented itself in the South Island, following the demise of the Liqueur King 500 Endurance races. A group of like-minded South Canterbury competitors, led by Timaru's Chris Dunn, formed a non MSNZ affiliated club called "South Island Endurance Racing Driver Club" [SIERDC] for essentially club racer's at that time. SIERDC's growth led to the North Island Endurance Series, [NIERDC], adopting SIERDC's rules. Whilst the regulations now differ slightly between the two bodies, they essentially cater for a wide range of cars, including unrestricted GT3 car's and, by invitation, low volume supercar's like the new BT62 Brabham, albeit with certain conditions imposed on the entrant.
The key to the NZ Endurance Series is the same simple rules, a maximum of 120 litres of fuel, a compulsory pit stop in the 1-hour a minimum driving time of 70 minutes in the 3-hour race format.
Likewise, the trendy 24 Hour so-called 'lemons' race series has virtually no rules other than restricting the eligibility of vehicles to essentially club type car's and has attracted large fields, running under a non-MSNZ sanctioning body.
In summary, fewer rules and regulations attract the vast bulk of kiwi motor racing competitors, a fact that MSNZ needs not only to recognise but embrace wholeheartedly.