The Toyota Racing Series has today received a massive boost from the FIA in becoming a recognised Formula Regional championship, beginning with next month's campaign.
Henceforth, 2023's Toyota Racing Series will be renamed the Castrol Toyota Formula Regional Oceania Championship, certified by FIA.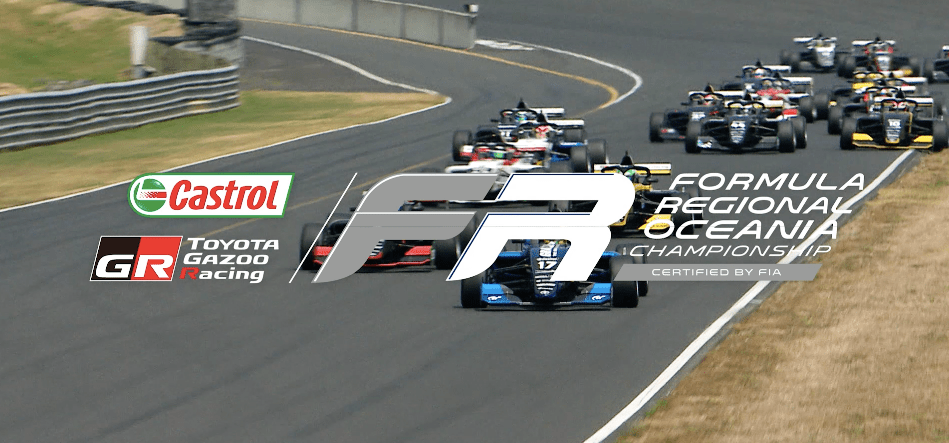 It's an absolutely massive breakthrough for the New Zealand motorsport scene and shows the respect held for them by world motorsport's governing body.
This step on the FIA's Global Pathway for single-seater categories – first launched in December 2017 – is designed to bridge the performance gap between Formula 4 and the global Formula 3 Championship, with all being powered by 270 bhp engines.
The FIA approved Formula Regional (FR) series are certified regional one-make Formula championships. The New Zealand championship, although it has been using the FR rules for some time, will join series in the Middle East and India as the FIA expands from four to seven championships in 2023.
The first FR championships under new regulations were launched in Asia and North America in 2018, followed by European counterpart in 2019 and Japan in 2020. Although choice of chassis and engine manufacturer varies in different regions, the basic regulations of Formula Regional series around the world are the same
The new classification will benefit the series and drivers alike, top, young international talent likely to be drawn here in the search of Super License points, positions one through nine in the championship now benefitting.
"Being a Formula Regional championship comes with the Super License points, and now we get the full amount of super license points, says Toyota Gazoo Racing New Zealand Manager Nicolas Caillol.
"This means the winner of the championship gets 18 points. When you look at it, 18 points is almost 50 per cent of the points required to get the Formula 1 super license, so it's a good amount of points you can get towards that."
The January timing of the series also means most drivers will have an open schedule to come and compete, should they wish.
"Because our championship is run outside of any other championship period you can accumulate two years [of points] in one year," Caillol says.
"If drivers do our championship and a Regional Championship in Europe, afterwards, if they win both championships, they can grab up to 36 points which is almost there to get a Formula 1 license.
A Formula 1 Super License requires 40 points being obtained in a three year window.
The new regulations do put some limitations on the series and means Formula 2 drivers won't be able to compete, the highest-experienced driver allowed coming from an F3 background.
It does, however, mean future F1 stars will come through our shores to race, as have the likes of Yuki Tsunoda, Lando Norris and Lance Stroll. The eyes of motorsport fans around the world will be watching as the drivers of tomorrow develop right here in our backyard.
Homegrown talent will get time in the spotlight, our very own Callum Hedge confirmed in the lineup after claiming the Tony Quinn Foundation shoot-out and scoring $70,000 towards his season.
The 2023 season kicks off at Highlands Motorsport Park in just 31 days.
2023 Castrol Toyota Formula Regional Oceania Championship Calendar
| | |
| --- | --- |
| Date: | Track: |
| 13-15 January | Highlands Motorsport Park |
| 20-22 January | Teretonga Park Raceway |
| 27-29 January | Manfield – Circuit Chris Amon |
| 3-5 February | Hampton Downs International Motorsport Park |
| 10-12 February | Taupo International Motorsport Park |