Born to parents Dwayne and Kirsty, Tom is the youngest of two boys; his older brother Harry had already started karting before Tom was six years old and old enough to be allowed to start racing karts. After a somewhat inauspicious start, he soon established a reputation as the kid to beat at the local Kart tracks in Hawks Bay.
His father, Dwayne, said. "When Tom first started karting, he was more interested in being friends with the other youngsters than beating them, but he was happy and having fun, while Harry wasn't happy unless he was winning. Tom continued to be the friendly, courteous driver, waving his hands cheerily to his peers as they overtook him, until one day, a light bulb went off, and he suddenly shot from the back of the field, passing kids that he would never have normally passed and finished 3rd! That was it, really; there was no holding him back after that Eureka moment, he became fearlessly competitive, and that just continued to grow as we migrated up the karting ranks.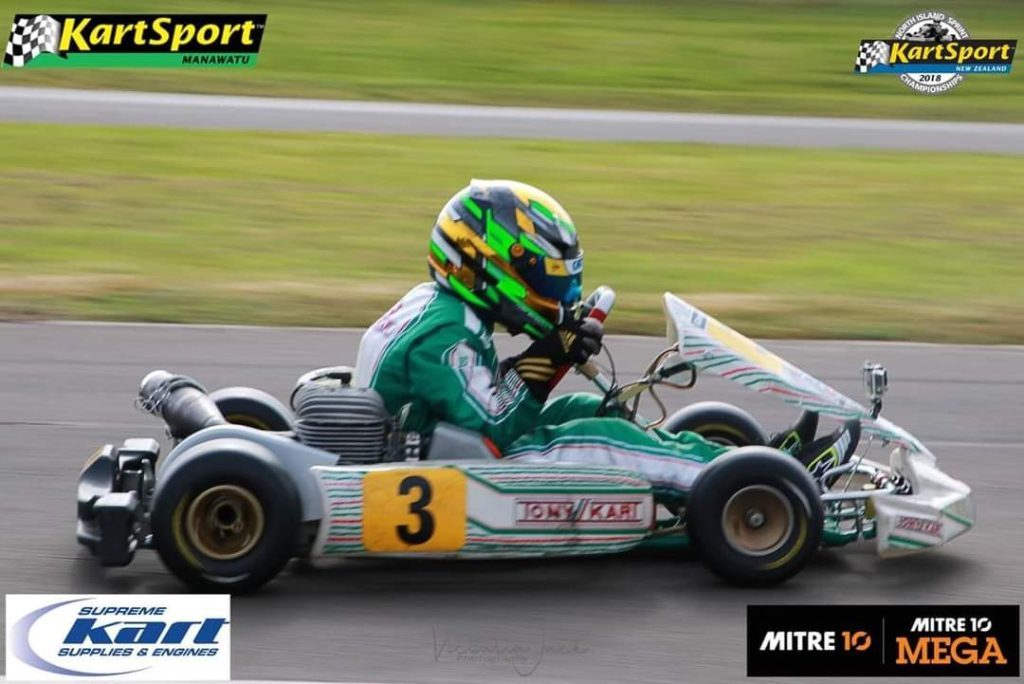 Like all working-class families, it's been a constant struggle financially to support two boys in the same expensive sport. Without the help and support of the Tony Quinn Foundation, our sponsors Dura-Seal Paint Protection, and Clipped Assist, Tom wouldn't be here today competing in his first season in the Toyota 86 series. We are also extremely fortunate to have all our other supporting sponsors that have supported Tom through karting and have continued with Tom's journey as he transitions to cars.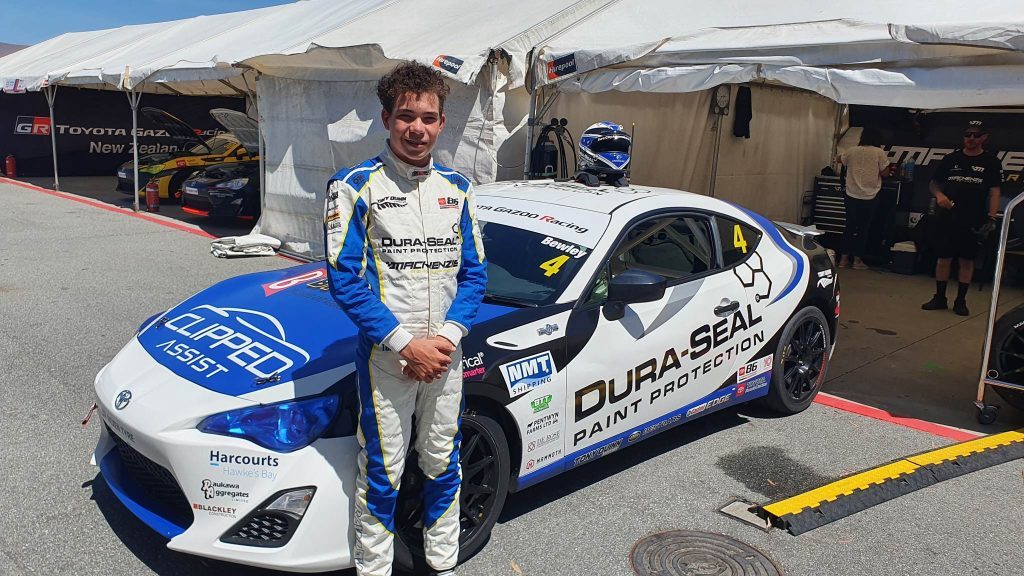 Tom's list of significant Karting achievements is as long as your arm, the most significant being:
2018 3NZ Mini Rok.
2019 2NZ Mini Rok.
2018 1st NZ Rok cup.
2018 Represented NZ Rok cup world's Italy.
2019 Represented NZ Rok cup world's Italy.
2020 North Island Junior Rotax champion.
2021 South Island Junior DVS champion.
2022 1NZ DVS champion.
In 2019, Scott McLaughlin selected Tom for the planned Repco scholarship, while Fabian Coulthard chose Louis Sharp. Tom and Louis battled each other as the top karters in their respective class in New Zealand. Ironically, Louis has stayed with open-wheel racing whilst Tom has chosen to go down the tin-top route.
Tom's ambition is to follow in the footsteps of his boyhood hero and mentor, Scott McLaughlin. Saying, "I want to race Supercars, and even if I get no further than V8 Supercars, I will feel I have achieved my goal. Of course, it would be amazing if the opportunity ever came to follow Scott into Indy Cars, but first, I have to take baby steps along the way."
Scott suggested that as Tom's ambition was to drive Tin-Tops, that he should start in the Toyota 86 Series. "So that is what we decided to do, said Dwayne. We asked around, and Zac Stichbury recommended we team up with him at Mackenzie Motorsport, and here we are, but now with no teammate to share data with.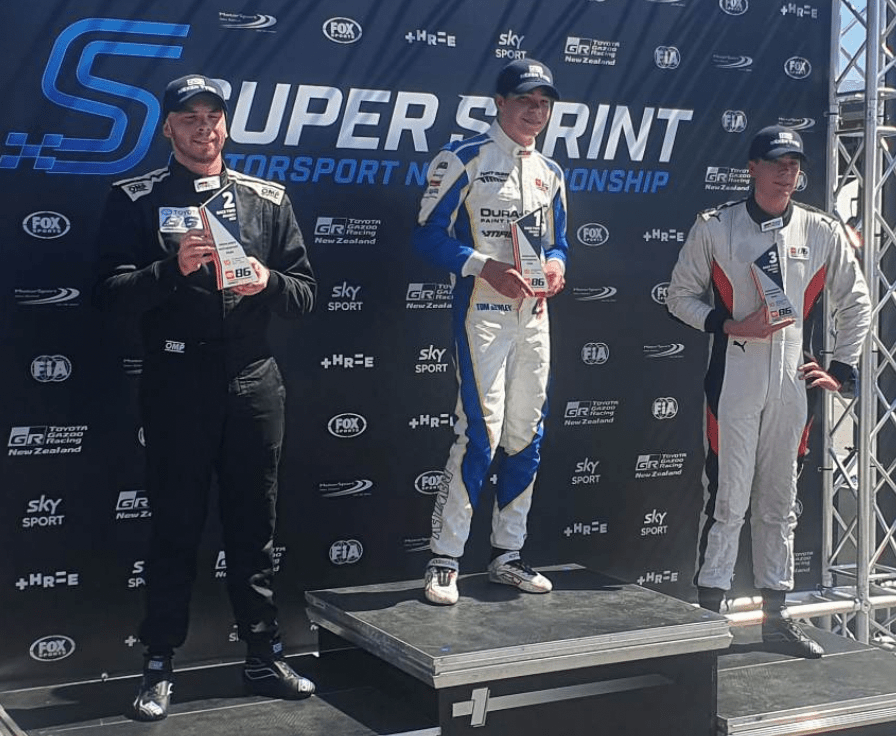 Seasoned race engine Craig Russell has coached and engineered many good young drivers, including rising star Callum Hedge, in his long motor racing career and believes Tom is outstanding for his age. Russel said, "Tom's ability to focus and absorb information thrown up by the data and then apply his learning is exceptional. It is a responsibility and a privilege to work alongside such a promising and likeable young man."
Likewise, Sam Mackenzie of Mackenzie Motorsport is equally impressed by the youngster from Havelock North. "We ran Zac Stichbury in the Toyota Series last year, and although he didn't win it, we both learnt a lot as a team. Zac was all geared up for a second 86 series when he was selected for a scholarship shoot-out with Earl Bamber motorsport; and ended up winning the drive in the Australian Porsche Challenge Series. Seeing what Tom is doing now, at four years younger than Zac, is an eye-opener and shows the value of Karting before leaping into a highly competitive saloon car series like Toyota 86," said Mackenzie.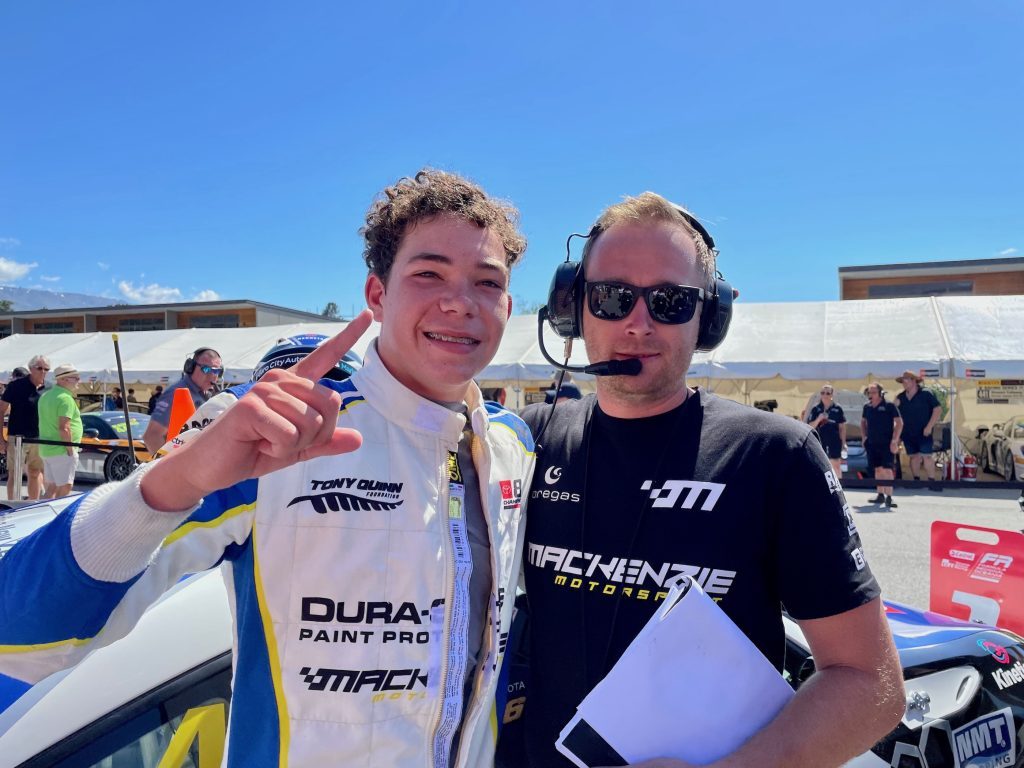 After winning at the first round of the Toyota 86 Championship at Highlands Motorsport Park the week before, Bewley suffered a rare mechanical issue when his car lost its clutch whilst racing in the leading bunch at Invercargill's Teretonga Park raceway last weekend, so he will be hoping for better luck at his next outing at the Hampton Downs Grand Prix meeting on the weekend of the 4/5th of February next.