The second KartSport NZ 'Virtual Club Day' held last Saturday was dominated by talented young Australian karter, Jackson Harlow.
The event attracted an array of sim racers, including the winner of the inaugural event, Angus Claasen. Other entries included karters Jackson Harlow and Ryan Wood, SuperUtes champion Tom Alexander, and former New Zealand Superbike champion Sloan Frost.
Harlow set the pace from the off, comfortably qualifying fastest ahead of the eight-lap heat race which he won from Ryan Wood.
Christchurch-based Toyota 86 driver Jaden Ransley joined Harlow on the front row for the heat before losing connection before the drop of the green flag.
While Harlow took a comfortable victory, it was a tight battle between Wood, and sim specialists Cameron Dance and Angus Claasen for the final spot on the podium. Alexander, Billy Frazer, Tyler Richardson, and 10-year-oold Vortex Mini ROK class ace Blake Dowdall rounded out the top seven.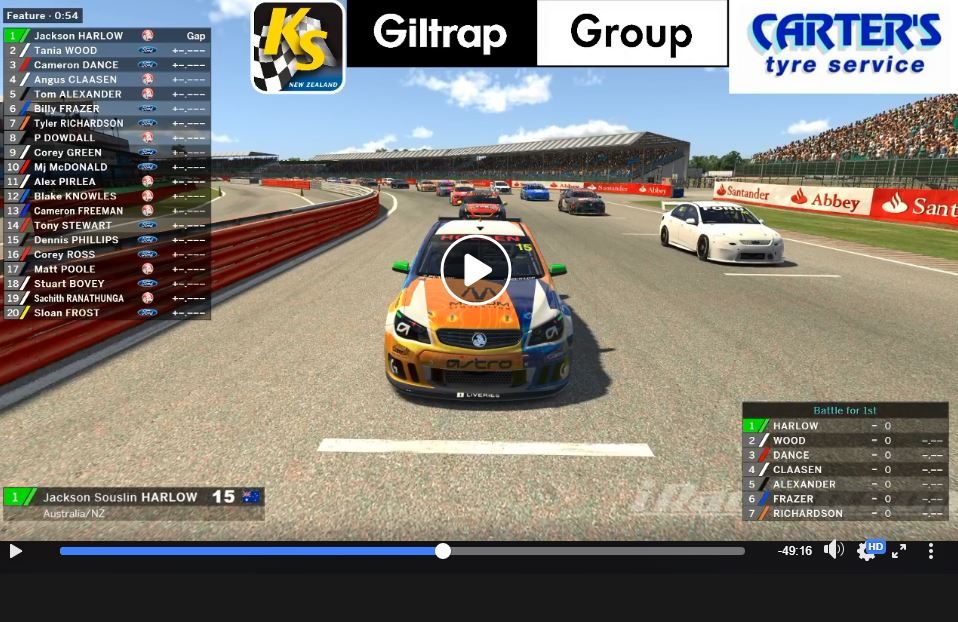 Harlow continued this form into the 20-lap final – leaping off the line into the lead and never looking back.
Claasen slotted into second place with Alexander and Dance in hot pursuit. Wood worked his way past Dance and Alexander, and eventually caught onto the back of Claasen.
However, the pair collided a lap later, causing sufficient damage to Claasen's car and sending Wood tumbling down the order. Wood eventually worked his way back to challenge Alexander later in the race.
A lapped car baulked Alexander, and ultimately saw both Wood and Frazier scythe past, relegating Alexander to fifth.
Wood's calamities would not yet be over, however. After being held up behind a backmarker, he was tipped into a half-spin by Frazier. The resulting damage forced Wood into the pits.
With five laps to go, Frazier and Alexander engaged in a tight battle on the 16th lap which was eventually resolved in favour of Frazier.
Harlow crossed the line the victor, with Dance a comfortable second and Frazier in third.
| Pos | Driver | Vehicle | Time |
| --- | --- | --- | --- |
| 1 | Jackson Harlow | Holden Commodore | 20 laps |
| 2 | Cameron Dance | Holden Commodore | + 12.210 s |
| 3 | Billy Frazier | Ford Falcon | + 34.518 s |
| 4 | Tom Alexander | Holden Commodore | + 35.164 s |
| 5 | Alex Pirlea | Holden Commodore | + 36.316 s |
| 6 | Tyler Richardson | Ford Falcon | + 37.867 s |
| 7 | Angus Claasen | Holden Commodore | + 41.746 s |
| 8 | Blake Dowdall | Holden Commodore | + 52.785 s |
| 9 | Daniel Hall | Holden Commodore | + 1:13.519 s |
| 10 | Riley Jack | Ford Falcon | + 1 lap |
Photo Credit: KartSport New Zealand / iRacing