The brutal Dakar Rally gets underway this weekend with a huge number of competitors set to make their way across Saudi Arabia.
It's the fourth year running the event has been held in the Middle East however the route has been altered this year to further challenge competitors.
An extra 1000km of Special Stage racing, for a total of roughly 5000kms, has been added to this event whilst organisers have also made comment of an increase on the number of dunes.
The rally will begin with an 11km prologue on the West Coast's Sea Camp where competitors will race along the scenic waterfront. Whilst short in length a competitive time means everything as top drivers are able to pick their starting order come SS1's 367km of rally.
Racer will then make their way east across the country over the following days averaging some 400kms of timed runs daily.
It's SS6 that is sure to challenge the field, 878km of driving featuring 466km of racing making for the longest day of the event.
There is some respite for teams on January 9, a well-deserved rest day after a week and a half of competition.
Following that they'll work their way southeast before following the countries' border northwest to a beautiful seaside finish in Dammam on January 15.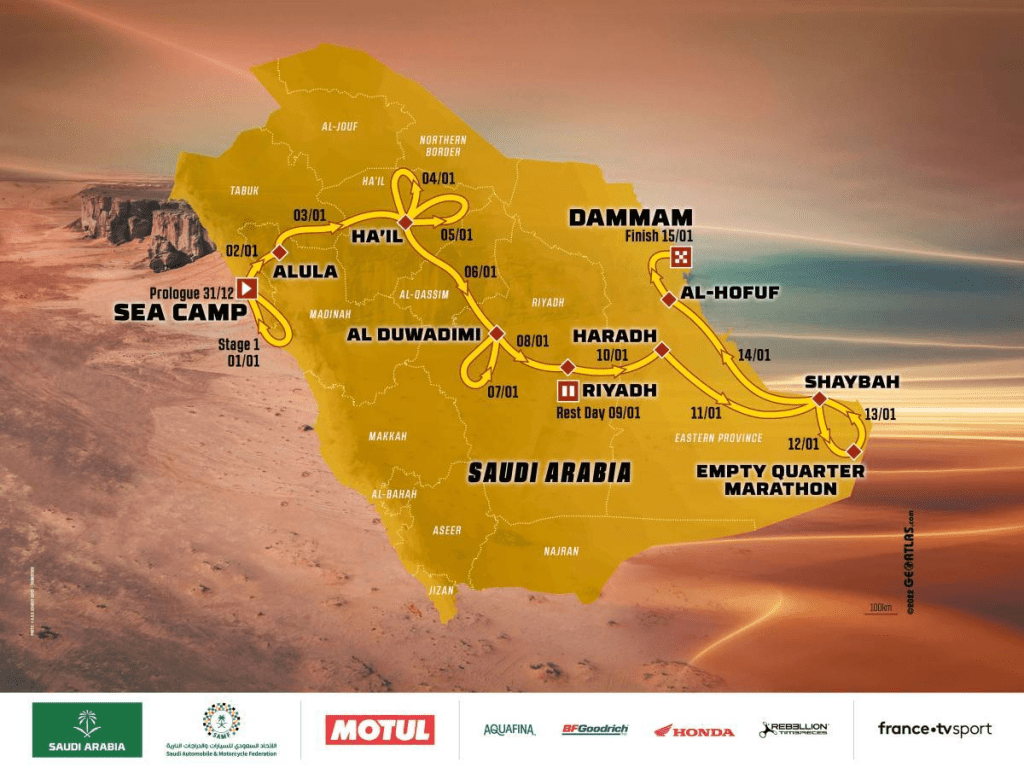 A wide range of vehicles have established themselves as Dakar Rally competitors over it's history with bikes (Rally GP, Rally2, Quad and Solo Riders) joined by the likes of cars, trucks, Side-by-side Vehicles (SSVs), and Dakar Classics set to feature this year.
Whilst the event is Kiwi-less, there are three Australians contending, including two-time bikes category winner Toby Price (RallyGP). He's joined by compatriots Molly Taylor (SSV) and Daniel Sanders (RallyGP).
A number of icons are also confirmed in attendance, rally legend Sebastien Loeb competing for Bahrain Raid Xtreme in a Prodrive Hunter T1+ (Cars- T1/T2). Carlos Sainz Sr. will also be present for Team Audi Sport (Cars- T1/T2).
Toyota Gazoo Racing have entered a strong contingent including the defending car champion partnership of Nasser Al-Attiyah and Mathieu Baumel.
Dakar Rally icon Stéphane Peterhansel, a record-holding 14-time winner, will also take part, running for Team Audi Sport.
Highlights of each stage of the rally will be shown on Sky Sport the day following each day of competition.
Header Image:  AFP Photo