At just 17 years of age, Waikato-based teenager Bailey Cruse aims to hit the ground running when he ventures to the United States to compete in a trio of IMSA Mazda MX5 Cup races later this year.
Cruse has signed with Hixon Motor Sports to compete in the final three rounds of the season, beginning with Round 4 of the championship at Road America on August 4-6. A round at Virginia International Raceway follows (August 25-27) before the season finale at Road Atlanta on October 11-13.
The Year 13 student from Hauraki Plains College is no stranger to American competition, having ventured to Circuit of the Americas to compete in the final round of the USF Juniors championship last year. He was classified 12th, 13th and 18th over three races and said, despite the difficult results, the experience made him want to return for more.
"I was on the Road to Indy last year and did one last stint in USF Juniors," Cruse told Velocity News. "It was a good experience, but it was quite rocky the weekend, but I knew I wanted to go back to the US, racing. I researched and thought the IMSA MX5 Cup was the best fit for the competition and the opportunities which align with my end goal and pathway, which is IMSA and WEC, which would be my dream.
"The competition over there, as well as being a spec series and the prize money, which is pretty substantial over there. I thought it was the perfect stepping stone from where I am in my career at this moment."
Now in its 19th season, the Mazda MX5 Cup is in its third season under a sanctioning agreement with IMSA and boasts impressive grids and highly competitive racing at each round. To date, 35 drivers have competed in the 2023 edition of the series.
Hixon Motor Sports is one of the largest teams on the grid and has won three of the eight races so far this season. Racing with the team is what Cruse hopes is the beginning of a longer partnership, with an entire season in 2024 on the cards.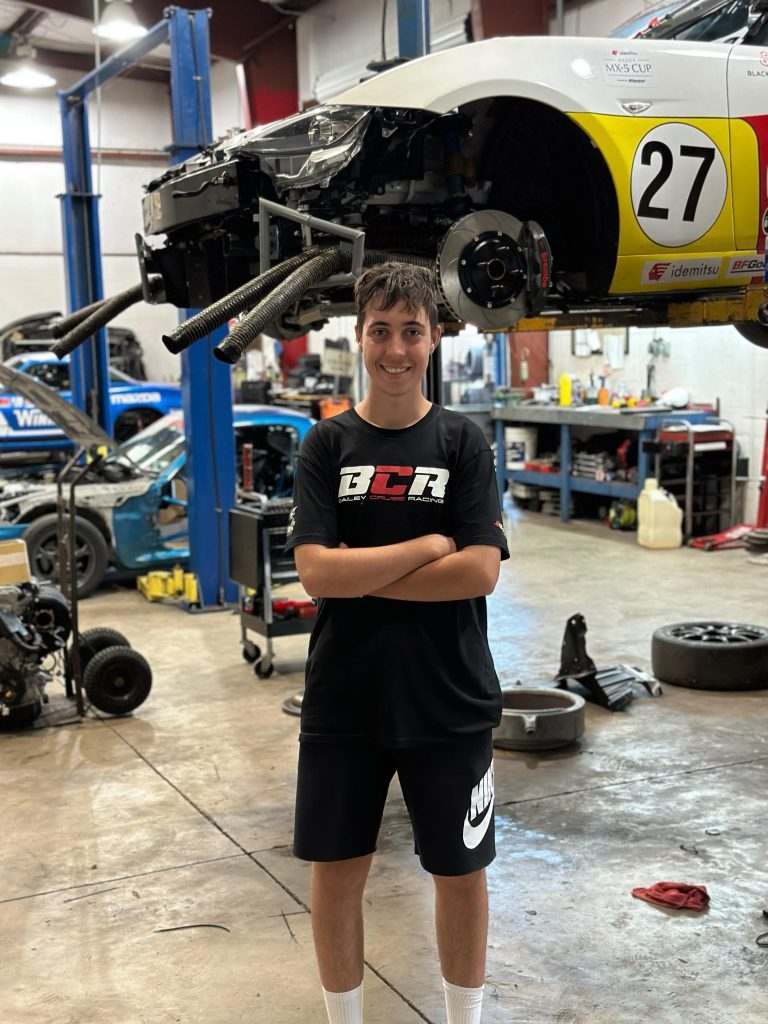 "I'm really happy to be working with Hixon Motor Sports," says Cruse. "I'll rent a car under Hixon Motorsports for the three rounds.
"I want to keep rookie status for next year, and to keep rookie status, and the maximum is three rounds before you become non-classed as a rookie. I'll do three rounds this year, for the end of this season, and then I want to aim for the Mazda MX5 Cup Scholarship Shootout, in which the winner of that gets prize money towards the 2024 season. That's my ultimate goal so I can keep racing in 2024. I want to do a full season in the series."
Despite his young age, Cruse has become a familiar face on the motorsport scene in New Zealand, his career beginning at just 14 years old in the Improved Production Championship.
From here, he progressed to North Island Formula Ford, winning the Class 3 Championship for the 2021/22 season. Since then, he's gone on to compete in Formula Open and the Honda Cup, where his performances saw him selected in the class of 2023 for the talent-breeding Elite Motorsport Academy, which begins next week.
"I fly out on Sunday. I'm really grateful for being in the academy," he states. "It's really prestigious. Having names like Brendon Hartley and Marcus Armstrong is definitely awesome, and to see how they progressed through the academy.
"Having people that I've raced with, such as Liam Sceats and Hayden Bakerus, it's cool to see how they've improved from the academy, so I'm super excited coming into it, and I'm going to learn as much as possible from them."
Upon finishing his schooling, an international career beckons for the talented teenager who cites Hartley, Scott Dixon and Scott McLaughlin as just a few of the drivers he looks up to.
Cruse has also got plenty of support flowing in from around the country, with the likes of Kenny Smith taking him under his wing since he first hit the track.
"Kenny Smith's always been really awesome. He's helped me from day one, advising me on what to do in my career. He's been [an excellent influence]," says Cruse.
Keep an eye out for our weekly Motorsports Diary to see when Cruse is in action in the United States and how you can follow.