Tom Bewley took his first win of the season in the Toyota 86 Championship after a scintillating drive from ninth on the grid at the Taupo International Motorsport Park.
In another wet race at the opening round of the championship – this time starting line astern after two laps behind the Safety Car – Bewley made his way cleanly through the pack having started on the fifth row in the reverse top ten format, ten-lap race.
He made his move for the lead on lap four passing Hayden Bakkerus at turn 4 in a clinical move, then raced away to establish a comfortable lead ahead of the field. Rookie Jackson Rooney made inroads into his lead late on, but Bewley had it all covered.
"It was fun coming from P9. I made a good getaway in the Safety Car start and that set me up really," said a delighted Bewley afterwards.
"I picked my way through, there were a few mistakes in front of me and I just tried to make the most of those moments and maintain my speed, which was good on the greasy track.
"Hayden had a slide through turn four and I went down his inside there. He gave me enough room too and after that I was able to just pull away. Jackson closed on me pretty quickly but really I was just protecting the car. I felt in control."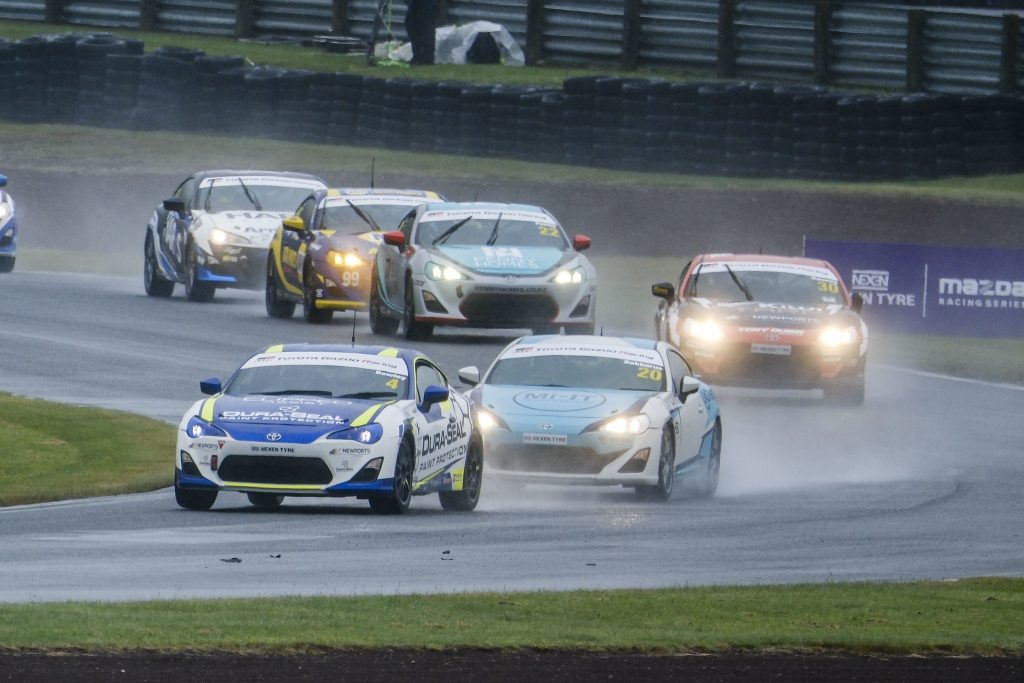 Behind Rookie class winner Rooney in second, Saturday winner Hunter Robb put in another impressive drive to come home in third, but after a busy race making his way through the pack was unable to challenge the leaders.
Harry Townshend had started on pole position after finishing tenth on Saturday and led impressively until he went wide at turn two on lap four letting the chasing pack through and dropping to seventh.
Bakkerus then took the lead and looked strong, but he could do nothing about the pace of Bewley and Rooney, who passed him in exactly the same spot as Bewley had.
Robb came through a little later but Bakkerus was able to hang onto fourth after a spirited battle that saw him hold off Justin Allen, Master Class winner John Penny, William Exton, Brooklyn Horan, Tayler Bryant and Christina Orr-West in a tight train back to tenth. Townshend ultimately had to settle for 11th.
Bewley's win and second place on Saturday give him pole position for the feature race later in the day, and he'll have Rooney alongside him with Robb behind him as the battle for round one honours goes down to the wire.
Round 1 – Taupo International Motorsport Park – Race 2
| | |
| --- | --- |
| 1 | Tom Bewley |
| 2 | Hunter Robb |
| 3 | Jackson Rooney |
| 4 | Hayden Bakkerus |
| 5 | Justin Allen |
| 6 | John Penny |
| 7 | William Exton |
| 8 | Brooklyn Horan |
| 9 | Tayler Bryant |
| 10 | Christina Orr-West |
| 11 | Harry Townshend |
| 11 | Alice Buckley |
| 12 | Thomas Mallard |
| 13 | Ryan Denize |
| 14 | Saxon Sheehan |
| 15 | William Morton |
| 16 | Cormac Murphy |
| 17 | Lockie Bloxsom |
| 18 | Tim Leach |
| 19 | Alex Hawley |
| 20 | Noel Simpson |
| 21 | Breanna Morris |
| 22 | Summer Rintoule |
| DNS | Thomas Beesley |