Todd Blackmun was the inaugural winner of the Brian Crosbie Memorial Trophy at Classic SpeedFest at Teretonga Park this weekend. The trophy remembers one of Southland's best saloon car drivers who passed away recently.
It was donated by Crosbie's family and was contested on the last race for Pre 78 Classic Saloons, a handicap event.
Blackmun, of Invercargill, started from scratch in his Datsun 120Y and was never threatened, winning on a wet track from Paul Coghill of Dunedin (Triumph Vitesse) and Rod Sinclair of Clyde (Alfa Romeo Guilia).
Blackmun said he was "very pleased" to take the win. Crosbie's wife Denise presented the trophy whilst his son Shane had led the field on a parade lap in a DKW previously raced by his father.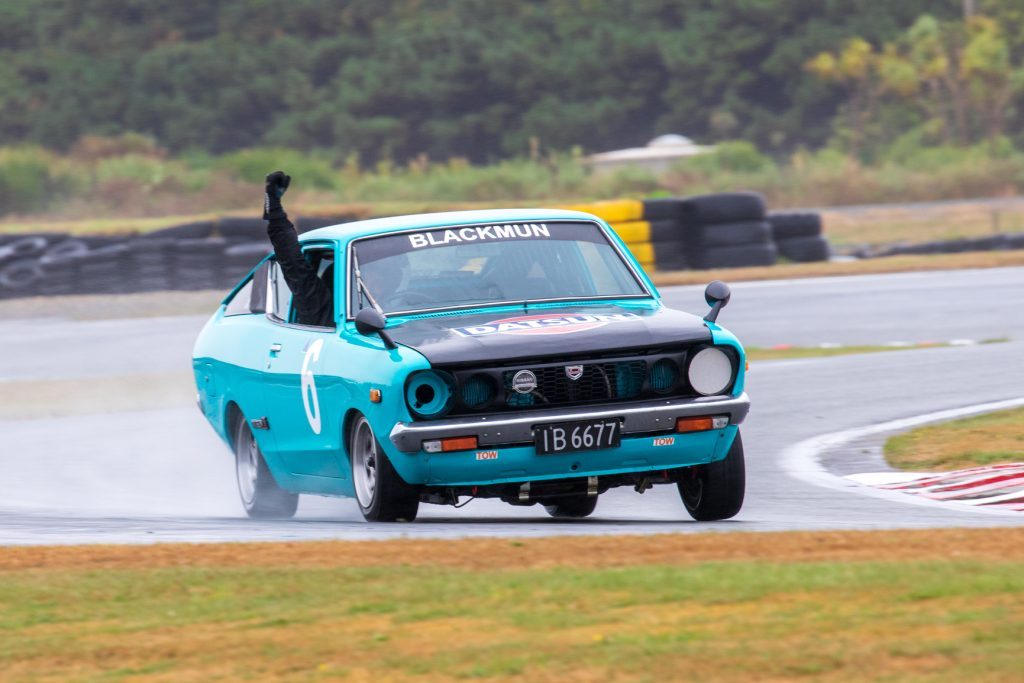 Blackmun was one of four different winners in the class over the weekend.
Roy Macdonald of Dunedin in his Ford Fairlane snatched victory from Rodger Cunninghame of Te Anau (Ford Mustang) in the first race while Alistair Campbell of Alexandra in his Fiat 128R took the second, a handicap race.
Cunninghame led all the way to win from Macdonald on Sunday morning before Blackmun took the last.
Matt Coory of Dunedin in a Ford Mustang won Saturday's HVRA race beating Paul Burnet of Orakei in another Mustang with Dennis McConnell of Feilding third in the ex-Halliday brother's Ford Escort.
David Hunter of Dunedin in his MGB GT V8 won the handicap race on Sunday morning from Murray Kelman of Invercargill in his Ford Escort and Calvin Bray of Albany in another Escort. Burnet grabbed the third race of the weekend from Coory and Hunter just as a brief period of rain arrived at the circuit.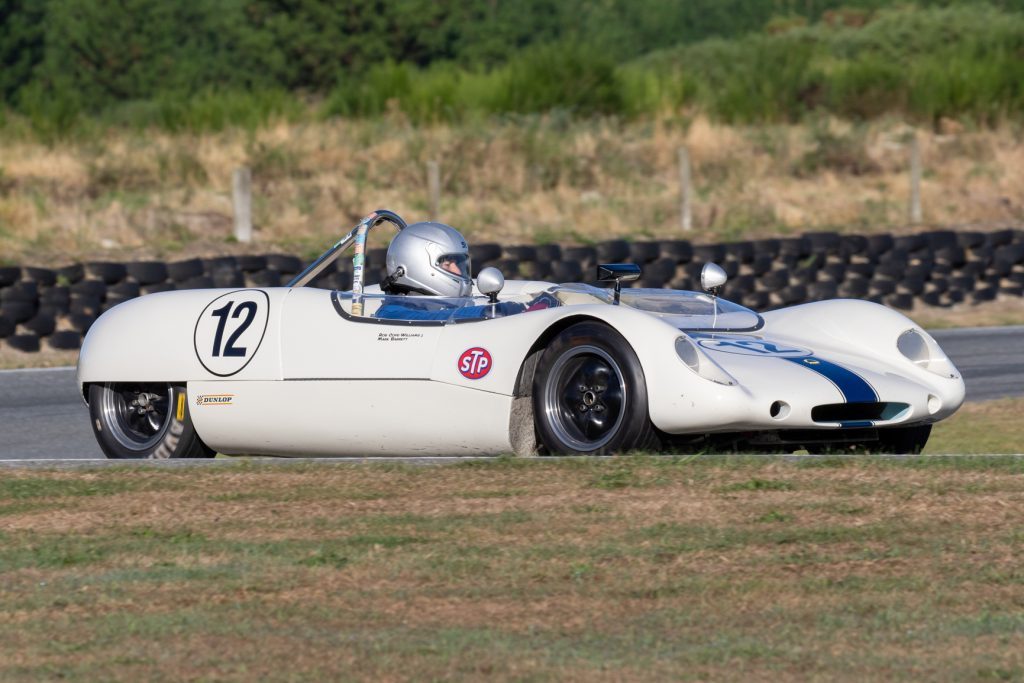 Barry Leitch of Invercargill dominated the Formula Libre races on Saturday in his Ralt RT4 leading Grant Clearwater of Kerikeri in a Brabham BT16 home in both with Gerald Duncan of Auckland in his SID 2 third each time.
Meanwhile, Saturday's Historic Formula Ford races produced identical results with Stephen Heffernan of Invercargill winning both in his Johnstone from Aucklander Robin Longdon (Lola T342). The two classes combined on Sunday with Leitch taking two more wins with Longdon prevailing in the Formula Ford class.
Mark Barrett of Christchurch won the first three Vintage Racing Car races in his Lotus 23B replica. In the first, he crossed the line ahead of Wellington's John Rapley in a Brabham BT2 Formula Junior with Barrett's wife Tracey third in a Lotus 23C Replica.
In the second, Tracey Barrett was second while on Sunday morning he won from Rapley, who had failed to finish the second race, with Tracey Barrett third. Barrett was a non-starter in the final, wet race, won by Rapley from Royce Bayer (Bello RNB1) and Neil Longman of Invercargill in a Mallock U2 Mk8.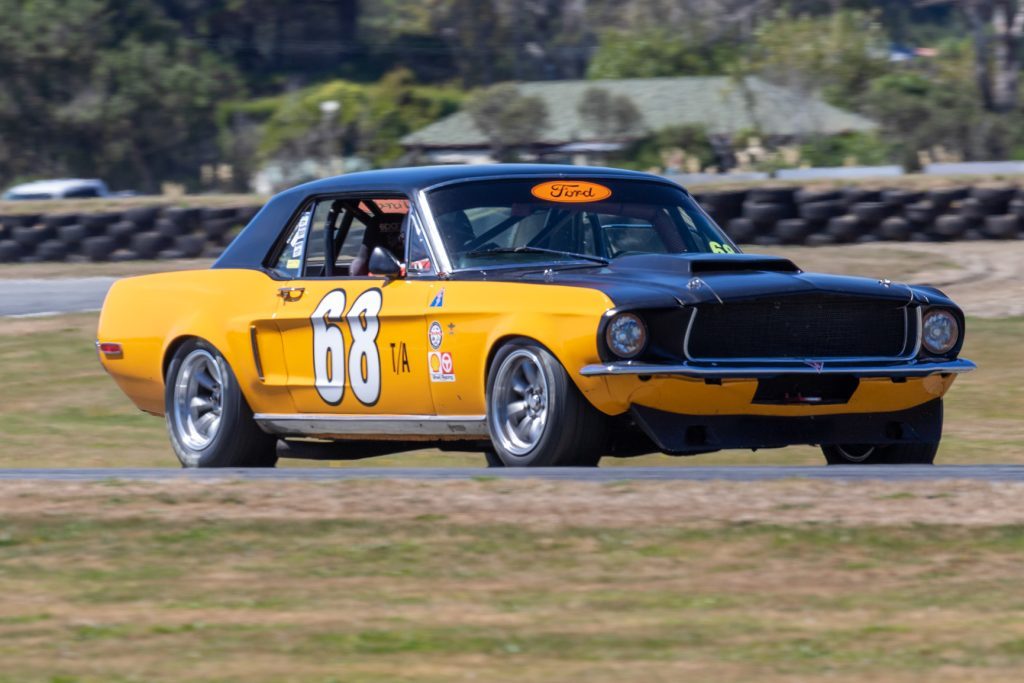 Former kiwi, Graham Baker, now domiciled in the United States, was dominant in the Classic Saloon class winning the first three races in his Noble Ford from Robert Hyslop of Tauranga (Mazda RX7) before Robert Ralston of Invercargill won the wet finale in a Nissan Bluebird.
The class was combined with Rennsport where Jeff Luskie of Christchurch took two wins in his Porsche 996 GT3 and Graeme Fraser of Christchurch (BMW M3 Evo) and David Proud of Christchurch in a BMW M3 took one apiece.
The Noel McIntyre Drainage Club Saloons were split into two groups and Jordan Michels of Invercargill won both Group A races in his Marc 1 V8 Ford Focus, the first from Andrew Cundall of Invercargill (Toyota Levin) and Liam MacDonald (Ford Falcon) and the second from Kyle Dawson of Invercargill (Nissan Skyline) and Pierre Neame of Winton in a Ford Mustang.
The 2501cc & over class saw Neame win from Harry Wilson of Invercargill in his Ford Falcon with Michels third, now in his Honda TCR after engine problems in the Focus.
Dave McLean of Gore took the 1601cc & over class honours in his Honda Integra with Dayne McIlwrick of Winton in a Corolla taking the 1301 to 1600cc class and Todd Blackmun in his Datsun 120Y, the 0-1300cc class.
The Flying Farewell went to Michels from Neame and Harry Wilson.
Kieran Roberts from Invercargill in his Commodore won both Group B races from Warren Kett of Invercargill in a Mazda RX7 and Paul Sayer of Queenstown in a Toyota Starlet.
Words: Supplied
Images: Vanessa Adcock