Five races, five wins. That's how Alex Crosbie spent his weekend at Taupo International Motorsport Park to pull clear of the pack in the New Zealand Formula Ford Championship.
The championship leader started out strongly on Saturday, taking three wins before backing that up with a further two on Sunday.
Winning Race 5 also saw Crosbie take home the iconic Ron Frost Trophy, joining the likes of Shane van Gisbergen, Liam Lawson, Richie Stanaway and Nick Cassidy to have won the race.
Pulling clear of the battles behind was what got the job done for the defending champion who went about putting time on those behind as soon as he hit the front.
It was a strategy that worked wonders, Crosbie not left to defend and able to build further as those behind fought it out.
Sebastian Manson finished the round in second overall, a fair reward for the pressure he applied on the championship leader throughout the event. He ran side-by-side with Crosbie at times and led multiple laps in his quest for a strong result.
Manson also topped Saturday morning's qualifying for the event to start Race 1 on pole.
Dylan Grant earned a hard-fought third after competing most the weekend on older tyres, meaning he'll be one to watch as the series hits the South Island next month. He too was involved in some tight battles with Manson and Crosbie at stages in the event.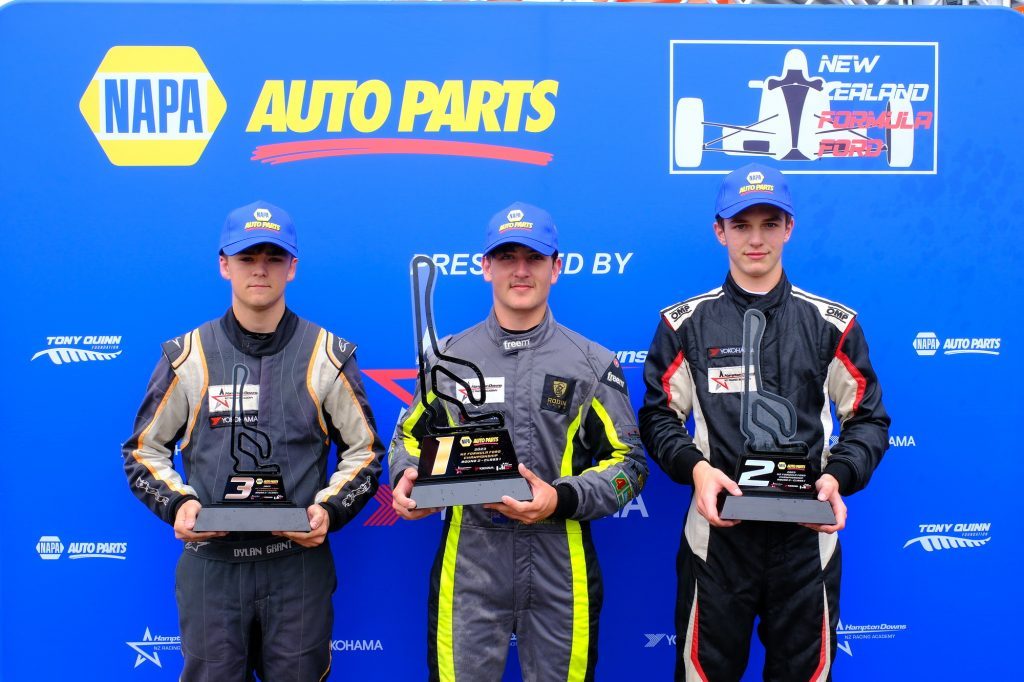 Blake Knowles, Blake Dowdall and Daniel Brown were the other drivers who finished on the podium at some point during the weekend, the trio all ensuring pressure was applied on the drivers ahead and making them work for their spoils.
Knowles was immense throughout the weekend and was unfortunate to not be ranked higher after being collected by Leo Scott, whose brakes had failed, in Race 2.
The flow on affect of this caused a mechanical failure in Race 3 with the youngster sitting third half way through the final lap, forced to heartbreakingly coast across the line for 11th.
He bounced back strongly on Sunday to take second in Race 4 and sixth in Race 5, battling with the leaders throughout as he had in Races 1 and 3, before his failure.
Dowdall was another also down on luck but like Grant played the strategy game on Saturday, electing to use older tyres before switching to new ones Sunday.
He was expected to be near the front come Race 4 until a small fire pre-race left the team scrambling to repair the car. It wasn't to be as the lights went green, Dowdall left stranded in pit lane as his competitors ran clear.
Race 5, however, is where the youngster was able to show his true capabilities to finish a clear second, only 1.3 seconds off Crosbie but 3 seconds up the road from Manson in third.
Brown's consistency across all five races puts him in with a shot of a championship podium, finishing in the top six of all races with the exception of Race 4 where he was kept to ninth due to a huge battle pack unfolding around.
Other competitors who also featured strongly include Caleb Byers, Zach Blincoe, William Neale, Jack Noble-Adams, Hayden Bakkerus, Mason Potter and Dylan Petch, all demonstrating some excellent race-craft at stages through the event to prove they shouldn't be overlooked in future rounds.
Racing can be a cruel sport sometimes and Blincoe, Bakkerus and Noble-Adams will agree, each with their own dramas- either on-track or off-track- during the weekend.
The weekend was all Crosbie's however, the youngster putting in a massive effort for an incomprehensible clean-sweep of the five race meet.
Going back-to-back in the national title seems the most likely situation following the round, Crosbie now returning to his familiar hunting grounds in the South Island where he will be again expected to feature strongly.
One thing for certain, however, is that a field full of young talent displaying some superb driving skills will push to ensure he doesn't have it all his way.
The New Zealand Formula Ford Championship returns at Teretonga on 18-19 March before the season concluding round at Ruapuna the following week.
Header Image: Geoff Ridder