Kyan Davie enjoyed one of his best-ever race meetings in last weekend's North Island Formula Ford opener, putting himself as an early title favourite.
Davie finished the three races with a win and two seconds to lead the championship standings. He also earned the $500 pole position award on Saturday morning.
"First time ever leading a championship, so that's pretty cool," he said.
"One of the best weekends I've had."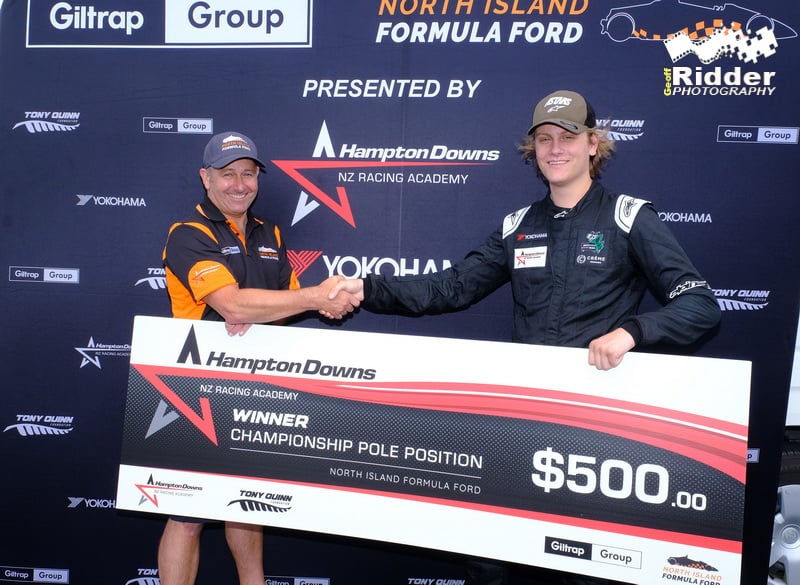 Davie won race two by a measly one-tenth over Leo Scott. The top four finishers were all within one second of the Auckland teenager.
In the races he didn't win, Davie was right on the tail of the leader.
He was penalised ten seconds in race one after overtaking a rival over the pit entry blend line but still ended up P2 by 1.4 seconds.
Davie buggered his race start in race three and spent the first few laps stuck behind a Class 3 car.
Once he got past, Davie began making progress through the field, set the fastest lap of the race, but fractionally fell shy of the win.
Sebastian Manson pipped Davie to the spoils by 0.031s.
Davie was still upbeat about the result.
"It was one of the best races I have had."
His fastest lap in race three was four-tenths quicker than what earned him pole in qualifying.
The meeting wasn't all smooth sailing for Davie. Alongside his start troubles, he and his crew identified an engine problem earlier in the week.
"On Wednesday, we had an issue with the new motor and had to swap back to a testing engine for the weekend.
"We plan to swap them back for round two because the new motor is really good."
He also intends to get on top of the race starts.
"The car kept bogging down. I need to learn how to start these things.
"But we'll have a few more test days and get some good practice."
Davie's championship lead is 30 points over Hayden Bakkerus.
"We definitely have a good chance [of fighting for the title.]. We just need to stay reliable and get results."
The next NIFF round is in Taupo in late February, a circuit Davie is rather fond of.
"Taupo is my favourite track. I love the challenge of it and it is a lot of fun to race on."
Main Image: Neville Bailey