After a dismal introduction to his sim-racing campaign, five-time IndyCar champion Scott Dixon faired significantly better in last week's fourth round of the IndyCar iRacing Challenge. But the kiwi still admits that he has found the iRacing platform "a steep learning curve."
Contested on the Twin Ring Motegi Oval circuit, Dixon, who was the last winner of a real-life IndyCar race at the Japanese venue, came within a whisker of victory in the virtual event.
Searching in vain across the last ten laps for a way past eventual race winner Simon Pagenaud, Dixon crossed the line less than a second behind the No.22 Chevrolet Penske.
But despite missing out on the victory, Dixon admitted after the race that he was just glad he made it pass lap one, a feat he failed to complete just a week prior at Michigan.
"I was just happy to make it to the finish," Dixon told IndyCar.com.

"Good job by Simon there. It was really close at the end. For me it was a lot of fun. I think just to get to the finish was goal number one for me."
The series heads to Austin, Texas this week, racing on the picturesque Circuit of the Americas. But the Kiwi said the jump from two to 20 corners may make for a very exciting race.
"I was saying to Will Power earlier, two corners are easier than what we have coming up next week.

"It will be pretty tough and interesting to see. I think you'll see the iRacing pros that put in the time will be really sound next week.

"We had a spotter this week, which was definitely a big help. Even talking to the engineer, making sure the tires were checked, going through that process I think is a big deal as these guys spoke about.

"The tricky part is you're learning to drive something that you can only manipulate. You can't really make changes to your style or anything like that. You really just have to learn the style the car is, which I've found quite tough in a lot of ways and will do next week once we go back to a road course as well."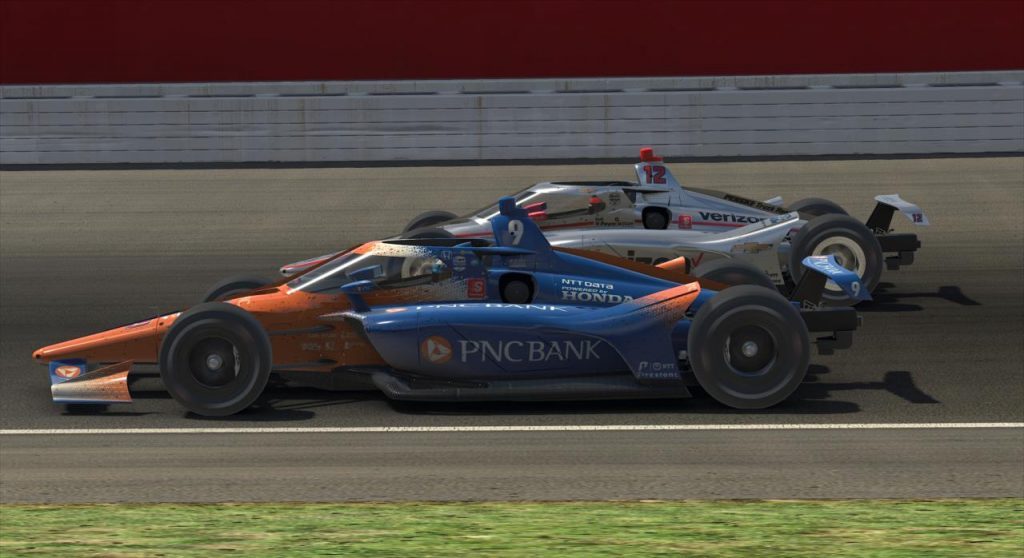 His Twin Ring podium undoubtedly came as a surprise to many, but none as much as Dixon himself who admits there has been a steep learning curve involved in getting on top of his in-home simulator.
"Last week (at Michigan) was pretty rough. So was Alabama. Some of these teams have taken it next level," Dixon said before last Saturday's race.

"When I went onto the pits in Barber, I forgot to change my tires. There was no one to blame apart from myself.

"It's been a steep learning curve. I've never been into sim racing or anything like that previously."
A challenge intensified by the fact Dixon has two daughters and a newly born son to care for during these uncertain times.
In fact, Dixon's wife Emma has created a unique bartering system that sees the Kiwi be rewarded with simulator practice after completing the necessary house chores.
"What has put it into perspective is being at home with the kids E learning, then trying to get on a simulator throughout the day when you can and try to keep up the normal training levels that we try to once we get back to proper racing, has been interesting.

"I'm working with my wife on my 'Honey Do list.'

"Each tick off the box I get, I get an extra 30 minutes on the simulator. I'm actually banking some time this week.

"I'm looking forward to start getting pretty serious on this game."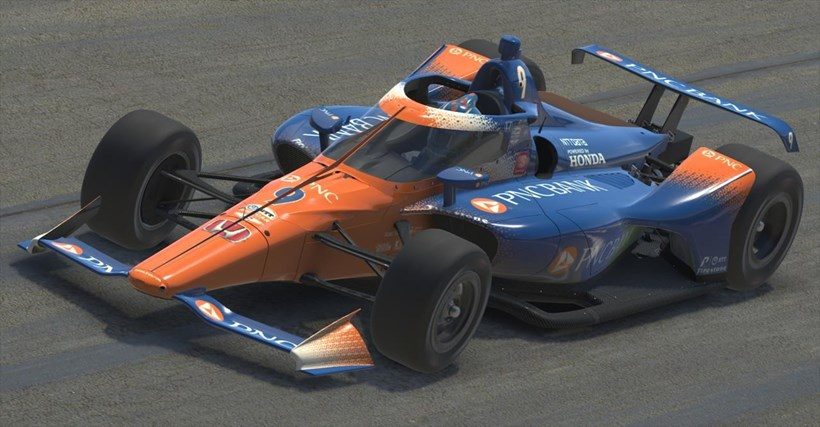 But challenges and difficulties aside, Dixon has quickly found himself enjoying the virtual series.
"I've found it a lot of fun. It's been a little bit frustrating in some ways because you're trying to get up to speed and catch up as quickly as possible.

"Some people have been racing on these things for more than 10 years. Kudos for NTT INDYCAR SERIES for bringing us online, iRacing as well.

"The complexity of what they've been doing not just for the NTT INDYCAR SERIES but for the other series out there, it's been pretty impressive what they've been able to do. For the fans in this moment it's what we have. It's been a lot of fun to be a part of it.

"Hopefully I think we can have some great races coming up. Ultimately I hope we can get back to the real-world racing before we know."