In what has been a short but exciting season of racing, the final round of the Formula Open New Zealand (FONZ) championship was held at Hampton Downs Motorsport Park at the end of May resulting in some spectacular results for both the drivers and the series itself.
Due to its rapid growth and success, the next season of FONZ has attracted external financial support in the form of sponsorship for each class.
Class One which contains the FT50 TRS and ground effect Formula Atlantic cars will be sponsored by pipeline professionals, Promains, while The Fitness Portal is sponsoring the Jim Palmer Cup of Class Two which contains the FT40 TRS, Formula Renaults, and flat bottom Formula Atlantics.
Series Co-ordinator John Tomlin also mentioned that Class Two is being designed as a stepping stone for young drivers wanting to make the leap from karts, Formula Firsts, and Formula Fords to proper wings and slicks cars.
This can only bode well for the future of FONZ and its drivers by attracting more support for the series and most importantly, producing more on-track action.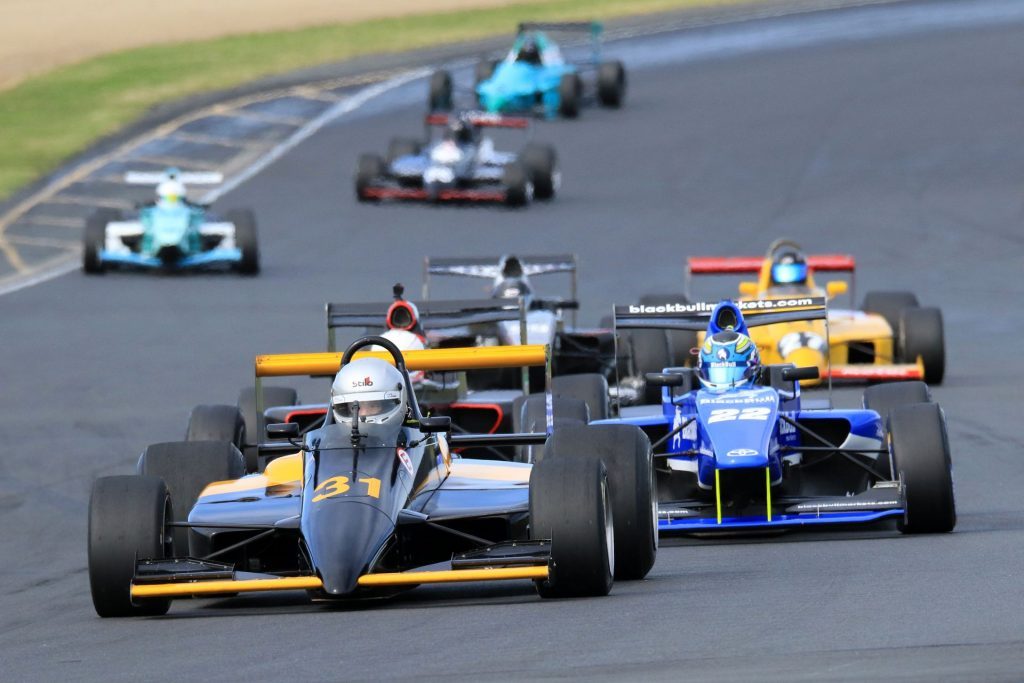 The final race weekend's results can be found below.
Qualifying:
Qualifying saw James Watson take pole with a time of 1:02.951, .017 seconds faster than the Tatuus FT50 of Sam ManNeill who placed second with a time of 1:02.968.
Third fastest was Bailey Cruse alongside Kenny Smith in fourth place.
Race One:
Sadly, Watson missed the start of the first of the day's three races with a broken front sway bar mount.
This left MacNeill to take the win but not before Cruse put him under pressure finishing within less than a second of the leader.
Kenny Smith finished in third place just .09 of a second behind Cruse. Gary Rush in his Swift DB4 took fourth place .001 of a second behind Smith. A close top four indeed.
Race Two:
The second race saw MacNeill on pole again with Cruse beside him in second. Smith started third and Fergus Crabb in fourth.
Unfortunately, Watson started the second race in tenth place due to not setting a time in race one.
Watson soon turned his weekend's misfortunes around by using his Swift DB4 to carve through the pack and take the win while setting a new FONZ lap record of 1:01.021. MacNeill took second place and Smith finished third.
Race Three:
With Watson on pole for the final 10-lap race, MacNeill was close behind in second with Cruse on his tail in third. Crabb started in fourth with Smith in fifth, and Rush sixth.
Watson pulled away from MacNeill at the race start using the superior power of the DB4 while Rush did the same to get past Smith.
Crabb also managed to get the jump on Cruse at the start but the two battled throughout the race with Cruse managing to slip back past with three laps to go.
It was a close finish between the two with Cruse managing to keep Crabb just behind him as they went over the line.
Championship End:
While the 2022 season was somewhat shortened by COVID-19 restrictions, drivers and teams celebrated the season end with a great prizegiving ceremony with James Watson winning Group One overall taking the Graeme Lawrence Cup.
Ethan Sillay won Group Two receiving the Jim Palmer Cup.
Formula Open New Zealand's biggest award, the Howden Ganley Cup, was presented to James Watson by Motorsport Historian and Journalist Michael Clark.
Kenny Smith was appointed series Patron because of his contribution to the series by finding drivers wanting to get involved and sourcing and supplying cars.
| | | | |
| --- | --- | --- | --- |
| Car # | Driver | Vehicle | Points |
| 31 | James Watson | Swift DB4 F/Atlantic | 205 |
| 22 | Tom Alexander | Tatuus FT50 F/TRS | 154 |
| 19 | Sam MacNeill | Tatuus FT50 F/TRS | 128 |
| 99 | Fergus Crabb | Tatuus FT50 F/TRS | 124 |
| 27 | Gary Rush | Swift DB4 F/Atlantic | 116 |
| 33 | Leo Francis | Tatuus FT40 F/TRS | 90 |
| 49 | Josh Donohue | Tatuus FT50 F/TRS | 87 |
| 94 | Grant Rivers | Swift DB4 F/Atlantic | 80 |
| 88 | Bailey Cruse | Tatuus FT50 F/TRS | 71 |
| 3 | Geoff Harriman | Tatuus FT50 F/TRS | 61 |
| 47 | Paul Couper | Tatuus FT40 F/TRS | 50 |
| 11 | Kenny Smith | Swift DB4 F/Atlantic | 34 |
| 5 | Ethan Sillay | Swift SE3 F/Ford 2000 | 33 |
| 98 | Richard Crabb | Tatuus FT50 F/TRS | 26 |
| 9 | David Mitchell | Mygale M12-SJ F/Ford 2000 | 3 |
The 2022/2023 season is shaping up to be even more exciting with an increase in field size including eight Tatuus FT50s, seven FT40s, five Swift DB4 Formula Atlantics and one Reynard Formula Atlantic.
That means a total of twenty-one cars will compete in next season's seven race meetings.
Main image: James Watson