Lewis Hamilton dominated Formula 1's first Qatar Grand Prix from start to finish, while Fernando Alonso claimed his first podium in seven years.
Hamilton was untouched all race. His chances of victory significantly amplified when Max Verstappen was dealt a five-place grid drop after ignoring yellow flags in qualifying.
While Hamilton scored back-to-back wins for the first time since May, Verstappen fought back to finish P2 and clinch the fastest lap.
There are now eight points separating the pair with two Grands Prix remaining.
"We needed those points today," Hamilton said.
"I can't wait to watch the race replay to find out what happened behind me.
"I'm really grateful for these points, it's been a hell of a year. Back-to-back wins feel good, I feel fit, fitter than I've ever felt. Bring on the next two."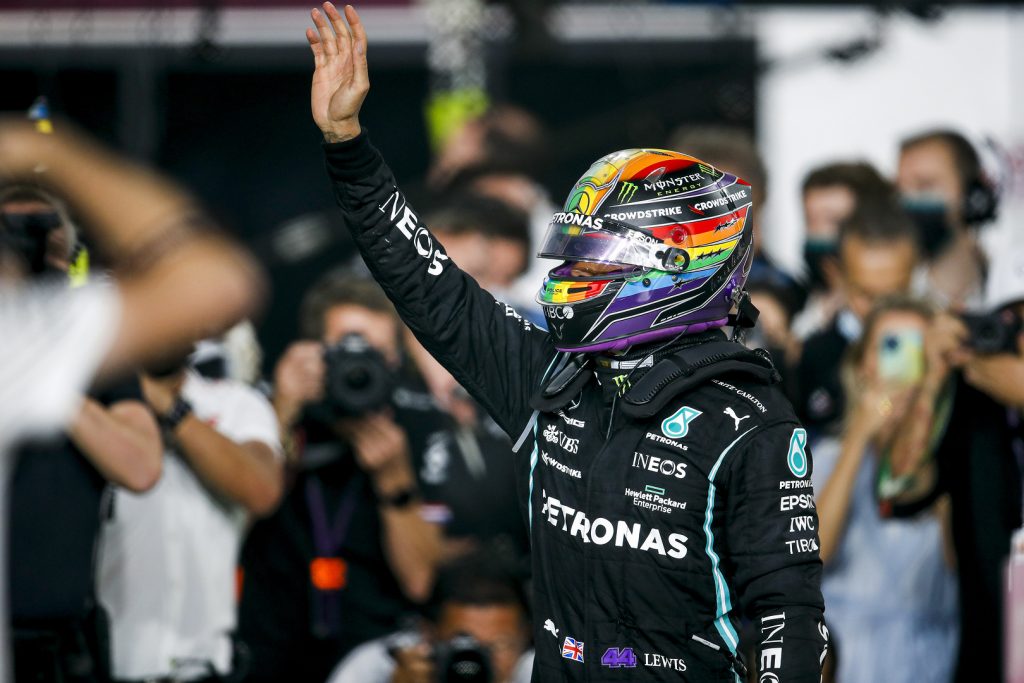 Alonso, whose last podium was in 2014 in Hungary, pulled off an effective one-stop strategy to finish third.
The second Red Bull of Sergio Perez was promoted to third after an overtake on Alonso at turn one midway through the race.
However, the team had committed Perez to a two-stop strategy.
When he duly completed his second and final stop, Alonso had reclaimed third, and Perez ran out of time to recatch the Alpine.
Before today, Alonso had 13 point finishes this season without reaching the podium.
"Unbelievable. Seven years but finally we got it," Alonso said. "We were close [in] a couple of races but not [close] enough.
"I was waiting so long for this, so I'm happy."
It is Alonso's 98th podium of his F1 career.
Perez's spirited chase on fresher tyres yielded P4 while Esteban Ocon made it both Alpines in the top five.
Lance Stroll, Carlos Sainz and Charles Leclerc all benefited from stopping only once and finished sixth through eighth.
Lando Norris and Sebastian Vettel completed the scorers.
Red Bull closed the gap to Mercedes in the constructors' championship; the margin is now five points.
Only Hamilton earned points for the silver arrows as Valtteri Bottas was forced to retire due to a puncture and subsequent damage.
He wasn't the only driver to experience tyre woes. George Russell, Nicholas Latifi and Norris each suffered punctures at one point or another.
| Pos | Name | Gap |
| --- | --- | --- |
| 1 | Lewis Hamilton | – |
| 2 | Max Verstappen | +25.743s |
| 3 | Fernando Alonso | +59.457s |
| 4 | Sergio Pérez | +1m02.306s |
| 5 | Esteban Ocon | +1m20.57s |
| 6 | Lance Stroll | +1m21.274s |
| 7 | Carlos Sainz Jr. | +1m21.911s |
| 8 | Charles Leclerc | +1m23.126s |
| 9 | Lando Norris | +1 lap |
| 10 | Sebastian Vettel | +1 lap |
| 11 | Pierre Gasly | +1 lap |
| 12 | Daniel Ricciardo | +1 lap |
| 13 | Yuki Tsunoda | +1 lap |
| 14 | Kimi Räikkönen | +1 lap |
| 15 | Antonio Giovinazzi | +1 lap |
| 16 | Mick Schumacher | +1 lap |
| 17 | George Russell | +3 laps |
| 18 | Nikita Mazepin | +3 laps |
| | Nicholas Latifi | DNF |
| | Valtteri Bottas | DNF |