Visibly stunned when announced as the inaugural recipient of the Ken Block Memorial trophy at the 2023 International Rally of Whangarei, Auckland's Raana Horan shared insight into the moment.
Awarded on Sunday 14 May in memory of the late Block for like-manship conduct, Horan let his actions do the talking as the photographers captured the iconic moment.
"I was over the moon," said Horan. "Considering who Ken was and that I'm a similar age it was an amazing surprise to be announced. Just an awesome finish to the weekend – maybe better than third placing, but wow – what an honour."
In the week following the award, Horan is still aweing at the new addition to his trophy collection: "It stands out on the shelf. The big 43 number is very unique and am very, very happy to have it there – to have my name there too."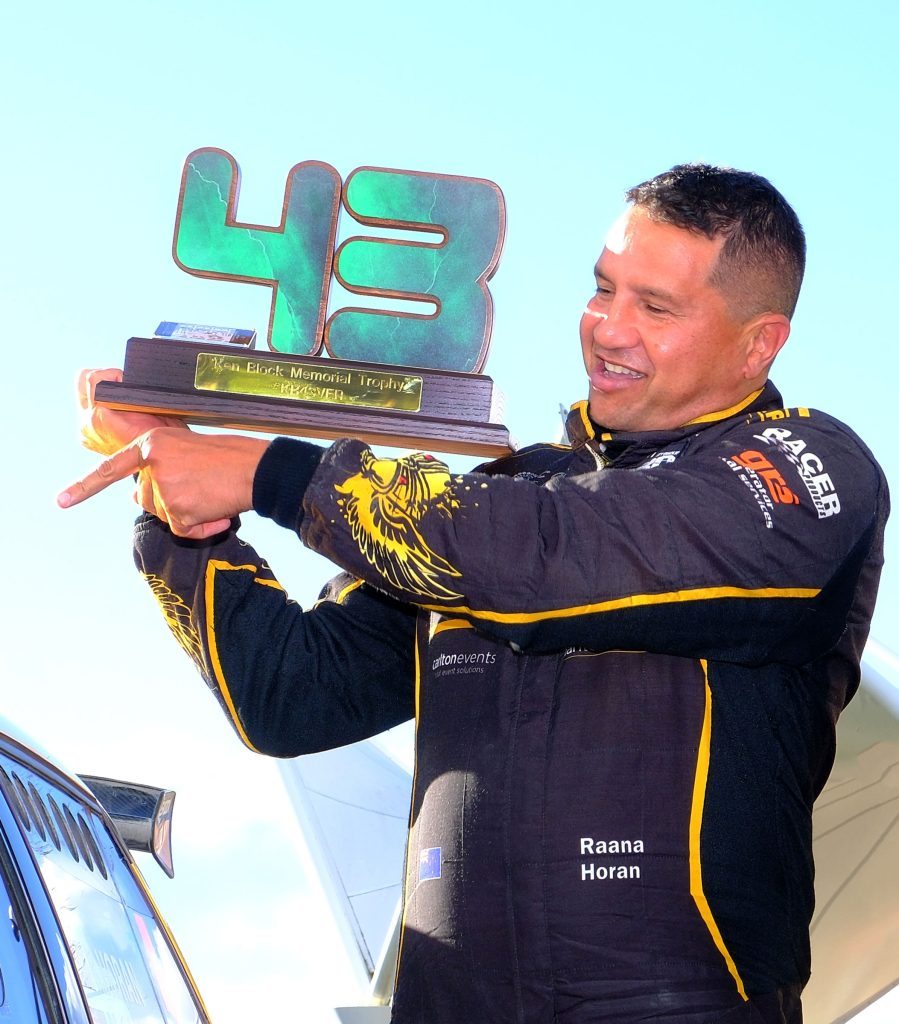 Announcing Horan as the winner and awarding the trophy, Rally New Zealand representative Blair Bartels said the decision was easy even though the criteria were considerable.
Bartels explained the criteria were very broad – testimony to Block's depth of character.
"Ken had many attributes – several were only known to those who were behind the scenes with him. As much as he was a showman and competitor he had significant business and marketing sense. He was very family focussed and always presented a top-looking team and car. Another key point that he showed on a number of his visits to New Zealand was his sportsmanship. Not everything went his way with the car and it was his attitude of moving forward that became another point the winner had to demonstrate – their ability to press on regardless.
"There were several drivers in mind at the start of our selection process – all very deserving.
On the Sunday morning, our selection group concurred it was Raana who stood out. In particular, it was how he and his family pressed on following the time he lost on Saturday with a puncture – it was Ken Block-style sportsmanship."
"We'd also like to acknowledge and thank the Block family for their support of the trophy," added Bartels.
The International Rally of Whangarei was a round of the FIA Asia Pacific Rally Championship and domestic New Zealand Rally Championship. It was organised and run by Rally New Zealand – the group that ran the 2022 FIA World Rally Championship event Rally New Zealand.
Header Image: Awarded the Ken Block Memorial trophy at the recent 2023 International Rally of Whangarei was Auckland driver Raana Horan. Photo credit: Geoff Ridder.
Words & Images: Supplied