New Zealand Midget racing veteran Michael Kendall claimed a 4th place finish in the 80th running of the Australian Speedcar Title at Brisbane's Archerfield Speedway in a meeting that had hard knocks and heartache.
41 cars signed in for the prestigious event including lone American entrant and defending Speedcar Champion Carson Macedo from California, driving the New South Wales based Dyson Motorsports King Chassis with Toyota power.

Every Australian state except Western Australia was represented. Australian based Kiwi Scott Farmer the only other Kiwi in the field.
The two night event started with heat race wins earned by 48 year old Sprintcar stalwart Robbie Farr, Michael Stewart, Rusty Whittaker, Farmer, who was also 6th in his first heat, 2009-2010 titlist Nathan Smee and Smith; all of whom have Speedcar/Midget laps at Western Springs Speedway under their belt. Lachy Paulger and Kendall were also heat winners after Kendall went from 7th to 3rd in his first race and 3rd to 1st in heat six.
The night saw several showers pass over the track and necessitate brief stoppages. However all races were completed and the night was capped off with a preliminary 20-Lap Feature.
Queenslander Callum Whatmore flipped violently in turns 1 & 2 in the prelim. His car 'bicycling up' onto only its outside wheels in the corner then flipping several times before making contact with the wall and launched in an upward trajectory, briefly hanging on the top of the fence before descending with a thud. The safety crew immediately in attendance signaling the driver was knocked out.
The race was halted for over 40 minutes as personnel cut the roll cage to better extract the, by now, conscious driver. Whatmore was taken to hospital for observations and reports the following day stated he was recovering with some bruising and a very swollen right eye. Kendall was able to win by more than half a second over Smee and Macedo.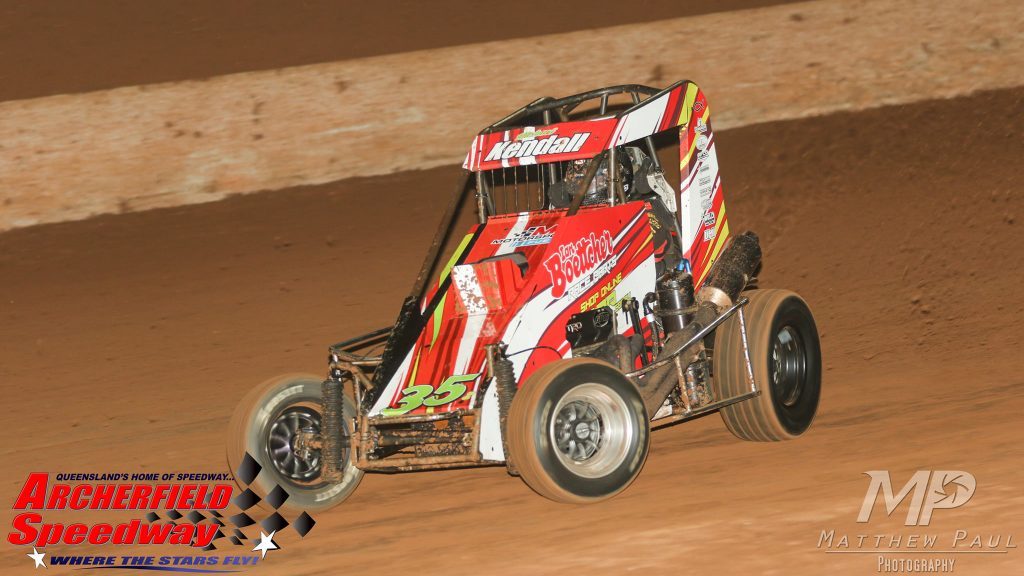 Smee took the majority of the accumulated points haul for night one, 3.5 points ahead of Kendall with Macedo lying third.
The Championship final night started with the final 8 heat races which were won by Smee, Macedo, Stewart, Smith, Victorian Travis Mills and Queenslanders Charlie Brown and Dylan Menz. Kendall with a pair of 2nd place finishes.
The top 8 in points then performed a pair of timed laps where Macedo was fastest which gave him pole position for the 40 Lap Feature race. The rest of the front 8 grids to be filled by Whittaker, Smee, Kendall, Smith, Mills, Menz and Farr who inverted his car in turn one.
The last chance showdown to find the final 4 contenders for the title was a 20 lap affair won by South Australian Troy Ware over former champ Kaidon Brown, Cassey O'Connell and Darren Dillon.
As the 22 car field began to ignite their motors the pole sitter and defending champion 1AU car of Macedo failed to start. After several attempts, in a moment of heartbreak the team was forced to park on the infield and watch their chance of defending their title slip away.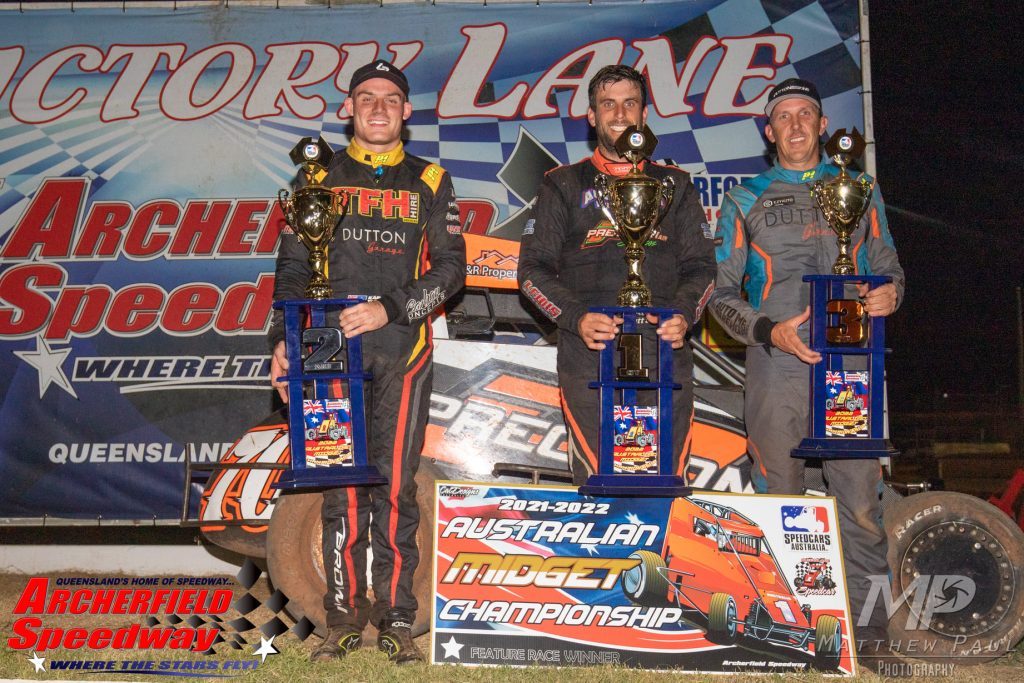 Smee inherited the pole and took the lead early over Whittaker who got loose in turn two in the path of Kendall who straightened Whittaker up, allowing him to continue his lap. Kendall was then struck by Michael Stewart who's car stopped on track. Whittaker and Stewart pulling infield with damage and Kendall lucky not to have stalled only just managed to keep his car going and his position.
As the race resumed Kendall had to defend his 3rd place from Mills as Smith caught leader Smee. The pair traded slide jobs as all cars worked the high side of the slick track. Smith taking the lead on lap 7.
On lap 12 a 7th running Farmer came to a stop after a failed slidejob attempt on Menz sent him to the rear of field. Farmer's race ending on lap 34 after driving from the back up into 7th. After the restart Mills passed Kendall for 3rd then Kaidon Brown got by placing the New Zealand 5-time Midget car Champion 5th.
With 10 laps remaining Smee got close to leader Smith's tail but walloped the back straight wall then appeared to fail to steer into turn 3 where he crashed hard and walked away disappointed.
After a 5-togo restart Kendall slid passed Mills for 3rd however Mills drove back by with momentum. This put Kendall in reach of both Matt Jackson and Ware who both got by briefly before Kendall retained his 4th place. Smith going on to take his first National title win with Brown 2nd and Mills 3rd. Kendall, Ware, Brock Dean, Menz, Brendon Palmer, Paulger and Rob Stewart finishing in the top 10.

Kendall's social media after the event posting "Talk about Highs and lows in one weekend. From having a rocket ship on the prelim night to having what turns out to be an electrical gremlin on the night that counted. We still managed to kick the main off in 4th but with all the thrashing to get the motor on song we simply had no time to even look at the track and the heavy dirt on the high groove caught us out."