Kiwis Scott Dixon and Shane Van Gisbergen and Australian Brodie Kostecki were not the only racing drivers from this neck of the woods making names for themselves in the USA last weekend.
At the first of two Rolex-backed Motorsports Reunion classic/historic motor racing meetings at the highly revered Laguna Seca track in northern California, a nine-driver Aussie/Kiwi group was the dominant force in both Group 6 F5000 races held on Sunday.   
Top local US Formula 5000 Drivers' Association series driver Kirt Bennett (Lola T332) pipped Melbourne ace Paul Zazryn (Lola T332) for pole position in qualifying on Saturday afternoon. It was Zazryn, however, who was in front when it mattered during both Sunday's races.
In the first F5000 class race of the weekend on Sunday morning, the veteran Australian ace immediately engaged pole sitter Bennett in a battle for the race lead and was rewarded just before the halfway point when Bennett 'tripped over' a car he was about to lap, a move which saw the talented American driver out of both the battle for the lead and the race itself, on the spot.
In saying that, Zazryn, who is enjoying a 'purple patch' of his own at the moment, had already set a new fastest race lap benchmark the lap prior. The time, a sizzling 1:24.112, was almost a second quicker than the 1:25.033 pole-setting time Bennett set in the dedicated F5000 qualifying on Saturday.
It came as little surprise when Zazryn also led Sunday's second F5000 category race, this time from start to finish. Had the race been run to its full length of ten laps rather than the five that the organisers deemed it to be, the situation might well have been different, with Bennett already making his way forward from the back of the grid (P17) to fifth.
That effort of making up 12 places earned the American the race's Hard Charger award. But, again, it was race winner Zazryn who set the fastest race lap time, which, at 1:25.049, was still a good three seconds a lap quicker than the best lap time, a 1:28.397, from the two races' runner-up and top Kiwi at the meeting, Aucklander Glenn Richards (Lola T400), and a solid four seconds a lap quicker than the best lap time set by race Hard Charger award winner Bennett –  a 1:29.079.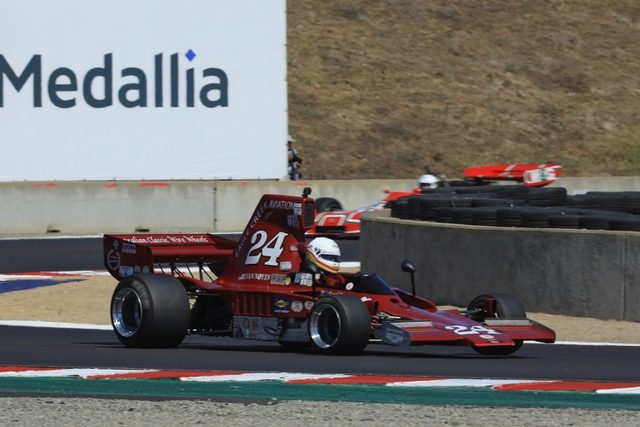 Like Zazryn, NZ F5000 Tasman Cup Revival Series front-runner Glenn Richards says that he was 'stoked' to be back running at such a large gathering of some of the best historic racing cars in the world and was both surprised and delighted with his double podium performances at the first of two Rolex Monterey meetings this year.
Richard's two runner-up spots in the races came after the Aucklander set the third-quickest time in qualifying. At 1:27.026, the time was not quite in Bennett's (1:25.033) or Zazryn's (1:25.330) league but was still almost two seconds quicker than the fourth fastest time of 1:28.968, set by fellow Kiwi Tony Galbraith's (Lola T332).
Galbraith's time had an almost two-second margin on top American David Alban (Lola T330), with high-profile McLaren F1 team boss Zak Brown (Lola T332) rounding out the top six with a best qualifying lap of 1:31.245.
Though he has been rueing the gear ratios he brought with him for use at the fast, flowing Laguna Seca circuit, an upbeat Richards said that, by and large, the Aussies and Kiwis did a particularly good job at the meeting.    
"I've had a couple of lonely races in second with Paul Zazryn going like a rocket in front, and I simply couldn't stay with him. Unfortunately, I miscalculated and don't have the right gear ratios for the track. 
"In saying that, because the track was only recently resurfaced, and this is only the third car meeting on it, it's still not completely 'rubbered in' and is a bit unpredictable off-line. It's more important than usual to have tyres well warmed up before pushing into corners. Plus, with only one warm-up lap, there's plenty of work to do pre-start.
"Still, the weather here is terrific with temps in the mid-20s – in stark contrast to the temps in NZ at the moment,  so you won't be hearing any complaints from me, or, for that matter, any of the other Kiwis and Aussies here for the two Rolex Monterey events this month."
Of those other Kiwis, Galbraith had a visit to the sand on Turn 4 early in race one, which put him further back in the results than his pace would suggest. However, he climbed back through the field in Race 2 to finish third, with fellow Kiwi squad member Alastair Chalmers (Chevron B 32) roughly a second behind in fourth.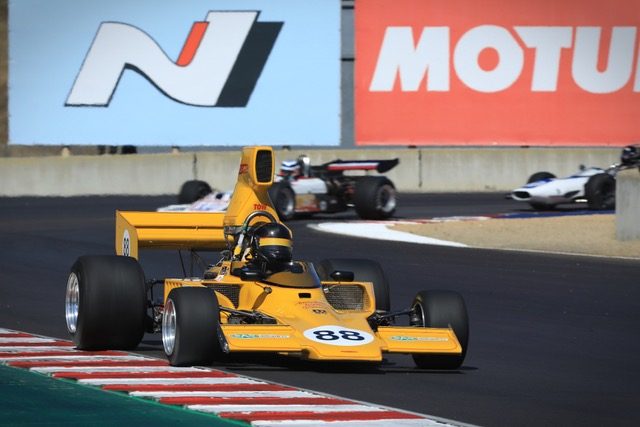 Expat Englishman Chalmers was, in fact, the revelation of the Kiwi squad, not qualifying particularly highly, in tenth with a best lap of 1:36.271, but storming up through the field in both races to cross the finish line in fourth each time.
In the first race, that was enough to earn him the Hard Charger award, while in the second, he was rewarded with a best lap time of 1:32.568, close to four seconds quicker than his best lap in the qualifying session only the day before.
The only member of the Kiwi squad to strike trouble was NZ category stalwart Tony Roberts, for whom the issues started even before he left his Napier home to fly up to San Francisco last week.
"That's right, " Roberts explained in an email to family and friends sent out on Monday (local time).
"Our trip started badly with Air NZ cancelling our Napier to Auckland flight on Tuesday, which meant we missed the international flight to San Francisco! The rescheduled flight was a Friday afternoon arrival, so there was not much time to mentally prepare for my first race meeting at  Laguna Seca in a while."
As it turned out, however, missing his connecting flight across the Pacific was just the beginning of Roberts' woes because just three laps into the first practice session on Saturday, the bolts holding the car's crown wheel and pinion together sheared.
"Well, talk about bouncing back from adversity! After shearing the crown wheel bolts, we pulled the back of the car and stripped the transmission down. Nick Slade was a fantastic help, as were Rick Chalmers, Rob Bergren and Terry Rush.
"In fact, by 8.00 pm, it was nearly job done, but none of us could see any more. Two more hours in the morning and we were ready to go.
"Started the first race of the weekend from the back in the grid because I hadn't qualified, but finished 13th, then started the next race in 13th and finished 8th – and second Class A car home!
"What a team effort!"
Glenn Richards sums up the Rolex Monterey Pre Reunion meeting last weekend and looks ahead to the four-day Rolex Monterey Motorsports Reunion meeting proper, which officially started on Wednesday and ends with the 2023 finals on Saturday.
"This is the third time I have shipped my Lola T400 up here for these two Rolex meetings, and each time I have been here, one or both meetings have provided me with several real 'pinch-me' moments," he says.
"Just being from New Zealand, for instance, virtually guarantees you an invite to any garage with a McLaren F5000 or CanAm sportscar in it.
"Also, with Scott Dixon winning over the weekend and the recent success of Scotty Mac and SVG, people are openly wondering how Kiwis do it."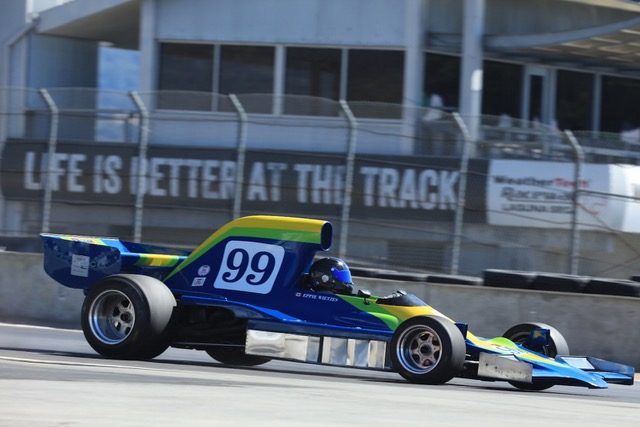 The four-driver Kiwi group at the WeatherTech-Laguna Seca Raceway in the foothills behind Monterey in Northern California consists of Glenn Richards (Lola T400), Tony Galbraith (Lola T332), Tony Roberts ('high-wing McLaren  M10A) and Alastair Chalmers (Chevron  B32).  
Joining them on the grid after sharing the NZ group's heavily subsidised (thanks to long-time Tasman Cup Revival Series co-sponsor, international shipping line MSC) transport deal are five Australian owner/drivers,  Bill Hemming (Elfin MR8), Dean Camm  (Chevron B24), Charlie Talbot (Lola T332), Peter Brennan (Lola T330) and Paul Zazryn (Lola T332).
The four Kiwis and five Australians will join 20 of the best drivers from the US series, plus UK-based American ex-pat and co-owner and current manager of the McLaren F1 racing team, Zak Brown (Lola T332), on the grid for F5000 races at the Rolex Monterey Reunion meeting which started on Wednesday and continues until Saturday.
Words: Supplied
Images: Fast Company/Bob Pengraph (Supplied)