Video games, socialising with friends or even a summer job are how the majority of high school students spend their school holidays, but not Liam Sceats.
Fresh out of Year 12 at Saint Kentigern in Auckland, Sceats jumped into a Toyota FT-60 and drove a full campaign in the Toyota Formula Regional Oceania Championship. And he impressed.
Fourth overall, highlighted by three podiums against some of the world's top young drivers.
In fact, he only failed to finish outside the top 10 on three occasions. There were difficulties, of course, but there was for everyone at some point.
With such a great campaign at such a young age, where do you head next?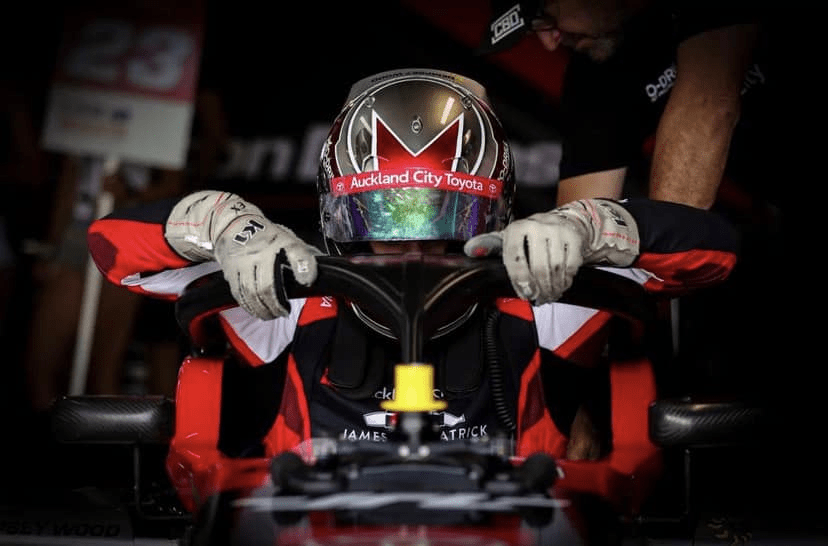 "The plan really is to finish school strongly, I'm in my last year," Sceats told Velocity News. "I'd love to keep busy in a car but there's not really much on at the moment and for the rest of the year.
"I'm going to finish off the Formula Open New Zealand Championship and then hopefully later on this year, in preparation for 2024, see any opportunities that come. I want to go to the US and do some testing there but we'll have to see, really. It's all pretty early days."
It's no secret the US is a great path for aspiring single seater drivers, and that's a journey Sceats wants to make, joining the likes of Hunter McElrea, Jacob Douglas and Billy Frazer who are all making progress on the Road to Indy ladder.
"The US is probably the most cost-effective route in terms of single seaters, I think, so that's why it's appealing to me. There's also quite a few Kiwis have gone over there and done pretty well in recent years. I want to have a crack at it and see what I can do."
For now, however, his sights are set on a possible sophomore season in the Toyota Formula Regional Oceania Championship.
"I'm definitely going to try and do it next year. I just need to sort the budget and find the funds to be able to get on the grid but yea, the plan is to do the next season because it was great this year and I think going into my second season I'll be a lot more knowledgeable so we'd be able to give it a good crack."
This year's grid featured a selection of competitors from all over the world, including Indy NXT drivers, Porsche Carrera Cup racers and competitors of other Formula Regional series around the globe.
For Sceats, however, it was a first foray into racing on the big stage. His results showed he's making good progress and indicated he's a driver of the future. And he's still getting better.
"As far as rookie seasons go, I'm pretty happy with where I started and then my progress to where I ended," the Aucklander said.
"I'm pretty happy with how I did. Going into the season it was all about learning and developing my skills. I'm not familiar with wings and slick racing so going into the season was my first year of doing it.
"I expected podiums, I was confident, had a good preparation leading up to the [Formula Regional Oceania] season and I knew that I was fast. It wasn't a surprise because when we turned up at Highlands we had pretty good speed straight away."
Sceats started out strongly in Highlands, finishing fifth. It was Race 2 where things had the potential to unravel, a crash into the wall seeing him fail to finish.
But he wasn't phased.
"The following race after the incident at Highlands we bounced back really well, I ended on the podium in Race 3," he said. "It showed that I didn't lose confidence so I was happy to have been able to bounce back like that."
It was the same at Manfeild, his only other DNF of the season in Race 1 contrasted by a podium in Race 3.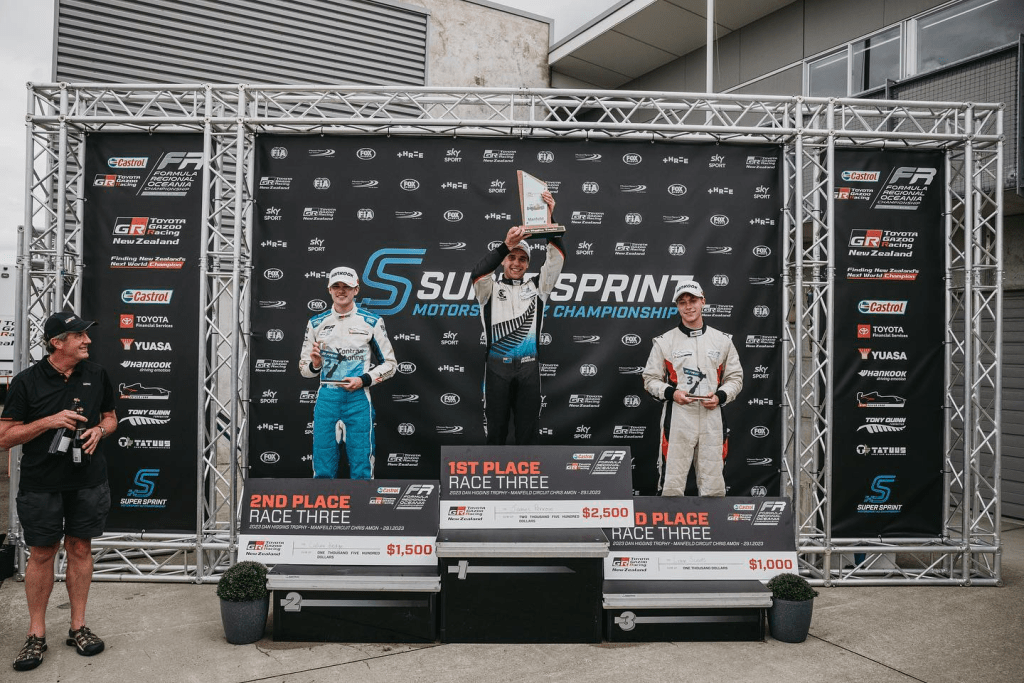 Sceats was leading the North Island Formula Ford Championship prior to Formula Regional, a lead he relinquished to focus on his CTFROC campaign.
He attributes this time in Formula Ford as being crucial to his development, recognising the skills and techniques he has learnt in that series as contributing to his 2023 successes.
"Going through Formula Ford the last two seasons, its been awesome and taught me a lot and I think it showed during the season.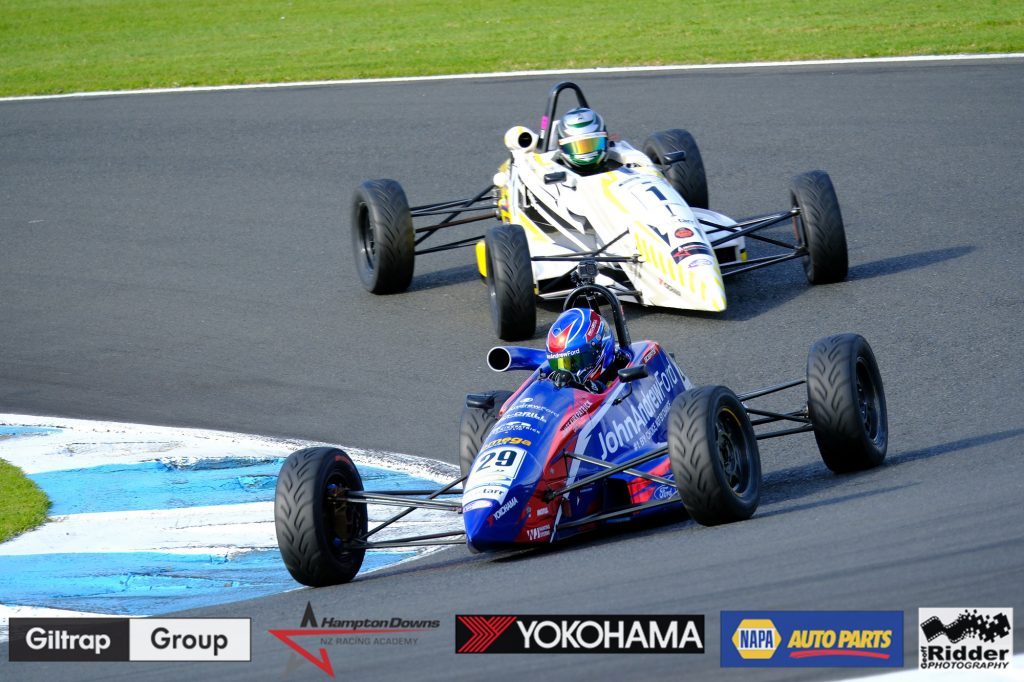 "Formula Ford is so valuable, it taught me a lot, it taught me basically everything before going to the Formula Regional Oceania Championship this year. I think it's such a great category and you need to make the most of the learning there. The learnings you take away from Formula Ford you can put into effect in any other category, including CTFROC."
For now, it's back to reality for the Auckland-based teenager with only two rounds left in the Formula Open New Zealand season before the school year ramps up.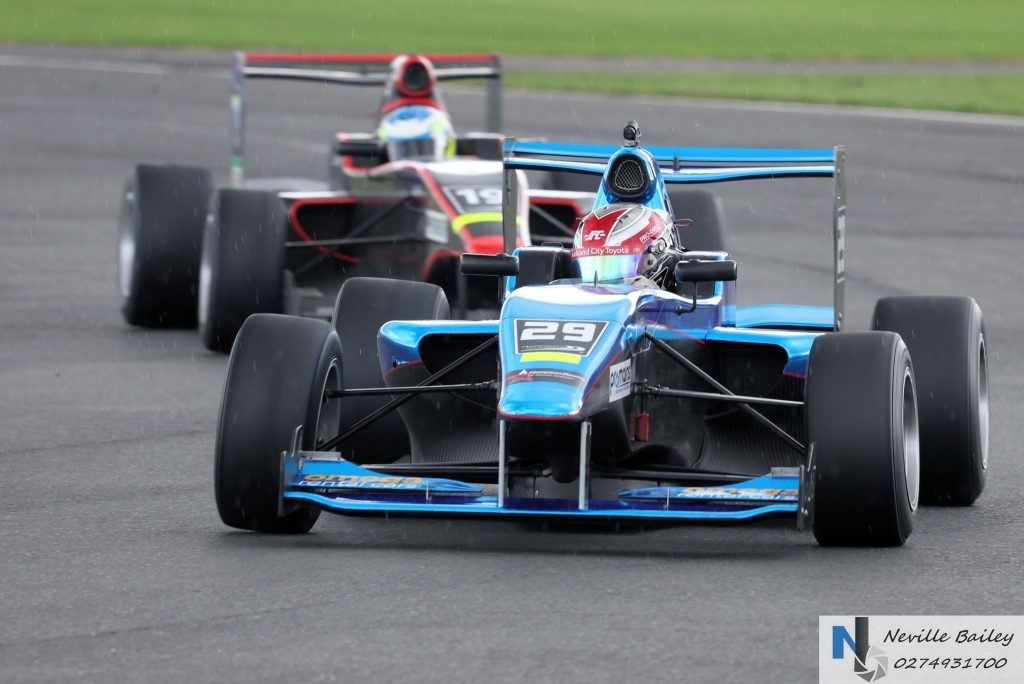 What follows that is unknown for now, but it is known that wherever he heads he'll be a force to be reckoned with.
Our Life After CTFROC Series will run over the next four days and features exclusive interviews with all four Kiwis who ran full-time in the 2023 Toyota Formula Regional Oceania Championship.
Stay tuned for tomorrow's piece where we chat with Breanna Morris on her plans for 2023.
Click here to read what fellow CTFROC driver Callum Hedge has planned for 2023 and beyond
Click here to read what fellow CTFROC driver James Penrose has planned for 2023 and beyond