Marco Giltrap had come close to winning many times before today, but finally he can tick 'win a Toyota 86 race' off his list of goals.
Giltrap won the reverse top-ten race at Taupo Motorsport Park on Sunday morning, ending his winless skid.
"It's been a long time coming," he said. "We've had a lot of seconds and thirds, so to win feels absolutely awesome."
Giltrap started the race on pole position and quickly established an early lead.
But when Hugo Allan worked his way past Matthew McCutcheon for second, Giltrap's advantage came under heavy fire.
Allan was fast. Within laps, the Heart of Racing driver had caught the leader, triggering a change in mindset for Giltrap.
"I knew I was going to have to defend at some point and that it was a matter of when not if," he said. "Hugo was very quick that whole race."
Still, Giltrap kept his nerve. In a battle between two youngsters hungry for their first victory, the more experienced of the pair came out on top.
"I just managed to hold [Allan] off. It was close a couple of times but just great racing.
"I've spent a bit of time in the field and driving to defend a place is something you have to learn quickly in this championship as it's so competitive."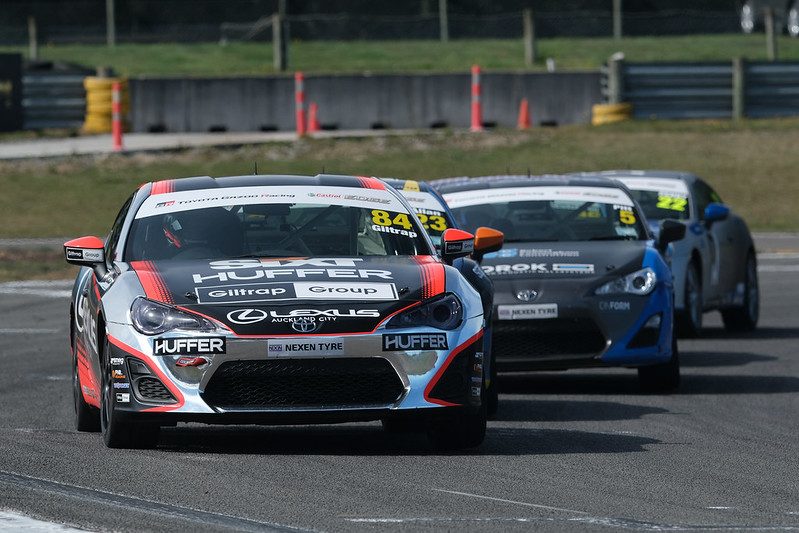 Allan and Dion Pitt rounded out the podium.
Giltrap also gave a nod of appreciation to his mentor Simon Evans.
Evans didn't have nearly the same level of success as his teammate did. A puncture on the final lap meant he slumped back to 16th, losing valuable ground in the championship tussle.
Rowan Shepherd finished seventh and put some more ground between him and Evans.
Another notable retiree was yesterday's winner Zac Stichbury.
Stichbury had climbed from tenth into podium contention before a mechanical issue spelt DNF.
Clay Osborne was a big mover. He started 20th but finished sixth as he expertly scythed his way through the pack.
Talk about a big weekend for the rookies.
| | |
| --- | --- |
| Pos | Name |
| 1 | Marco GILTRAP |
| 2 | Hugo ALLAN |
| 3 | Dion PITT |
| 4 | Matthew MCCUTCHEON |
| 5 | John PENNY |
| 6 | Clay OSBORNE |
| 7 | Rowan SHEPHERD |
| 8 | Ronan MURPHY |
| 9 | Christina ORR WEST |
| 10 | Chelsea HERBERT |
| 11 | Justin ALLEN |
| 12 | Todd FOSTER |
| 13 | Will MORTON |
| 14 | Eddie IRAIA |
| 15 | Brock GILCHRIST |
| 16 | Simon EVANS |
| 17 | Sam COTTERILL |
| 18 | Fynn OSBORNE |
| 19 | Todd PRUJEAN |
| DNF | Rianna O'MEARA-HUNT |
| DNF | Zac STICHBURY |