Kaleb Ngatoa had a solid end to the weekend at Albert Park, while Callum Hedge had a tough final two races.
S5000
Saturday
The top 75% of the field was inverted for the second race of the weekend, with Shae Davies leading at the start of the race.
There was action in the pack as drivers tried to find their way back to the front of the pack. 
The safety car was brought out after an incident involving James Davison and Zane Goddard at the final corner.
The race would be cut short, finishing under the safety car conditions, with Kaleb Ngatoa in fourth, and Davis taking the win.
Sunday
Ngatoa held his 11th place grid spot early on the opening lap before moving up to 10th by the end of the opening lap
Sebastien Amadio spun during the race, getting the car back moving, only to pull off to the side of the track, allowing the race to continue without a safety car appearance. 
Ngatoa kept the pressure on Ben Bargwana through the race crossing the line just 0.43 seconds shy of the driver in ninth.
Mawson took a clean win, leading from the start of the race till the chequered flag came out.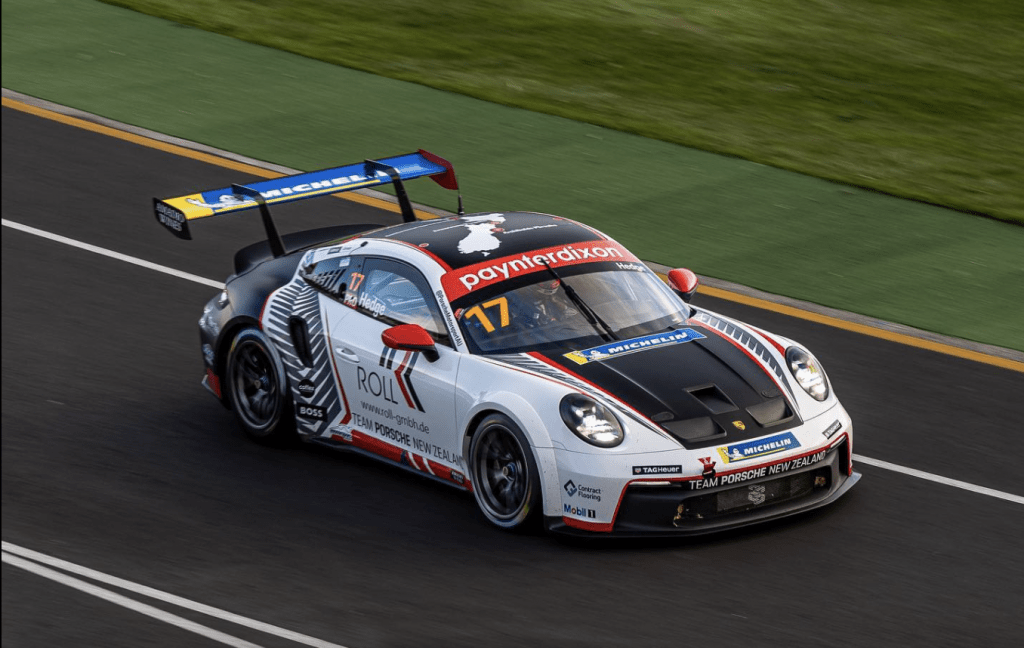 Porsche Carrera Cup
Race 3
Callum Hedge's team Earl Bamber Motorsport worked late into Friday night to fix the Porsche after failing to finish the second race of the weekend.
During the start lap drama, Hedge dropped back to 22nd on the track, though he would make it through the opening lap drama as the safety car was deployed. 
After the race restarted Hedge started to move back up the field, sitting 18th, where he had started the race after the first lap back under green flag conditions.
Soon after Hedge had moved up to 16th, chasing down the car ahead crushing the 6-second gap down to 2.8 seconds by the end of the time certain race.
Race 4
Hedge made a strong start to the final race of the weekend moving up a position from his 16th place grid spot.
A series of incidents brought out the safety car, one of which included Hedge, who spun back into the pit lane wall on the front straight, at the same time Nick McBride found himself in a gravel trap.
A few corners later Jackson Walls and Angelo Mouzouris collided sending Walls into the wall.
The damage to Hedge's car would force a retirement from the final race.
Soon after the race restarted Aaron Love was spun bringing out a second safety car.
Main Image: S5000