Hunter Robb took his first win in the Toyota 86 Championship in a soaking wet season opener that finished under the Safety Car.
The Action Motorsport rookie converted a front-row start into a lead at the end of the first turn, a lead he held until the fifth lap when the Safety Car came out after Tim Leach made contact with Cormac Murphy and left the two stranded on the edge of the first turn.
A compact but enthusiastic crowd were just warming up to the prospect of a thrilling second half to the race after pole position holder Tom Bewley found his stride after getting bogged down at the start. An epic battle for the win was on the cards, but it was not to be. They stayed in that order, with William Exton taking the final place on the podium.
Robb, who has finished fourth, third, second and first in the last four Toyota 86 races he has taken part in, was disappointed the race ended the way it did.
"I have to thank the boys at Action Motorsport for getting me into that position with the car. Tom was fast, though, and we'll have to do a bit of a tune-up overnight before the next two races," said Robb afterwards.
"It's great to win, but, to be honest, after being really nervous before the start, I was really looking forward to battling with Tom. I wasn't sure we had the pace to win on the road if the race had gone the distance but never mind, a win is a win and bring on tomorrow."
Conditions were treacherous throughout, but the field kept it remarkably clean through a congested first lap through a lot of standing water. There was plenty of action as drivers fought against very slippery conditions and poor visibility.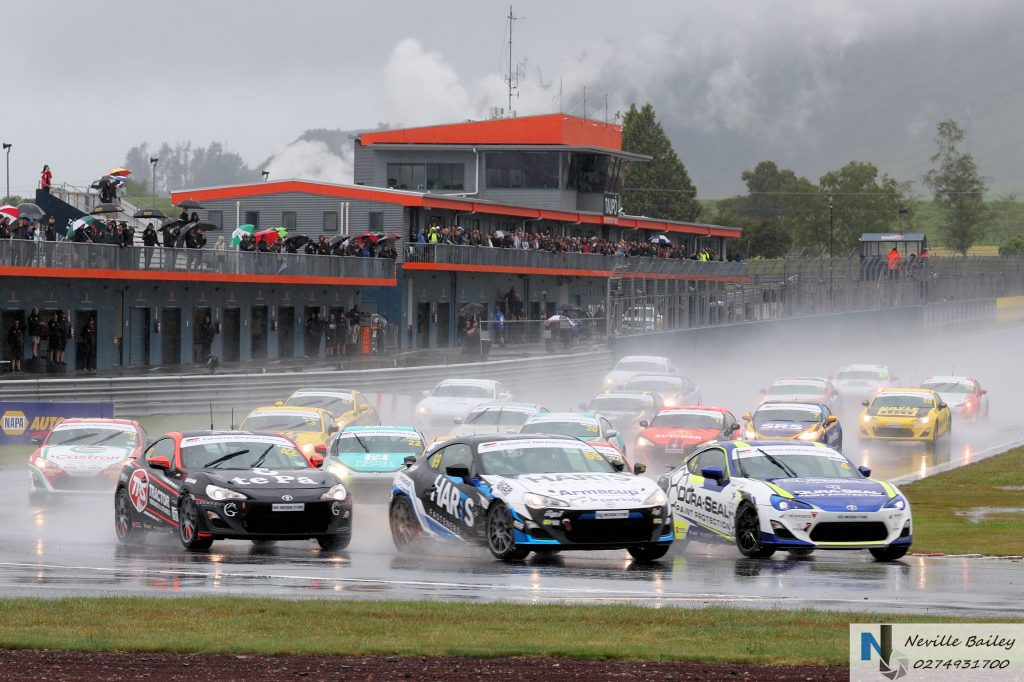 Rookie Jackson Rooney maintained his qualifying form with fourth place, and Tayler Bryant was on the pace in fifth. Brooklyn Horan was very impressive in conditions he would have been familiar with from his off-roading and rallying experiences and splashed his way to a comfortable sixth, holding off Justin Allen in the process.
Allen came home seventh with John Penny eighth, Hayden Bakkerus ninth and Harry Townshend in tenth. For Townshend, his great drive from twenty-first on the grid will reward him with a pole position start on Sunday morning in the reverse top ten format Race 2.
Elsewhere Alice Buckley was top of the women in 11th, just ahead of fellow Australian Lockie Bloxsom, who came through the field from 18th on the grid to 12th at a great rate.
Class honours went to Robb (Rookie) and Penny (Master).
Round 1 – Taupo International Motorsport Park – Race 1
| | |
| --- | --- |
| 1 | Hunter Robb |
| 2 | Tom Bewley |
| 3 | William Exton |
| 4 | Jackson Rooney |
| 5 | Tayler Bryant |
| 6 | Brooklyn Horan |
| 7 | Justin Allen |
| 8 | John Penny |
| 9 | Hayden Bakkerus |
| 10 | Harry Townshend |
| 11 | Alice Buckley |
| 12 | Lockie Bloxsom |
| 13 | Christina Orr-West |
| 14 | Thomas Mallard |
| 15 | William Morton |
| 16 | Ryan Denize |
| 17 | Noel Simpson |
| 18 | Saxon Sheehan |
| 19 | Summer Rintoule |
| 20 | Alex Hawley |
| 21 | Breanna Morris |
| DNF | Cormac Murphy |
| DNF | Tim Leach |
| DNS | Thomas Beesley |