Shane Helms spun from the lead with two laps remaining at Ruapuna, gifting victory in the Super GT feature race to Paul Southam and Rob Steele.
Tasked with the sprint to the finish, Steele pulled off a superb move on Martin Dippie at turn one to snatch second with a handful of minutes on the clock.
From there, it seemed Steele would finish P2 as Helms had a comfortable advantage up front in his Aston Martin GT4.
But with victory in grasp, Helms spun on his own accord at the hairpin as he encountered a profusion of lap traffic.
"I was pushing as hard as I could, and with all the cars coming up I knew the Porsches were closing," Helms said. He stayed away from the wall and recovered to finish fourth.
"I just got on the loud pedal far to early and rotated myself around. There was no contact or anything. I was just a little bit keen."
For Southam, the win came as a bit of a shock.
"I can't believe it. It's unreal," he said.
"To be able to share a drive and have a result at the end of it is pretty cool," Steele said of sharing the second-generation 991 with Southam.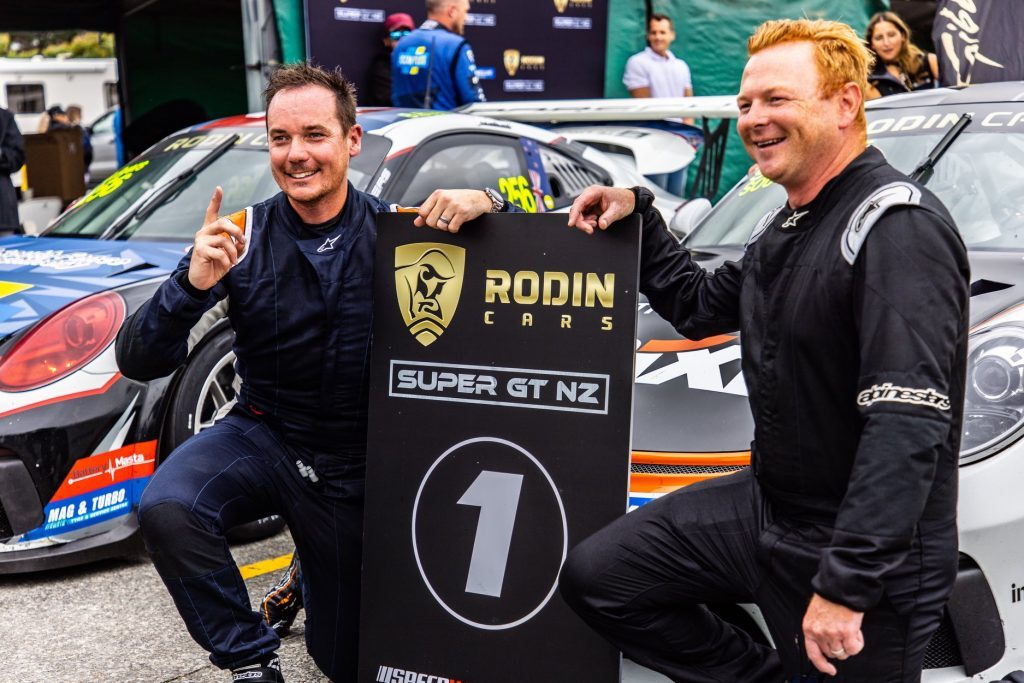 Dippie clung on to finish the one-hour race in second. His older generation Porsche didn't have the overall grunt to compete against the modern cars on the straights. Still, he did enough to score another podium.
It's Dippie's second of the weekend. He also finished second in Saturday's shorter 30-minute race.
"I keep on coming second, maybe I will come first one day," Dippie joked.
"[Tried] a couple of brave moves at the end to hold [Steele] out, but it was great fun. Great racing."
Hot on Dippie's tail was Ben Byers in another second-generation 991.
Byers fought back from a massive deficit after his Balance of Performance pitstop to be third at the line.
Had the race had a few extra laps available, Byers reckons he could have snared a second consecutive feature race win.
"Two more laps and we would have had them," he said. "But it was good having fun with those guys."
Behind Helms, Paul Kelly rounded out the top five.
It was a disappointing race for Saturday's winner Connor Adam. A brake drama forced him to retire a touch after the halfway point.
Race Result:
| Pos | Driver |
| --- | --- |
| 1 | Rob Steele/Paul Southam |
| 2 | Martin Dippie |
| 3 | Ben Byers |
| 4 | Shane Helms |
| 5 | Paul Kelly |
| 6 | Stephen Harrison |
| 7 | Nigel Cromie |
| 8 | Adam Julian |
| 9 | Todd Bawden |
| 10 | Steve Sullivan |
| 11 | Brent Forman |
| 12 | Dave Cremer |
| 13 | Grant Aitken |
| 14 | Martin Neil |
| 15 | Heremana Mana |
| 16 | Allan Sargeant |
| 17 | Francois Beziac |
| 18 | Stewart Callaway |
| 19 | David Rogers |
| 20 | David Crana |
| DNF | Connor Adam |
Main Image: Super GT NZ