Steve Scoles is the first official Super GT New Zealand race winner, triumphing in a safety car-affected race at Highlands Motorsport Park.
Scoles led the field to the chequered flag under the safety car following incidents for David Rogers and Allan Sargeant late in the race.
It was a somewhat unexpected victory for Scoles, who didn't decide to enter the series until the last minute.
"Pretty cool [feeling]," Scoles said.
"We have had GT4 cars for three years now and to actually win a first race with them is pretty cool."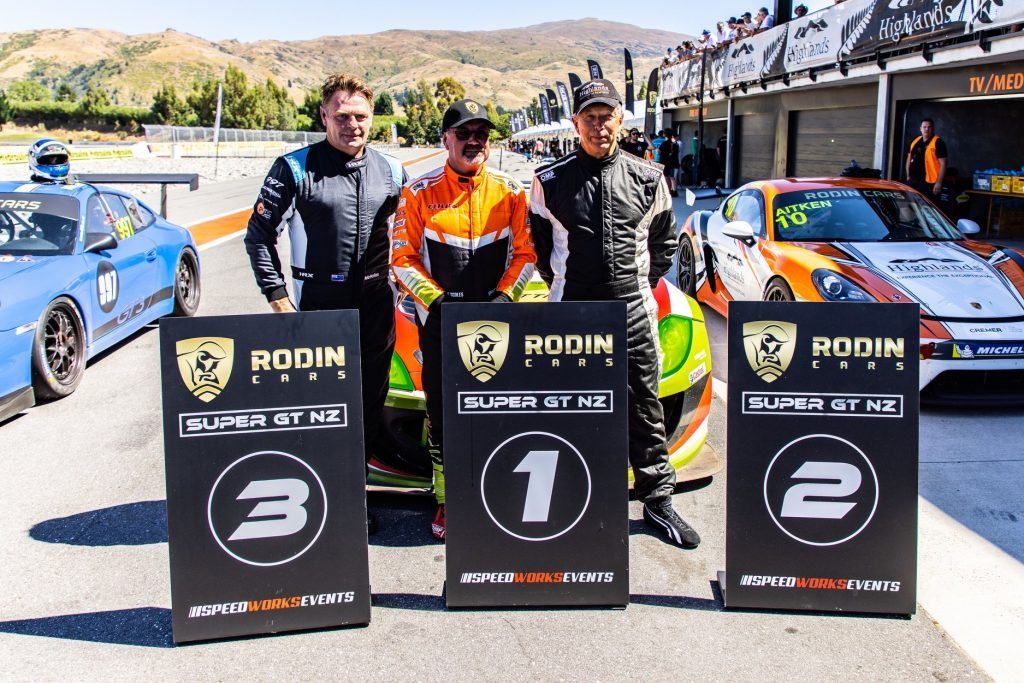 Scoles capitalised on an earlier safety car intervention to leapfrog the faster Porsche Cup Cars in the pitlane.
He then withstood the pressure from a quick crop of cars behind him to seal the win.
"Today is unreal. I have to thank my wife, she does all the work," he quipped.
Because the safety car interrupted the pitstop sequence, another GT4 car pounced on the situation to snare an overall podium result.
Grant Aitken finished second to Scoles in his Porsche Cayman GT4.
"The car is fantastic," Aitken said. "It runs steadily at a modest pace, which is fine with me. I can't do anything spectacular with it but I just chip away at it. It is all I can do."
Chris Nicholas rounded out the podium in his Porsche 997, much to his joyous surprise.
"I'll take that," he said. "I saw them coming; they were going to come hard and fast for me. So, to get away with that is unbelievable.
"Bit of a shame it finished under the safety car again. But I'll take that."
The first half of the race primarily reflected yesterday's no-result affair.
Gene Rollinson jumped from second into the lead on lap one, demoting polesitter Lochlainn Fitzgerald-Symes a position.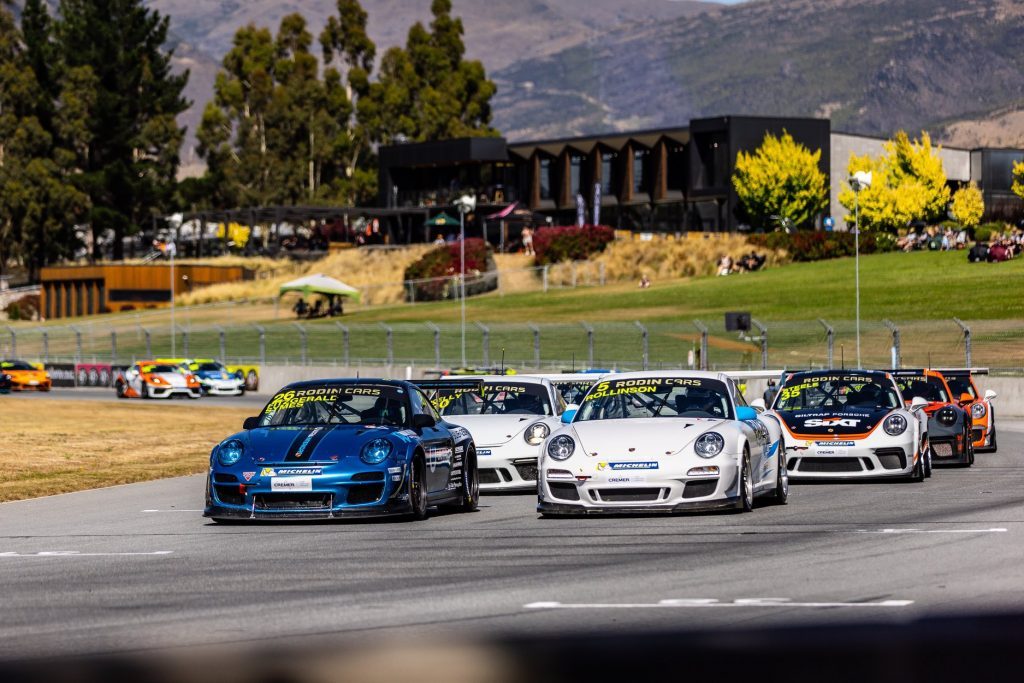 Rollinson then controlled the pace of the race in his standard 997 Cup Car, with Paul Kelly, Garry Derrick and Fitzgerald-Symes in tow.
Francois Beziac then buried himself in the sand at turn one, bringing out the safety car.
Everyone who had not done their mandatory pitstop dove into the lane, including all the front runners.
However, the safety car had bunched everyone up; and due to the Balance of Performance criteria, the faster cars had to sit stationary in the pitlane for much longer than desired.
Ultimately, it dropped the likes of Rollinson, Kelly and Fitzgerald-Symes to the lower reaches of the field. Any comeback was then thwarted by yet another period of yellow flags.
Kelly finished seventh, Rollinson was 13th, and Fitzgerald-Symes was 15th at the chequered flag.
Derrick executed a one lap charge to move from ninth to fourth before the second safety car was deployed and the race finished.
Main Image: Rodin Cars Super GT New Zealand