It's holiday season, we're all bound to eat too much at some point and as a result sit down, relax, pull out the phone or tablet and have a read of what's going on.
To help you with that we've put together a list of 10 of our favourite moments given to us from New Zealand racers competing around the world to let you reminisce in what has been an unforgettable year.
For such a small country we definitely punch above our weight in our sport on the global stage. This made picking just 10 a difficult decision but we've made a selection of what we believe to be our most memorable moments of 2022.
Merry Christmas and a Happy New Year to all our readers.
Thanks for coming on the ride this year, we can't wait to get back into gear next year for what's shaping up to be an incredible 2023.
This is a long one, but it's worth it, we promise.
Hedge gets his maiden Carrera Cup win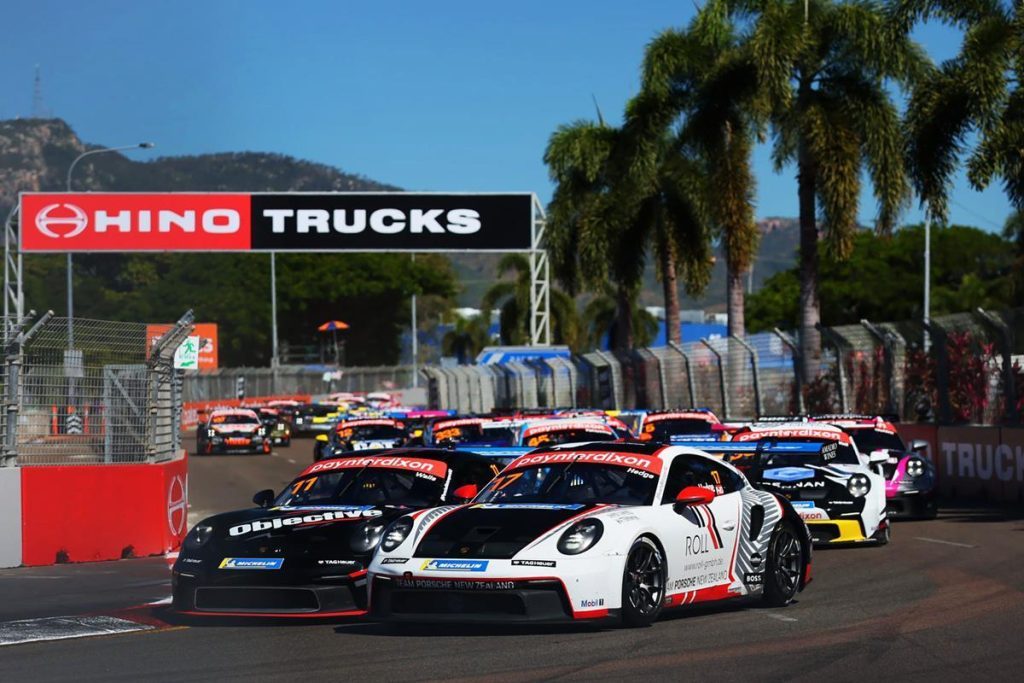 After starting off the season slow as he came to grips with the car, Hedge gradually improved and slowly worked his way up the order race after race.
It was Townsville in July when he truly announced himself on the scene, finishing on the podium for the first time in Saturday's race, with third. Come Sunday he worked his way forward to finish second in the morning race.
It was race three where the Team Porsche New Zealand and Earl Bamber Motorsport driver took the spoils, taking the lead early and superbly holding off David Wall late to be the first to the chequered flag.
It was a breakthrough victory for Hedge who went on to claim five more podiums that season. He's since gone on the win the Tony Quinn Foundation Shootout to compete in next year's Formula Regional Oceania.
Sharp does the double in Abu Dhabi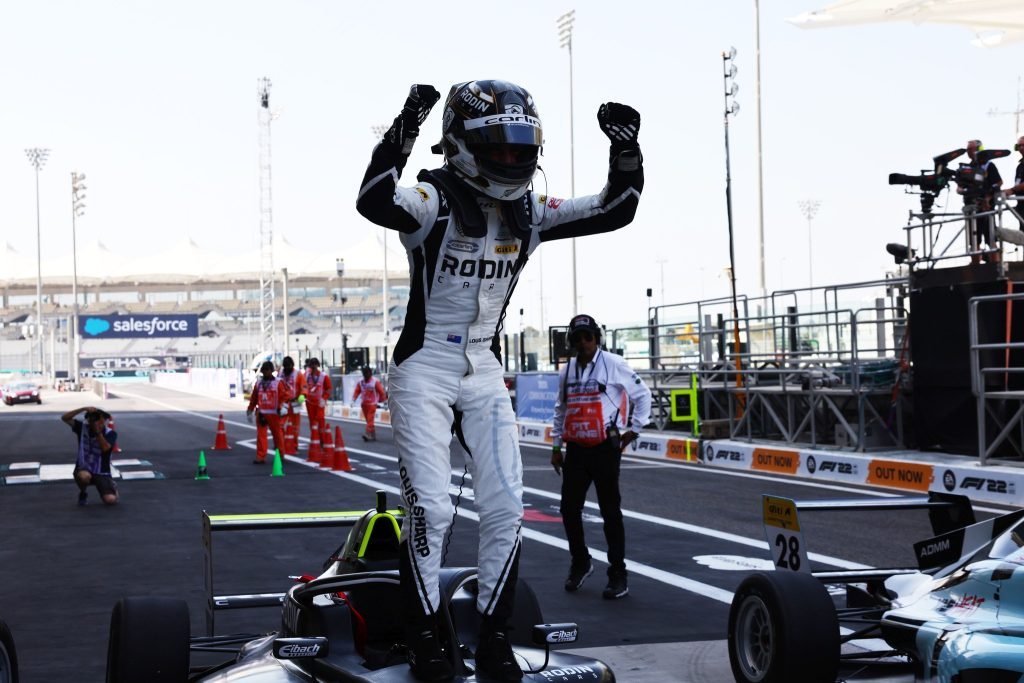 Louis Sharp was a force to be reckoned with in his British F4 campaign, finishing fourth and amassing 12 podiums, including two race victories, one of which was at Silverstone.
That's an extremely impressive feat for a young racer in his first season of international competition. What made it even more special, however, is he missed the opening round because he was to young to compete.
It was later in the year when Sharp's most memorable achievement came, the 15-year-old getting the opportunity on the world stage to race F4 in support of the season-ending Abu Dhabi Grand Prix.
Not only did he compete in the non-competition round, he also won. Both races. He absolutely crushed the field in the first race, starting off the second row and quickly taking the lead to win by six seconds.
He then backed this up with victory in race two of two, but was made to work for it in a battle with rival Kanato Le.
Sharp returns to British F4 next year where he's tipped to be a top contender.
Sebring success for Bamber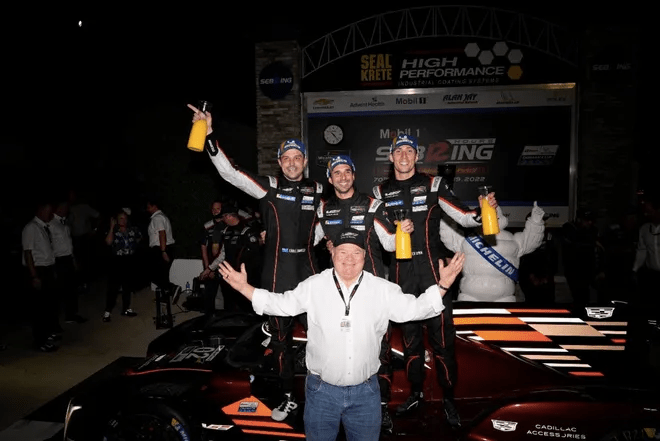 Earl Bamber has long established himself on the global stage, but even he admits he almost made a meal of conquering the iconic 12 Hours of Sebring.
It was the Kiwi's first victory as a CGR driver which is ultimately attributed to a team effort and a mammoth drive by teammate Alex Lynn once nighttime struck.
Lynn had worked to build a solid lead for the #2 Cadillac following earlier stints from Bamber and teammate Neel Jani.
He gave the wheel to the New Zealander to bring the race home with a big lead and a seemingly guaranteed victory.
Bamber had other ideas, however, first clipping a lower-class car and earning a drive through penalty before doing the same thing a second time and spinning.
Despite this, he managed to overtake rival Richard Westbrook twice to ensure his team stood atop the podium, a massive and well-deserved win which almost came undone.
Formula E double for Evans in Rome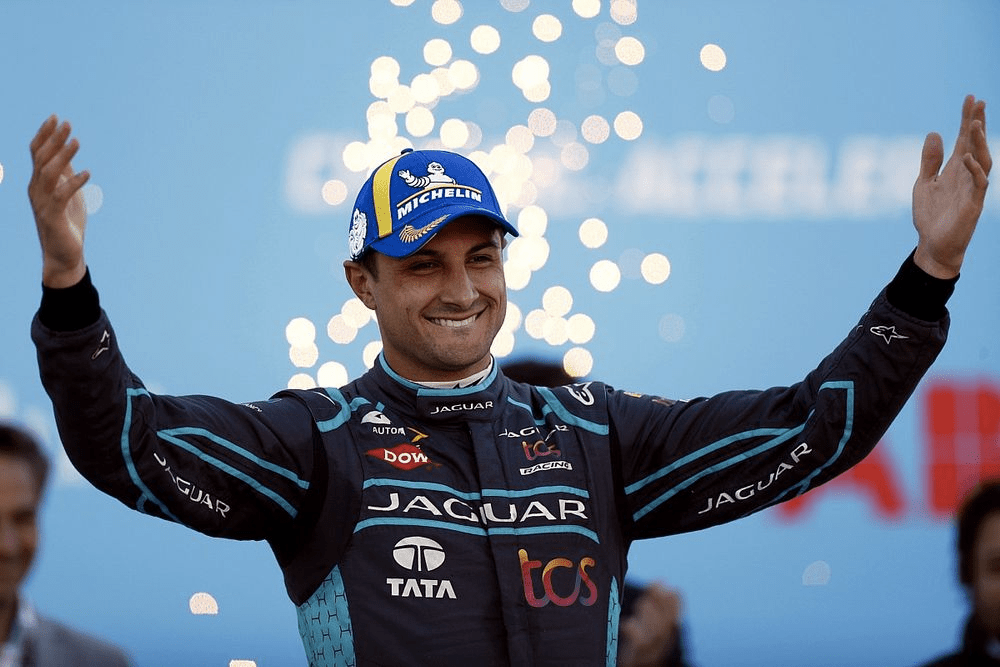 Formula E has quickly established itself as a world-leading series given the rise of electric vehicles and sustainability drives worldwide. Two New Zealanders are leading contenders in the series, both Nick Cassidy and Mitch Evans winning races this year.
It was way back in April when Evans grabbed global headlines for doing the double and taking both race victories in Rome.
Victory in the first race was nothing short of incredible, the Kiwi putting on a monster charge early after starting ninth on the grid. He'd taken the lead by Lap 18 and had plenty left to give, including an attack mode. He led by over 10 seconds heading towards the closing stages but slowed down to minimise risk, taking the flag by 6 seconds.
The second win was largely due to strategy, a late attack mode combined with a timely Safety Car intervention seeing the Kiwi inherit the lead in the closing stages. He then held off a spirited challenge from Jean-Eric Vergne on the final lap to make it two from two.
The wins were much needed for Evans at that point in the season, elevating him up the leaderboard to fourth in the standings. He finished the season in second, the Rome round giving him the confidence builder he needed.
Van Gisbergen & Tander hold on at Bathurst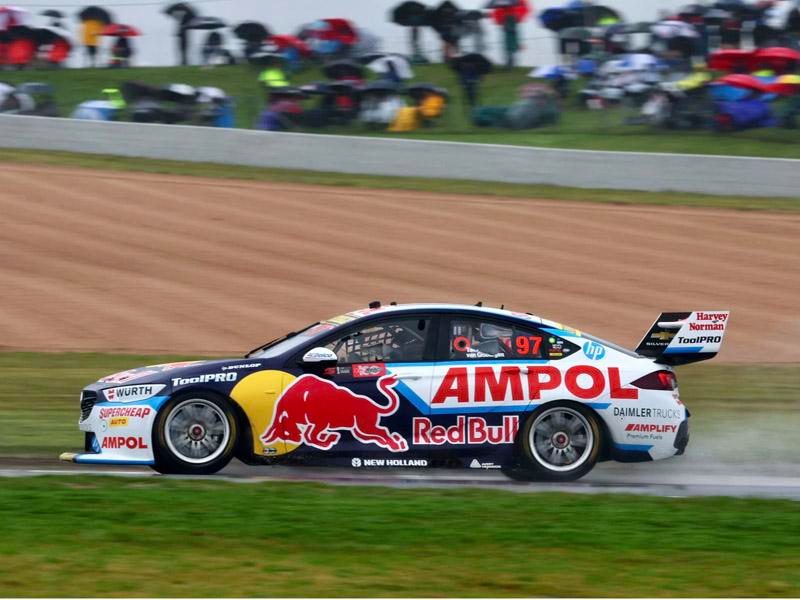 Van Gisbergen went into the race as the clear favourite having already claimed 18 wins in the races prior.
Things started off shaky in qualifying after van Gisbergen was ruled to have impeded Macauley Jones on top of the mountain, leading to his crash. He received a three place grid penalty prior to the Top 10 Shootout
Unfortunately for the field, the weather conditions which had plagued the event all weekend meant the Top 10 Shootout was cancelled. Van Gisbergen started in seventh as a result after setting the fourth fastest time in Friday's qualifying.
It's no secret that avoiding the chaos is one way to make progress, and the Kiwi and Tander did juts that, steering clear of several major incidents which plagued the pack early.
Once a rhythm and strategy came into play the order was reshuffled, van Gisbergen and his co-driver with the lead at the mid-point.
They built their gap until a late safety car brought the field back together with just 15 laps to go. It then became a three horse race, van Gisbergen managing to hold off an incredible Mostert charge to take victory by just 1.1 second after seven hours of racing.
Great Scotts in Nashville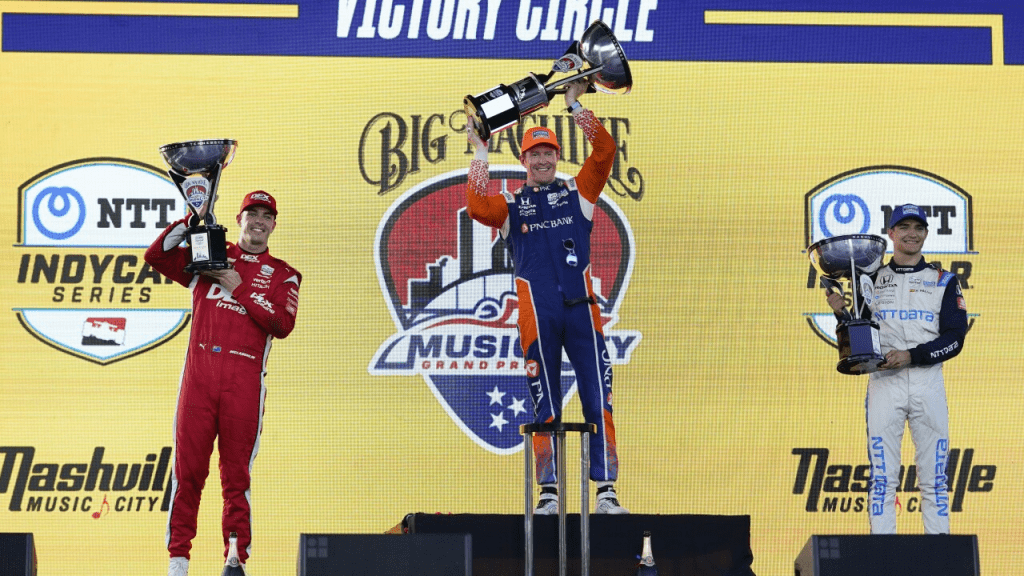 When the 2022 IndyCar season started New Zealanders dreamt of a Kiwi one-two with Scott Dixon and Scott McLaughlin both key contenders. That came close to fruition multiple times but it was Nashville when it finally became a reality.
McLaughlin was the fastest qualifier for the event and started on pole whilst Dixon was well down the order in 14th.
What followed was a hectic race, Dixon sustaining damage early and running near the back of the field. Safety Car interventions were of benefit to the Kiwi, however, which, combined with multiple overtakes, saw him work his way forward .
This contrasted McLaughlin's race, untimely interventions seeing him tumble down the order. He charged on, however, making several passes to return to the top 10 with just 16 laps remaining.
Dixon had emerged in the lead by this point and three further Safety Cars saw McLaughlin pick off drivers ahead on the restarts to come home a well-deserved second, Dixon holding on for the spoils.
Lawson's incredible weekend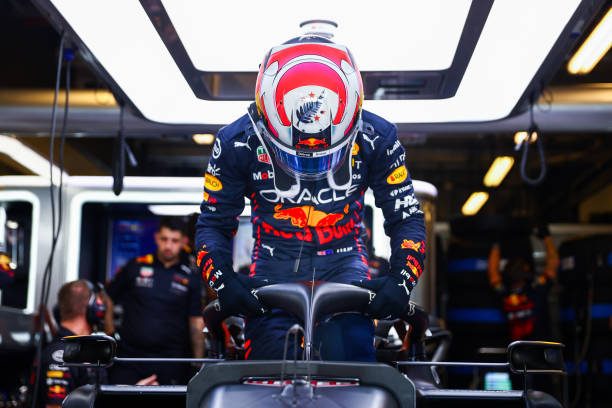 Lawson's incredible weekend in Abu Dhabi not only gained New Zealand's attention, but also the world's.
It was at the Abu Dhabi Grand Prix where Lawson got the opportunity to pilot Max Verstappen's championship-winning Red Bull in FP1 as well as claim victory in the Sprint and a podium in the Feature to finish the championship in third.
His drive in Verstappen's car went without a hitch, Lawson getting significant TV time and managing to set the fifth fastest time, albeit it in a practice session. He was only tenths of a second off teammate Sergio Perez.
He then switched back to his regular F2 car just hours later to qualify ninth. The reverse Top 10 Sprint grid meant he was on the front row, He ran second for until Lap 10 when he finally got an overtake done on Richard Verschoor to take the lead, never looking back.
Come time for Sunday's Feature, the Red Bull reserve driver starting strongly and executing an excellent undercut on several competitors by taking his mandatory stop early.
He came home to finish third which is where he also finished in the championship, pipping teammate and F1 bound Logan Sargeant by just one point.
Hartley triumphs at Le Mans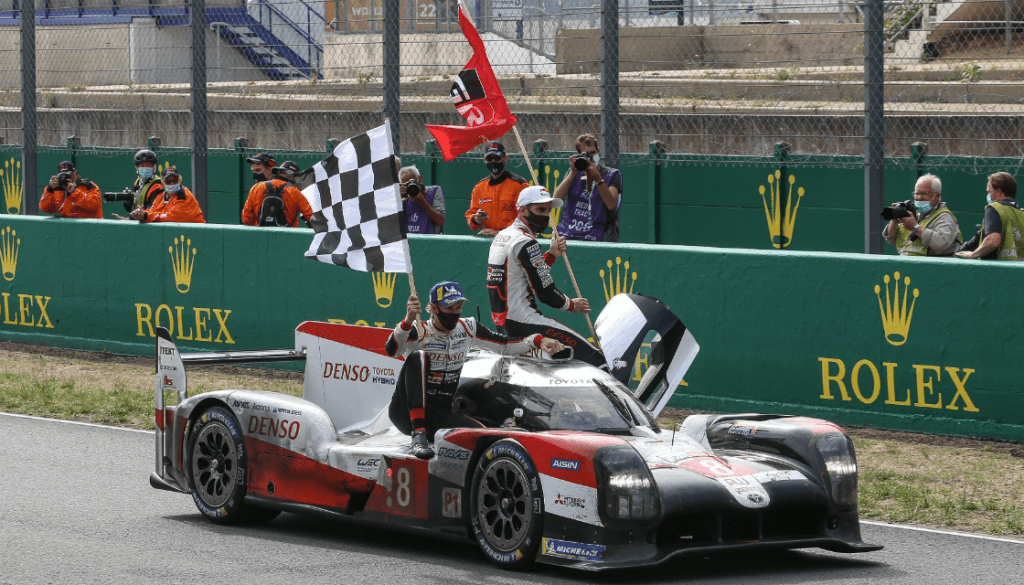 The 24 Hours of Le Mans is arguably the most iconic motorsport event in the world, so winning it is an incredible feat itself. Brendon Hartley managed to do just that for his third victory in the famous race.
Partnering Sebastien Buemi and Ryo Hirakawa, it was the Kiwi who put the Toyota on pole.
Come race time, the Toyota Gazoo Racing cars switched positions multiple times over the first several hours and built a gap of over a lap to their nearest rivals.
That gap continued to grow, the team dominating proceedings to sit over three laps clear with eight hours remaining.
A failure for their teammates meant the #8 remained unchallenged for the win, a commanding performance which showed consistency over 24 hours to ensure the victory
The #7 still held on for second, despite it's electrical failure, for another Toyota 1-2 in the famous race.
Paddon gets it done in Rally New Zealand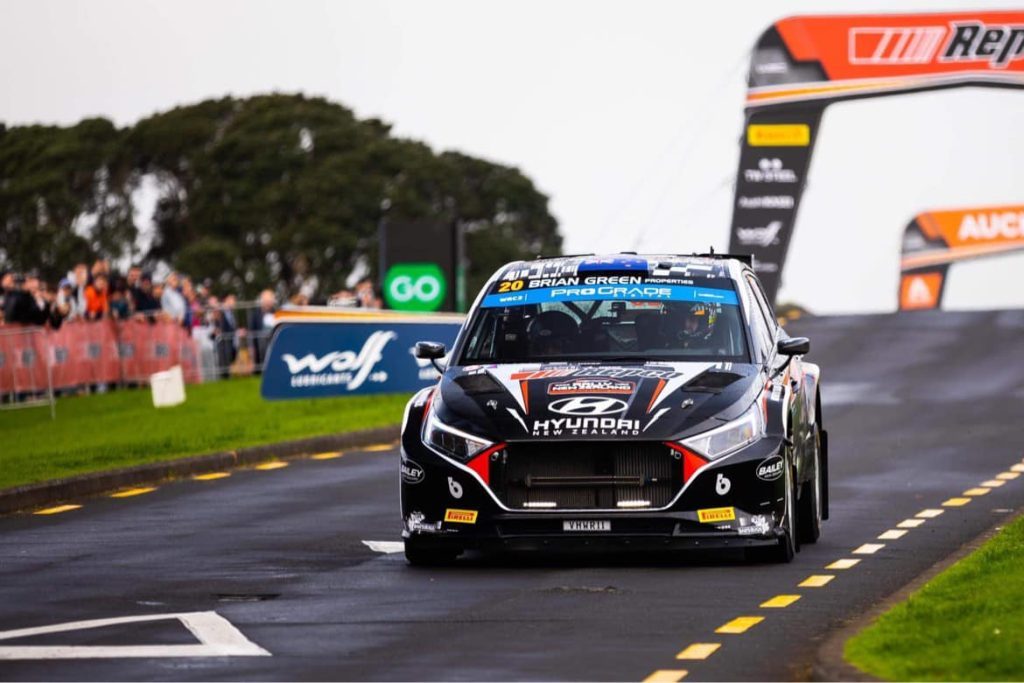 Having the international stardom of WRC back on these shores was incredible, especially given the likes of Hayden Paddon and Shane van Gisbergen were confirmed for WRC2.
Victory in class was the clear goal of Paddon, and co-driver John Kennard, the Kiwi showing he was a force to be reckoned with in both the early shakedown practices as well as the Super Special Stage in front of the picturesque Auckland War Memorial Museum.
He built this lead over the second day as his nearest rivals began to falter, Katetan Kajetanowicz emerging as his nearest contender.
Crashes for rivals over the next two days meant Paddon ran away with WRC2 class, winning by a massive 2min 33.1sec over Kajetanowicz who finished second.
His effort was so impressive he lodged himself in sixth overall for the rally, right in amongst the big guns.
Success on New Zealand soil is sweet for any driver, but doing it on the global stage on home turf is just that much sweeter.
Honorable Mentions:
Armstrong's moments of F2 brilliance: Marcus Armstrong has a mixed season in F2, a number of good results contrasted by misfortunes in other races. Despite this, he still claimed three massive victories, being the Sprint races at Imola, the Red Bull Ring and Zandvoort.
Stanaway and Murphy Return: Richie Stanaway and Greg Murphy teamed up for the 2022 Bathurst 1000 in wildcard position. It was Stanaway who had the pace all weekend, Murphy also managing to ensure consistent runs kept them in contention. They finished the race 11th after qualifying fifth fastest.
Wood domination in Porsche Sprint Challenge: Ryan Wood was on a mission this year in Australia's Porsche Sprint Challenge, topping all six qualifying sessions for the season and claiming four of six rounds. Each of these round victories, at Sydney, Sandown, Bathurst and Phillip Island, are worthy of a mention.
Pukekohe's perfect sendoff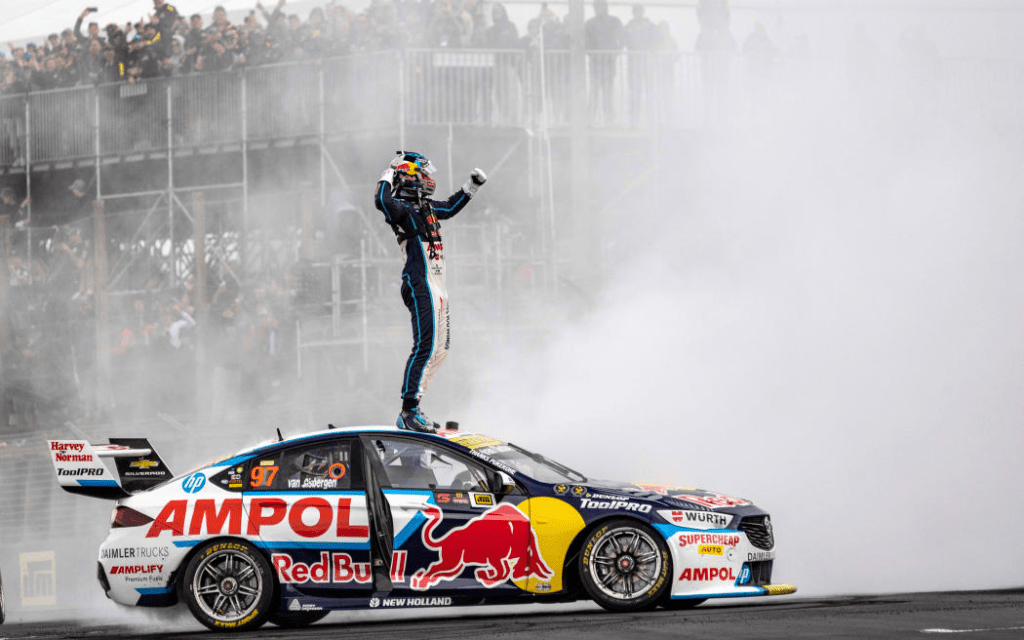 When Velocity News were the first to break the news of Pukekohe's potential closure back in July motorsport fans quickly went into overdrive to plan a weekend out to the last ever Supercars event at the iconic circuit.
Once the news was confirmed a number of formalities were confirmed, including the special Legends Parade, driver cameos, tribute liveries and a stacked support schedule.
Whilst the weekend will go down in New Zealand motorsport history, only one thing would have put a dampener on it: If a Kiwi failed to win the circuit's final ever round.
Shane van Gisbergen ensured that wasn't the case, winning two out of three races and claiming the coveted Jason Richards Memorial Trophy.
What also made this event more special was the efforts of Andre Heimgartner who ensured that two Kiwis were on the podium come weekend end.
It was an Australian who took the spoils on Saturday's sole Supercars race, Will Davison winning over Heimgartner and Cam Waters to head into Sunday's running with the round lead.
Van Gisbergen qualified much better for Race 2, starting on the front row with teammate Broc Feeney. He got the jump on the youngster from the get-go, taking a commanding victory over Chaz Mostert and Waters.
Two podiums for Waters meant nothing less than victory for van Gisbergen would be required to win the round, and he did just that after some thrilling racing between the pair over the final laps to be raced in Supercars at the venue.
Waters led and held off the Kiwi over several challenges before the series-leader got the better of the Australian right at the death, holding off a late challenge to take a win he described as "better than Bathurst".
Heimgartner also got in on the action, finishing third and just down the road from the duo ahead.
It was the perfect way to farewell the track from Supercars, an absolutely monster crowd complimenting a famous Kiwi win, some great support racing, some familiar faces, some great entertainment, a touching tribute from the field and one really, REALLY good burnout.