Scott McLaughlin was winning so much in Supercars that the story of each weekend would be 'can anyone actually beat this guy?'
And then he was gone.
There's another Kiwi picking up exactly where McLaughlin left off, but there was no more 'Scott McLaughlin Show' in Supercars.
Instead, he chased a childhood dream of racing in America and landed a role as a full-time driver with Team Penske. Not the worst team to kick-start your Indy ambitions with.
Then, just four races in, McLaughlin returned to his trophy-collecting days.
He finished P2 in his first-ever oval race at Texas Motor Speedway in May.
No more trophies would be added to the cabinet until today. 307 days later.
A mid-season slump last year had some questioning Mclaughlin's stateside decision.
Would he ever get back on the podium again?
One of those was himself.
"There's always a bit of doubt," he said.
But he stayed true to everything he knew. His team boss Roger Penske, the man who really has made McLaughlin such a dominant force in motorsport, offered his own reassurance.
"[Roger] was the one who calmed me down last year. He's the one who said that it's a long story and not a short one."
It didn't take too long into the start of his second full season to repay that faith.
"To pay back that faith and prove the trust he put in me is a very proud moment."
Because, as Mclaughlin would tell you, he always had a bit of a feeling the first win was right around the bend.
"You know you can do it deep down. Everyone was asking how I was going to go at the start today, and I was like, 'I've led a few races from the start. I just didn't do rolling starts.'
"It's all about going back to what I know. I knew I could do it. It's all about belief.
"To anyone out there, you can do whatever you want. You just have to have belief in yourself and get it done."
Besides pulling out an impromptu Scott Robertson breakdance celebration (i.e. he fell over getting out of the car), and burning his backside when sitting on the exhaust in victory lane, McLaughlin's race was flawless.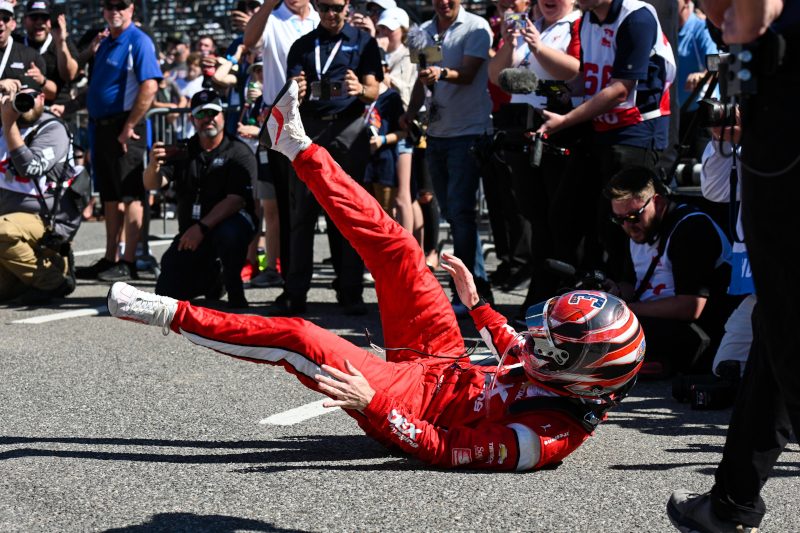 He had to defeat the reigning series champion Alex Palou to earn his first win.
But even Palou admits he was never going to have the pace to catch and pass the flying Kiwi.
He was just too fast.
"Scott was on rails," Palou said.
For Mclaughlin, the only thing that could have made the day sweeter was having his parents by his side.
"I miss my mum and dad dearly and my family… I wish you guys were here."
But we're pretty sure they set the alarm clock that bit earlier to ensure they didn't miss a thing.