Here's a question to ponder: besides in an aeroplane or anything that flies, what's the fastest you've ever gone?
Couple hundred down the full back straight at Pukekohe? A checky 120 down the Waikato Expressway? Or a speed you won't admit to your mum but will brag about to your mates?
In any case, it's unlikely to come close to what Scott Wilkins achieved.
We already reported Wilkin's record-breaking run of 364.5 km/h down Goudie's road earlier this month.
That speed, accomplished on a Kawasaki Ninja H2R, is the fastest one-way run recorded during a New Zealand land speed association event.
It's insanely fast, and it becomes even crazier when you realise a Kawasaki Ninja is a road bike. Just two wheels and nothing to save the rider should something go wrong.
For Wilkins, the record-breaking run was many years in the making.
Bikes have always been part of his life. He has ridden them since he was two and began racing bikes at eight.
He'll tell you his forte is motocross, but really, if it has two wheels and goes fast, then you can guarantee Wilkins will be up for it.
"It's always something I've done," he tells me during a much slower trip back home to Tauranga. "I've always loved bikes."
Wilkins's father, Mike, was a former managing director of Kawasaki New Zealand. In 2016, he purchased the H2R as a going-away present.
Since then, it has had its fair share of love and horsepower pumped into it.
"We put some horsepower into the bike. Then we would put more horsepower into the bike."
The H2R now has more than 350 hp at the crank and 303 hp at the rear wheel.
Is there such a thing as too many horses powering such a fragile machine?
"We haven't found it," Wilkins joked.
"Racing it could become a big issue when you've got to get it in and out of corners. But it's got traction control; it's got anti-wheelie and all that.
"You can put too much boost in, but we haven't find an issue with horsepower yet."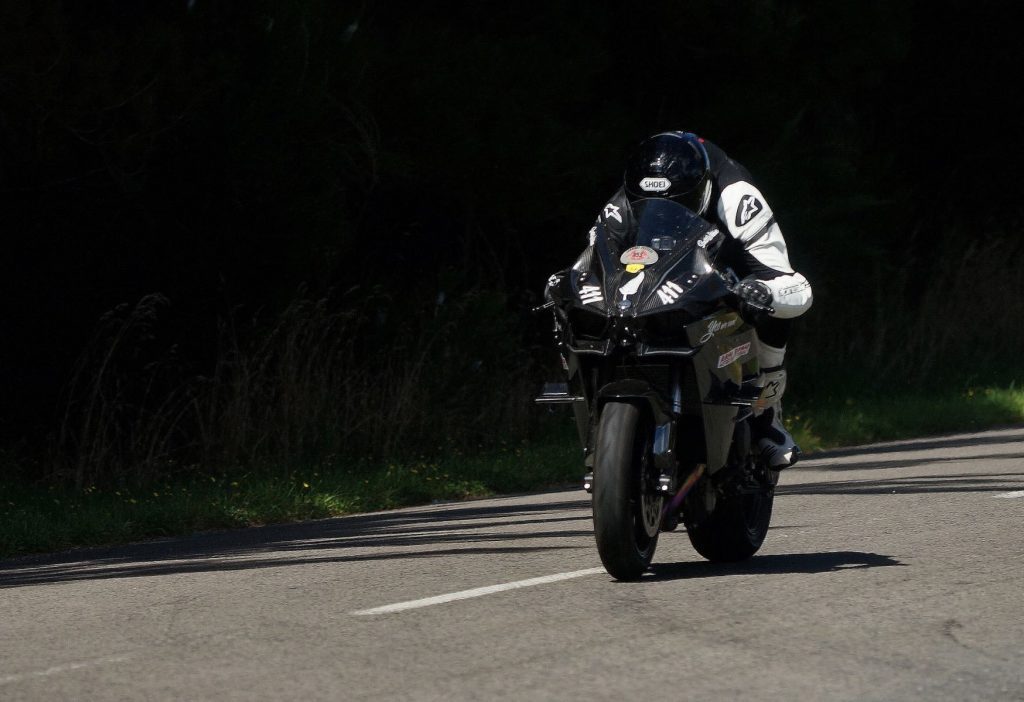 It's not exactly a perfect bike. Problems with computers and boost have scuppered previous speed attempts.
But on March 6, under clear conditions with a small yet noticeable trace of cloud cover, Wilkins rode himself into land speed folklore.
The onboard video footage shared earlier of the exact run shows the speedo hit 380 km/h for the briefest second.
For us ordinary folks, reaching that speed on a bike is almost a petrifying thought. And even behind Wilkin's iron-plated coat of bravery, he will also admit it still scares him.
But some people are just built differently.
"At the start of the day I do [think about the speed]," he said.
"I don't ride fast road bikes, so it takes me a while. In the morning, I will do a warm-up run, which is still over 300 km/h.
"The bike is so loud you can't run it at any race track or put it down the road. Although I think going doing the Southern Motorway would be quite fun. So, I only get to ride it once a year.
"That first run, I am a bit petrified, but by the time you get to the last run, which is our sixth or seventh of the day, your brain starts to catch up with it. You begin thinking about tucking in elbows and tucking in toes.
"I'll put it this way, about three or four years ago, the first run, I forgot to put it in top gear because I couldn't see the gear indicator on the dash. Everything was moving so fast.
"But by the eighth run of that day, I could actually notice I was 500 rpm down because your brain has caught up.
"It's something your brain adapts to fairly quickly on the day."
Immediately, Wilkins knew he was on for a quick run. He wasn't holding fifth gear long enough earlier in the day, compromising some speed.
But that specific run Wilkins chopped through each gear seamlessly. His body sits surprisingly calm as he zips past an endless colonnade of trees.
He completed the run on road tyres, opting against using slick or semi-slick race rubber.
"We found that, because of the way the land speed event runs, you sit at the end for a while, so you can't use tyre warmers.
"So, slicks and semi-racing slicks chunk out really bad because the temperature comes up really fast doing that speed."
By the time he entered the timing zone, Wilkins was out of it just as quickly.
He shot through the quarter-mile timing sector in less than four seconds before rolling off the throttle.
Riders get over two kilometres of road to slow down, though Wilkins doesn't need all of it.
Typically, when riders reach the end of the course, they have to wait until they have returned to the pits to learn their speed.
However, this time around was special. By clocking an average speed of 364.5 km/h over the quarter-mile, Wilkins had broken the previous land speed association record held by a Nissan GT-R.
And so, they announced the speed over the radio and Wilkins was told by a friend waiting at the end of the road.
"I knew that run was fast. But I didn't realise I was that fast.
"I was absolutely ecstatic…my face just lit up."
Not that it was ever out of the question. Success can be easy to achieve once you have a specific goal in mind.
"We always wanted the NZ record," he said.
"It was really awesome, and it was always the goal."
And that's the end of Wilkins' land speed career.
Now the dream has been realised and seen through, he is hanging up the helmet. Much to his wife's relief.
"When we started, I hadn't even met my wife. Now we've got two young kids.
"She's been supportive to a point, but she is glad it is over."
Wilkins will still be out and about on two wheels. And he'll still be going really fast on them. Just not that fast again.
Once is enough.
Images: Steve Knowles