It was a case of 'two trophies for Kroefies' in the V8 Utes season opener of the Super V8 series at Taupo International Motorsport Park. Brad Kreof won Round One of the championship, with Father Greg in second and Stu Monteith third.
The event was also a first in many ways – a first race win for Alex Fougere and the first time V8 utes had raced behind the TA2 and V8 Open categories.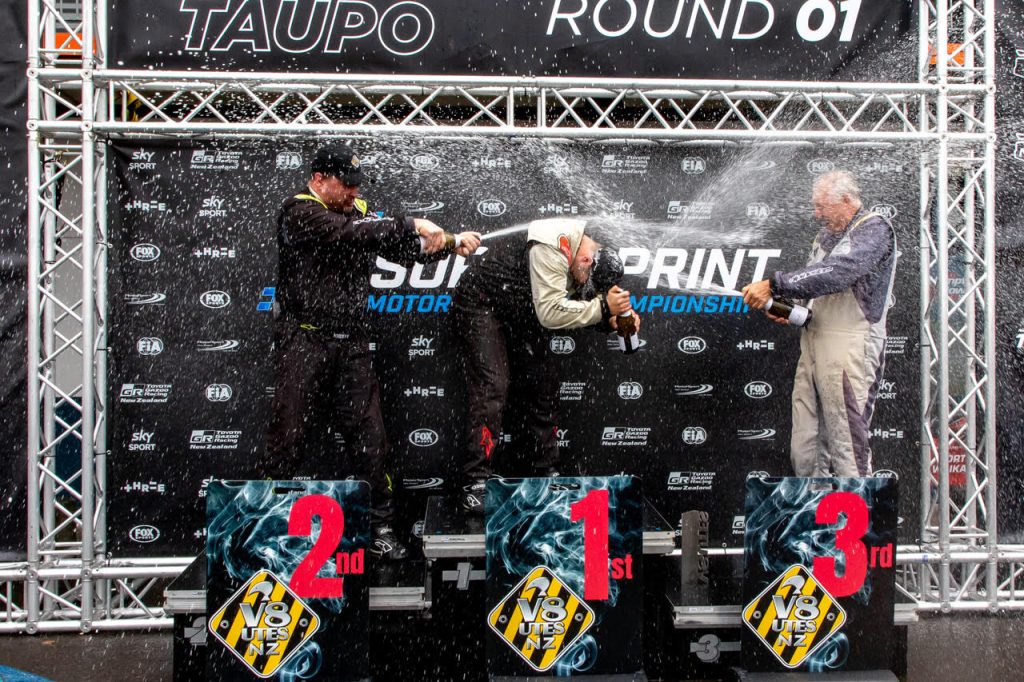 During a saturated Saturday morning qualifying session, former V8 Utes champion Andrew Waite explained to Greg Rust in the commentary box, "In the rain, these utes are an absolute handful." But Alex Fougere grabbed the opportunity with both hands setting the high water mark with a 1.58.736.
As the rain fell, so did the lap times of Brad Kroef, finishing second fastest at 1.59.726. His father, Greg Kroef, posted a sensational final lap to qualify third, while newcomer Kyan Davie was settling in nicely, finishing fourth.
Putting these performances into perspective, only one of the TA2s managed a sub-2-minute lap time. The V8 Open cars were faster than the V8 Utes, of course – Gary Lathrope of GR8 Events putting it down to "more horsepower and more rubber."
In pouring rain, Race 1 got off to a delayed start waiting for race officials to confirm it was safe to race. After a rolling start, Alex Fougere led into turn one, followed closely by Brad Kroef.
By lap three Alex Fougere had stretched his lead to 7 seconds, which stretched to 14 seconds by mid-race and 21 seconds lead by lap 9. Not far behind, newcomer Kyan Davie found a way around Greg Kroef, and by lap four, was hunting down Brad Kroef. As the battle ensued, neither driver wanted to do anything risky in the slippery conditions.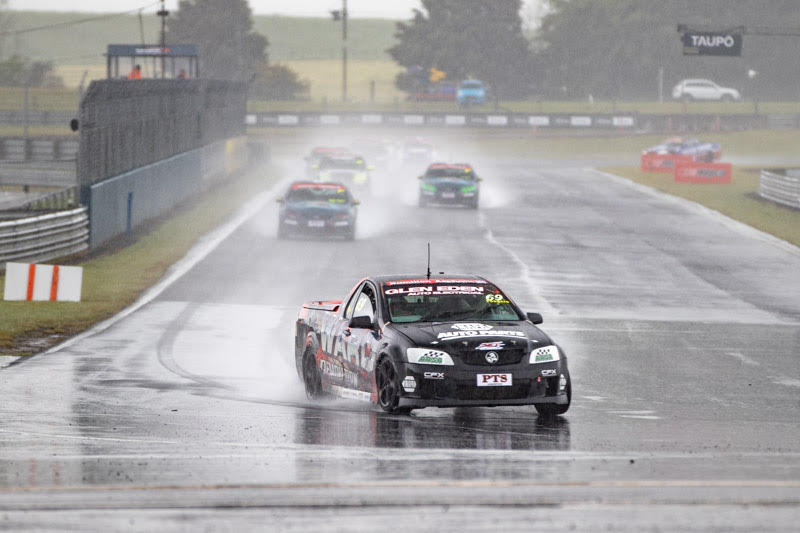 On lap nine, a blown fuse blew Alex Fougere's chance of victory. As his engine whimpered to a halt, Brad Kroef aquaplaned past for the lead. And that's how positions remained at the chequered flag. Hampered by power steering failure on the third lap, Phill Ross muscled his way to a hard-fought third.
Race Two Sunday morning saw a son-son-father-father finish. Alex Fougere made amends for a heartbreaking DNF the day before winning the race with Brad Kroef in second ahead of a tenacious Paul Fougere in third and Greg Kroef fourth.
The reverse grid race saw Bruce McRae lead the pack from a rolling start as the utes ran three-wide into turn one, punching through the rooster tails of the TA2s and Open V8s up ahead. Phill Ross continued his turn of speed from yesterday and was already up to third by the second lap, then into the lead by the third lap.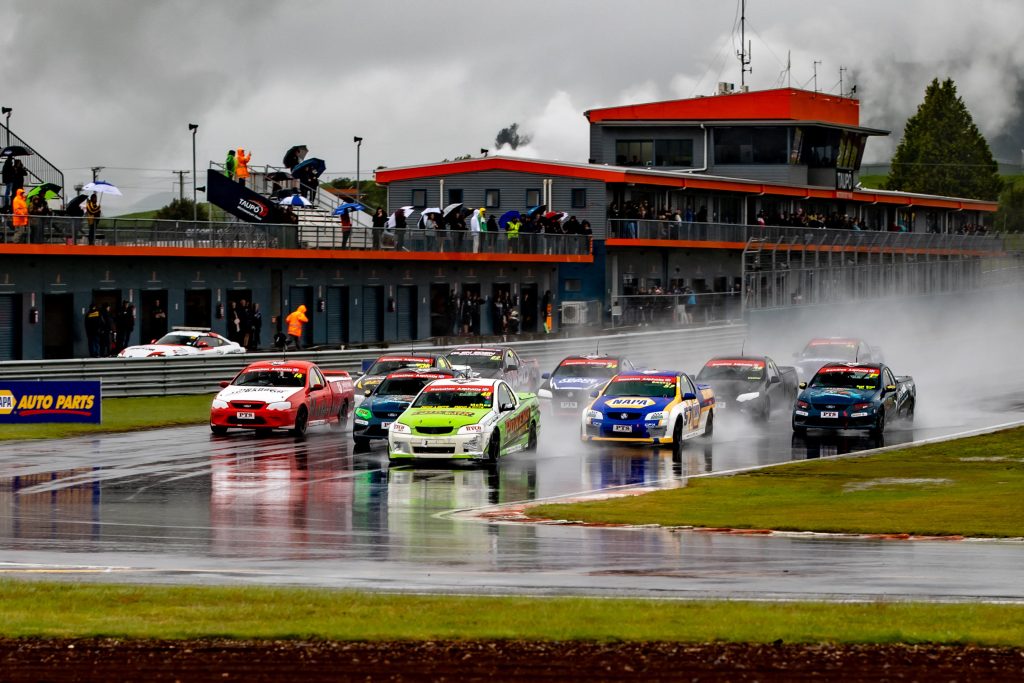 Meanwhile, Alex Fougere was making light work of the midfield and was into second, having overtaken his father Paul in the Napa–backed Holden. The best was yet to come.
Sadly Phill's luck ran out on the fifth lap when a persistent electrical issue re-emerged, forcing his Holden to limp back to the pits. That left the race lead in Alex Fougere's safe hands. Not far behind, Paul Fougere, in second, was proving a formidable roadblock for a hard-charging Brad Kroef.
Ultimately Brad got past on lap seven, a position he retained until the chequered flag. After the race finish, there were two Fougeres on the podium, with Brad Kroef sandwiched between them and Greg Kroef looking on in fourth.
The track was drying for Race Three early Sunday afternoon, but the drivers elected to stick with wet tyres – a call that was to prove sensible as the rain returned mid-race.
Brad Kroef led the field from the start before Paul Fougere snuck down the inside on turn one to grab the position. Meanwhile, Phil Ross was on a mission and, by lap three, was in the lead. Sadly it all came unstuck on lap four as electrical issues again crippled his car, prompting a safety car.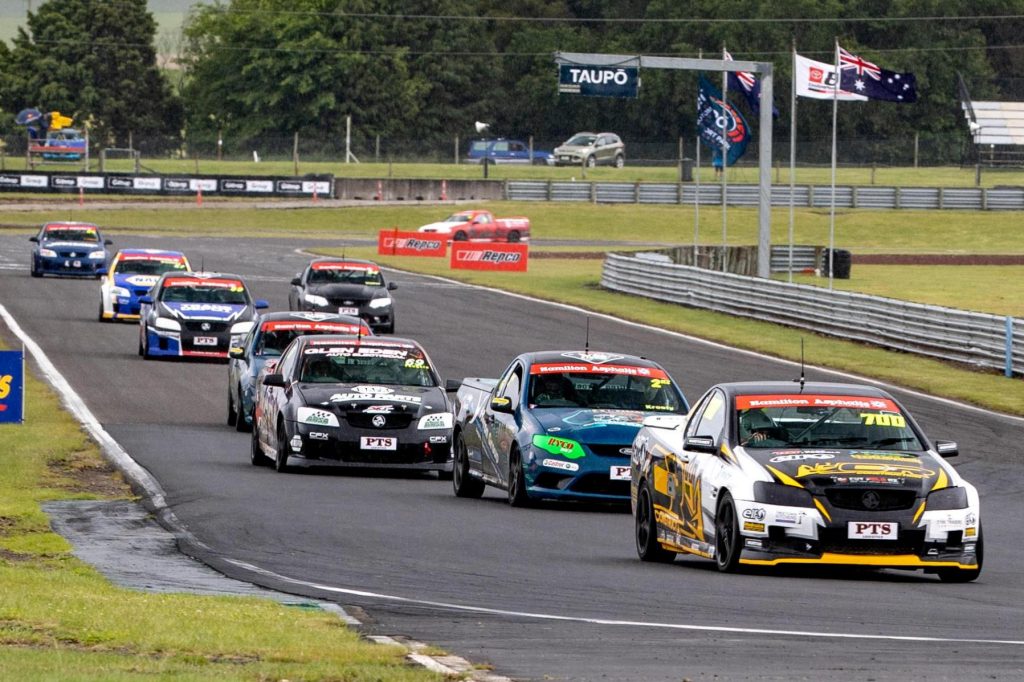 This handed the lead to Greg Kroef, with son Brad just 1.4 seconds behind. Meanwhile, Paul Fougere was slipping further back with a loose steering issue as the rain began to fall, leaving father and son Greg and Brad Kroef to remain up front. After starting seventh, Alex Fougere progressed to third before the safety car ended his overtaking antics. That's how positions remained at the chequered flag.
The roundwinner was a different story.
In a weekend that had three father and son combos competing in the V8 Utes, Brad Kroef won the round with Greg Kroef second and Stu Monteith third.
Such a display of close yet virtually damage-free race racing served as a tantalising entrée for a tasty season.
Roll on Round Two of the Super V8s in January 2024 at Manfeild.
Photos: dillonphotonz
Words & Images: Supplied