Clay Osborne took his first-ever race victory in the Toyota 86 Championship at Manfeild Circuit Chris Amon this afternoon, overcoming a poor start and a determined Dion Pitt for victory.
A slow getaway from the lights looked to have scuppered his chances, but Osborne was lucky to have older brother Finn Osborne starting directly behind him. 
Osborne senior immediately went onto the defensive for his brother tucking in behind him, compromising his own race start to provide an insurmountable defence for Clay as he built up his speed. It worked a treat, and Clay was able to emerge from the first turn in second place.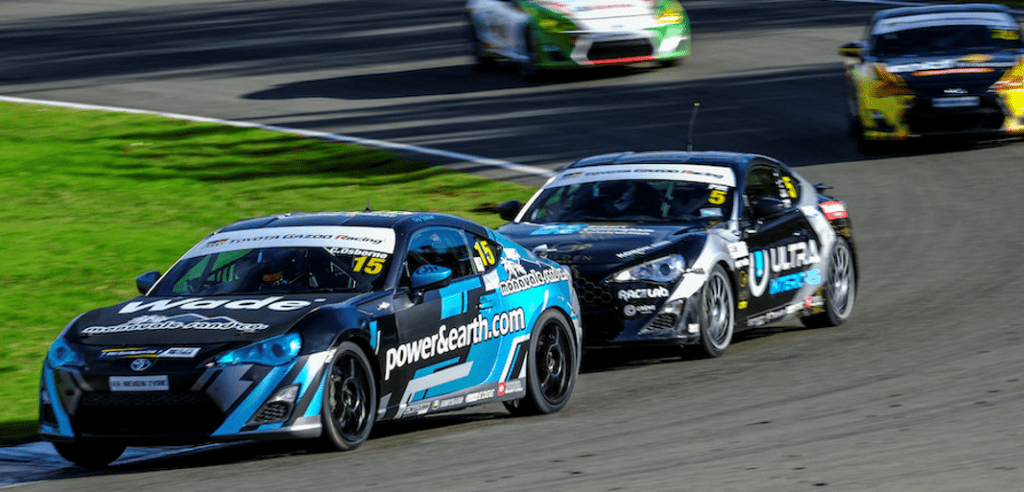 After that initial hiccup, Clay emerged from the first turn in a safe second place and was quickly into his stride, reeling in Pitt and passing him with a superb move into the first turn at the start of the third lap, then raced away to what was ultimately a comfortable win. His fastest lap was four-tenths of a second better than anyone else, a remarkable gap in a field usually so closely matched.
"My brother definitely had my back on that one," said the delighted racer afterwards. "I dropped the clutch a little bit too fast and was slow away. Thankfully I ended up in a position where I was able to catch Dion up and pass him."
That pass for the lead impressed Pitt. "Hats off to him that was a good move, I didn't see him coming. I did what I could but we've got a strong car too and we'll have another go tomorrow."
Finn Osborne's heroics left him behind Tayler Bryant after the first corner and it would only get worse for him as contact with Ayrton Hodson later on put them both out of the race. A delighted Bryant was on the podium again after an impressive drive.
Fourth, after a lonely drive, was top rookie Rylan Gray, just ahead of Christina Orr-West, who drove hard in the opening laps to break free of the middle-order battle and give herself a clear view of the leaders.
Once the leading five had established themselves in the early laps, the attention focussed on Brock Gilchrist's progress through the field after he qualified a lowly 11th. Another to make a great start, he was up to seventh by the end of the first lap but was in the thick of the action in a battle pack that included Finn Osborne, Hodson, John Penny and Justin Allen.
A mistake at the first turn pushed the championship leader back behind Allen and Hodson to ninth but he found a way through after some fantastic racing that included a three-way dice for position into the daunting final turn at the 3km Manawatu track.  Seventh behind Penny was as high as Brock could go but it means a start near the front in Sunday's reverse top ten grid race.
Justin Allen made progress with some great moves to finish eighth, with rookie Harry Townshend scoring his first top ten of the series in ninth and Tom Bewley rounding out the top ten. Series debutant Brooklyn Horan made it home in his first race, finishing 15th.
Words & Images: Supplied