After qualifying second just 0.14 seconds behind pole sitter Greg Kroef, Jake Stoneman won the first race in the V8 Utes' final round at Hampton Downs.
The result takes Stoneman a few points closer to the podium in the championship. Brad Kroef still leads with his father Greg second, which means Sunday's races will be crucial in deciding who takes out the title.
The morning's Qualifying session was the closest of the V8 Utes season so far, with the field spread out by just 2.6 seconds from first to last – such is the improvement made by the newcomers this season.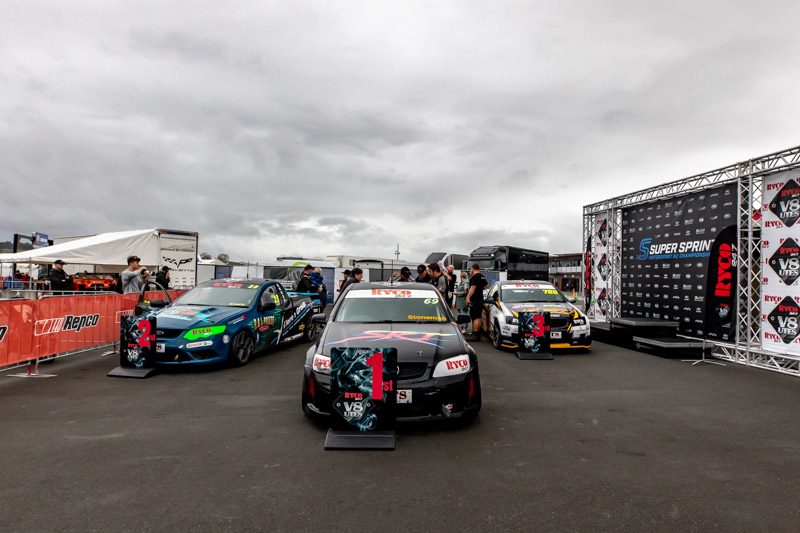 Brad Kroef qualified 3rd, while Daniel Ludlam continued his recent turn of speed qualifying 4th. Other big improvers included Geoff Spencer and Paul Fougere – both leaping 0.6 seconds ahead of yesterday's practice times in 6th and 7th. Jeremy Hunt was relieved just to be on the grid, with his competition licence coming through just an hour before the session, to ensure he's on the grid for all three races.
Race 1 mid-afternoon began on a dry track but storm clouds were on the horizon. Backing up their fast qualifying times, Stoneman and Greg Kroef started fast, with the former getting the upper hand by the second lap. They battled it out the whole race to secure 1st and 2nd, pocketing some solid championship points in the process.
Phill Ross was the biggest mover, storming from 8th on the grid to finish on the podium in 3rd. Ross leapt ahead from the get-go, quickly finding himself on the tail of Simon Ussher after just two laps. Late in the race, he finally got through to bolster his championship points.  "I was chasing Simon the whole bloody race," he beamed after the battle. "I'm going to sleep well tonight."
One racer who wasn't sleeping was Stu Monteith, overtaking his way from 9th to 5th – and securing his grip on 5th in the championship. Monteith has secured a 3rd place earlier in the campaign and has taken big steps forward this season. Also worthy of a mention, Paul Fougere posted his fastest lap – a brisk 1.17.970 (almost his qualifying pace), just as the rain was starting to fall.
Not so fortunate was Brad Kroef, withdrawing from the battle with a brake issue and slipping to the back of the field. He still has a strong buffer in the championship points race, but it's getting close. Rest assured the Team Heron Racing crew will sort that out before tomorrow's racing.
The race within the race was the one for the championship points, with Stoneman now just six points from the podium, so expect some fireworks tomorrow.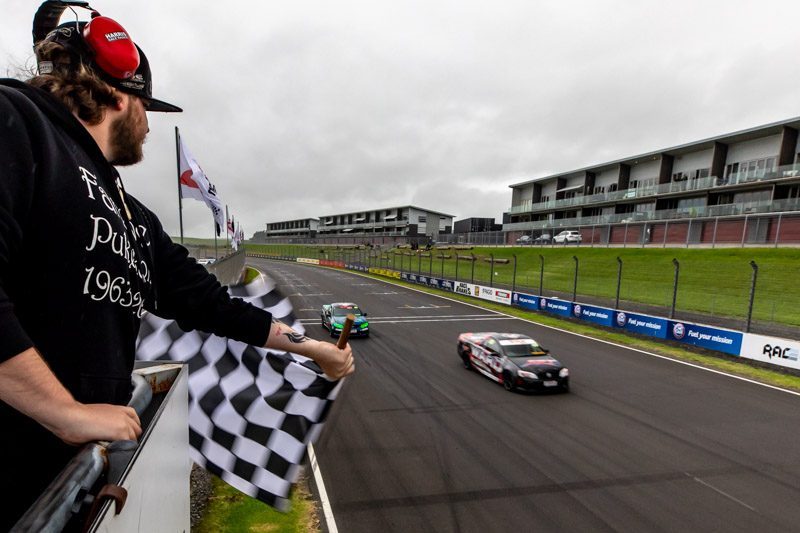 For the armchair motorsport fans, Sunday's V8 Utes races will screen live on Sky Sport in New Zealand and Fox Sports in Australia, while Sunday afternoon's race will be live on TV3's CRC Motorsport.
Words and Images: Supplied